Books set in Schools
Back to School! but in a good way – #BookTrailLiterarySettings
Books set in Schools – It's back to school and work for most of us by now – hopefully you've all had some kind of holiday. Sunning yourself on a beach? Staying in a top hotel? Exploring the streets of a cosy little town (complete with book in hand set in that very place?)
Some of us remember our school days with fondness, others less so….but would you go back given the choice? You might have to study again and get homework, but think of the holidays, the friends, the clocking off at 3.30 or so?
When you read some of the books below however, you may be grateful that you're not back there in the school corridors…..with this lot, you'll be sharpening claws and your sense of urgency rather than any new pencils…..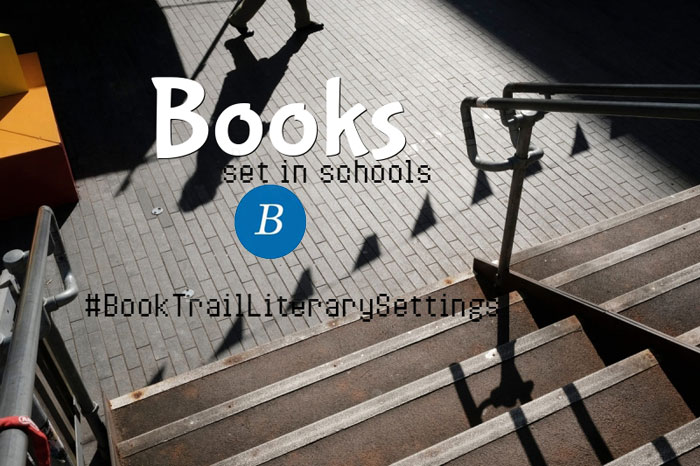 Books set in Schools
Location – West Midlands, Hampton in Arden
School report:  Careful who you hang out with
Remember all the daft things you said at school? The dares, the rumours…..Well what if one of your group announced one day that they were going to be a serial killer? You'd laugh right? Think nothing of it? Well the friends in this group do but then years later, their friend is missing and there have been some crimes that make you think that your friend's boast might actually have become the truth….
Location: Naples
School Report: First romances in your year abroad can go one of two ways
Holiday romances are one thing, but college romances on your year abroad are another. Two students meet in Naples and spend their time getting to know each other and the city. But can this last?

Location: Cambridge
School Report: You always get one
There's always one. One student who wants to go that bit further with a project, an idea. Someone who thinks they know best. Someone trying to prove him/herself. You become friends and before long you're getting swept up with their crazy schemes. But you're the one who ends up in trouble…
Location: French Riviera, Cap D'Antibes
School report: Never go back there years later!?
School reunions are a funny thing. Would you want to go back to your school and see your friends and maybe the ones that plagued your life for years? Never done it myself but I have been back to  my primary school and marvelled at how small the chairs were, and maybe I pretended I was Alice in Wonderland for a brief moment? School reunions at high school or university can be a whole new ball game…
This reunion in this book goes really bad…it involves dead bodies and a possible excavation which will lead to discovery……..

Location: England
School Report: Remember the games you played?
Remember the games you played, the tricks you played, the urban legends you believed? Ramp that up by 1000 and then you have some idea of the things this book will freak you out with. Brilliantly done and plotted, the characters will remind you of your school days in more ways than one. And just who is that chalk man?
That's all for now! There's the bell! 
And don't forget the other tours around Literary settings: #BookTrailLiterarySettings