Autumn reads – Books set in cosy corners
Turn the pages of a new book
Autumn is the perfect time for cuddling up with a good book, beside a log fire and drinking a nice cup of hot chocolate, right? There are some books that really deserve extra reading time as they're so immersive and envelope you into a world you never want to escape from. Autumn reads – Books set in cosy corners is the ideal selection then for this time of year!

My personal favourites for Autumn: Autumn reads – Books set in cosy corners
SUSSEX
Autumn chills: gothic mansion, huge attic and luscious gardens
Oh to read this novel in a gorgeous autumnal garden like in this book! The garden holds such happy memories for one lady, now aged 70 and she has to make the sad decision of selling it now it's crumbling around her. What better place than a crumbling gothic mansion to visit now there's a chill in the air?
ENGLAND
Autumn chills  – A cosy cottage in the middle of the Dorset mist
What better setting than an old cosy cottage in the middle of nowhere, surrounded by mist? A lovely place to read your favourite novels and also a place to discover secrets. This idyllic home is hiding some very unusual secrets. Get yourself a blanket and tuck into this story!
YORKSHIRE
Autumn chills: The Bronte Sisters landscape with its roaring fires, gothic overtones and cups of tea!
There's nothing better to curl up with than a mystery and when it's set in the times of the Bronte sisters, even better. They all had roaring fires, cosy corners to read in, candles and fields of autumn colours – that Yorkshire a landscape is quite something this time of year.
ENGLAND
Autumn chills: Reading about summers past, set in a garden full of colour
Nigtingale House, a painting of a garden full of memories is a lovely place to spend time. When it's autumn and the leaves around you are turning all the wonderful rustic colours, then this is the ideal book to immerse yourself in. This is a gorgeous garden and house recreated in a book. It all seems to real, you can almost smell the flowers. Then there's the art mystery, memories of summers past  and it's the perfect book to curl up with. I felt like I'd really visited Nightingale House in this novel. It's an aromatic reading experience to go with the cinnamon sprinkles on that coffee of yours.

QUEBEC, CANADA
Autumn chills: Canadian Fall colours
Canada has some of the most stunning Autumn scenery in the world. The colours of the trees change so vividly that the villages and landscapes just transform into something else entirely. The village of Three Pines in Quenbec may not be real but it's based on several villages in the Eastern Townships and it's a glorious place to visit for real or in a book. PLENTY of cosy homes to visit, people to meet, mysteries to solve and when the light just changing, it's amazing how different things look this time of year…..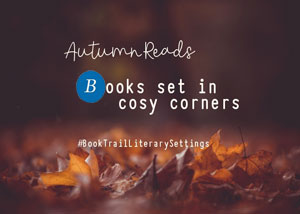 Whereever you're curling up with a book – enjoy!
More Autumn reads – Books set in cosy corners here:
And don't forget the other tours around Literary settings: #BookTrailLiterarySettings