Books set in Canada
 Canada's national Day – July 1st
Today we're celebrating all things Canadian. Canadians across the world are relaxing, preparing for the fireworks and enjoying time with their families. Plus…..think of all that lovely time for reading! What better time to spend reading books especially those set in Canada and by Canadian authors.
Books set in Canada – for this Canada Day and beyond…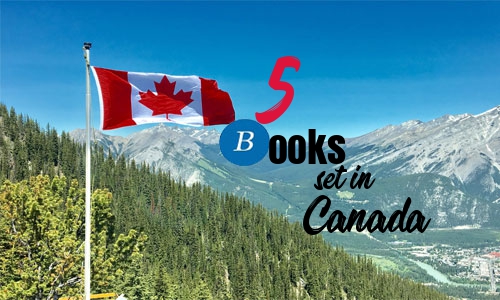 Canadian or not, these books need to be on your list to discover the most wonderful of countries, cultures and writing….

Holiday activity: River rafting
Two friends. One adventure. No way of going back. Imagine going down a river rafting with friends. The ideal activity for a group of friends and a fun one at that to enjoy for a few days, right? This isn't just a holiday but it's a time for bonding with friends, right in the heart of the USA and Canadian wilderness. Imagine the stunning scenery and the wild, raw landscape? Brilliant fun and a way of escaping it all right?
This thriller might make you think differently….

Holiday activity: Toronto and its parks, oh and the bookshops!
Jean's a grown woman with a husband and two kids, as well as a thriving bookstore in downtown Toronto. After two customers insist they've seen her double, Jean decides to investigate. When you think there's someone out there looking just like you, you have to find out!

Hoiliday acitivity: mountain exploring
A winter camping trip turns deadly in the remote Laurentian wilderness. In particular, the landscape means that everything you read is focused and tightly plotted. Well, the characters have to do everything they can to survive! What do people do when pushed to the limits? The location of the events with their tricky legal issues and those of jurisdiction were interesting. As a result, the sense of peril and adventure do keep you reading. Brrr

Holiday activity: Fishing
First of all, this is a magical and ethereal, haunting novel which beautifully captures the essence and landscape of the Gaspé Peninsula. The setting is the story and the story is the setting. She paints an ethereal picture of unique shades with colours and the essence of the ocean. Furthermore, the mystery and murder story play out against a strong background with strong local characters and the traditional fishing community at the fore.

Holiday activity: See and explore the stunning landscape and the wonderful flora and fauna of British Columbia.
Animals are disappearing from Canada's mountain parks. This is a mystery in a very unique landscape. Jenny Willson works as a warden in Banff National Park. When she discovers there's something happening with the animals in Canada's mountain parks, she begins a complex investigation that follows a trail of deceit, distraction, and murder.
And don't forget the other #BookTrailLiteraryTours:
Cities: