Explore London with Sophia Tobin's Map of the Damage
A Map of the Damage's London with Sophia Tobin
Authors are the best literary guides. They research locations, explore streets and are curious about the world they are building in their novels. Sophia Tobin has taken many a reader back in time to her historically accurate novels. This time it's back to London, but not a London we know exactly. This London is part fact and part fiction. So, how does a writer carve both sides of this story?
Sophia Tobin, your guide awaits…
My goal is to make the places in my books feel like characters in their own right. I hope to create a complete world for the reader, because the rooms we live in and the streets we walk down shape our behaviour and colour the way we see the world. Location research is key to me, even if I'm writing about a fictional place: I need real sights and sounds in order to create imaginary ones.
A Map of the Damage, is set primarily in two places: the Mirrormakers' Club, a private members' club in the City of London; and Redlands, a country estate. If you search for either of those places on a map, you won't find them, but visiting and looking at 'real life' versions of them was a central part of my research for the book.
Redlands is an exercise in control and image-making, designed as a rich man's folly. Its owner, Ashton Kinsburg, controls the impression people have of him: the house's decor and luxurious French antiques aren't just aesthetic choices but selected to produce envy and wonder. His Bachelors' Wing – men only – asserts his masculinity after the 'sequence of perfumed rooms' which arguably he has more of a stake and interest in.
When I was researching Redlands I knew I needed to go somewhere that would create that sense of awe in me. I wanted to be one of Ashton's guests, rolling up at the front gates and stunned by his creation. So I chose to go to Waddesdon Manor, home of the Rothschild banking dynasty. I went there not because I wanted to recreate it in fiction – Redlands is very different in several respects – but for two other reasons. First of all, it was created by a powerful family in their own idiosyncratic vision, so the circumstances of its creation were similar to Redlands. Second, because I'd never been there before and I wanted to experience a first impression.
First impressions are incredibly powerful. As I walked through the rooms I was noting the impact they had on me – atmosphere, including things like light and scent. I was also imagining how you would live in such a house. How do you hold yourself when you walk through such grand rooms? Where do the servants come in and out? I took pictures of the exterior and bought the guide book to remind me of the rooms. (The London Club is pictured so you can imagine the fictional one)
The Mirrormakers' Club is very different: it's a civic building, entirely different from a house that people live in, and I also needed it to be lavishly and elaborately decorated, because it has many secrets hidden within it and in its architectural language. I also wanted my readers' relationship with it to be different: more intimate, not distant in the way Redlands is. I based my sense of it on Goldsmiths' Hall in London, a livery hall where I have spent a lot of time, and which holds the archive of its architect, Philip Hardwick.
As with Redlands, Mirrormakers' is different from its real-life counterpart in many ways, but the sense of grandeur, of architectural layers, and of its backstairs/front stairs contrast is taken from it. This was a different kind of research: because I know the 'real' building so well, I was able to see it from different angles, and imagine it in different periods.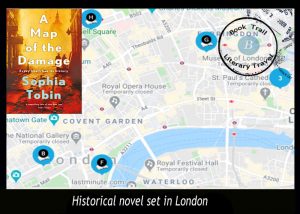 Eventually, you put the research aside and begin to write. In the end, I am writing fiction, not non-fiction, so I reserve the (very fun) right to change things, and to create my own sense of place and atmosphere if it serves me. But I wouldn't be able to do that half as effectively without real location research. If I've learnt anything from researching my books, it's that the truth is infinitely stranger than fiction, and that in all its richness and complexity it is the perfect jumping off point for the imagination. From the Bachelors' Wing at Waddesdon to a cherub's face on a grand ceiling in a livery hall, my imaginary buildings owe a great deal to their real-life counterparts.
Twitter: @sophiatobin1  Web:  /sophiatobin.com/