Promises of Puglia – A journey with Valeria Vescina
A joy in the sunshine to day. In Puglia, Italy with the lovely Valeria Vescina

What made you want to write this story?
The story was born of a lifetime of thoughts about love, which flowed into the imagination. I started drafting a tale I believed would be engrossing, and trusted that I'd discover what I wanted to say in the process of writing. So, as Pamuk says in his The Naïve and the Sentimental Novelist and Lodge in his The Practice of Writing (two fabulous books, btw!), eventually the entire process was partly intuitive and partly analytical. My love of Puglia played a big role, too: my native region was an inspiration in its own right, with its beauty, history and cultural richness.
Why did you decide to place the action where you did?
The plot unfolds in London and (mostly) Puglia because they're places I know intimately. My characters move in landscapes and societies in both of which I'm deeply integrated and which I could therefore portray with authenticity. They're the complex frameworks which shape and test the protagonists in profound ways. Puglia, with its visible layers of history and civilisations, was the ideal backdrop for a story about a man forced to 'excavate' layers of his personal past. The text is multi-layered, too: I've been delighted to hear readers say the plot grips them, and, at the same time, that other aspects of the novel resonate strongly.
How do you research a novel such as this?
I was born and grew up in Puglia, and I've long been interested in its history and that of the Mediterranean, so I did not have to research the places, history or culture. I was educated in Switzerland and the UK, and have lived and worked in English-speaking environments for decades, but I've spent every summer and almost every Christmas in Puglia with my family. So, the research I did for the book was of a different kind. For example, as I've been bilingual nearly all my life, I had to investigate how learning English as a young adult instead might affect the tone of my narrating protagonist, Tommaso. Central to the story are all the forms of love he encounters, so I looked at love from a range of perspectives, including psychology and philosophy texts. Artefacts are present throughout the novel for their mnemonic resonances and as symbols, recurring motifs, witnesses… they even drive the action forward. I researched them one by one.
So, you'll read of Tommaso's childhood sensation upon holding a 2000-year-old miniature clay horse (p. 82); you don't need to know more about that archaeological find, but I did, to feel the emotion it might elicit in a child and communicate it to the reader. Having spent every summer on the coast beneath Ostuni, I know the town extremely well, but I had to explore it afresh – that is, I repeatedly walked through its streets like a 'Method actor', trying to imagine it through the filter of Tommaso's perceptions and selectivity at different points in the story.
Why is the story important – its message?
It's easier for me to say why something written by someone else, rather than by me, might be important. I didn't set out to convey a specific message, but by the end of the writing process the book's 'centre' had emerged: the value of compassion – not 'pity', but the 'feeling with' suggested by its etymology. With a little compassion for each other, so many issues can be resolved with mildness. With a little compassion for ourselves, we can accept when we're wrong, and do better. It's a quality running through every single form of love.
The story of young love is difficult – a kind of modern-day Romeo and Juliet. Which stories of young love like this have you seen?
Thank you for bringing up Romeo and Juliet, as they're relevant, as are Beatrice and Benedick. What happens with Anna's letter to Tommaso, and with his to her, is a bittersweet allusion to Romeo and Juliet, while the repartee at the beginning of their relationship, and their capacity for insight at its apex, is a nod to Shakespeare's more mature couple. Anna and Tommaso's is young love, but of a very particular type: as Tommaso eventually realises, it possesses the premises for a strong lifelong love. In that sense, it's not young love, but any romantic love which helps people grow, which opens us up to fresh discoveries about internal and external realities. Obviously, even the best-matched couple needs to tend to its relationship. But in Tommaso and Anna's case, various characters' fluctuation between mature and immature responses to challenges result in that love being forever 'crystallized'. By the end of the book, Tommaso has grown because an act of compassion by Anna has 'reached' him and enabled other forms of love to fall into place – but hers wasn't an act of romantic love.  I don't know why I haven't come across similar novels by contemporary authors. Maybe because of the way it crosses genres, by being about love and coming of age, with a love story at its core?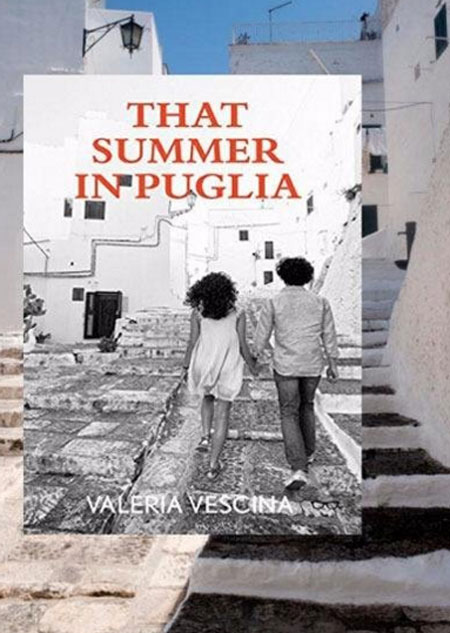 Who would play your characters in a movie of the book?
It'd be wonderful to see this book turned into a movie. The plot evolved in my mind as a sequence of scenes, which might flow naturally for the camera. So it will probably strike you as odd that I can't put actors' faces to my protagonists' names. For me as the writer, my characters would suddenly feel constricted by acquiring the features of human beings I associate with other roles.
Something you found surprising whilst researching the novel?
The thing which surprised me most was how often intuition showed the way. I don't mean this with arrogance. On the contrary: I took time to reach key decisions, researching the available alternatives with an open mind. For example, the narrative form I chose – the dramatic monologue – was the first one to occur to me, but still I experimented with third-person narration. It was after studying the dramatic monologue form in some depth that I then saw why it provided a coherent linking of various aspects of the work. No research is ever 'wasted': you always learn something new and often helpful in unexpected, serendipitous ways.
Can you tell us more about Puglia and your own experiences of it?
As discussed earlier, my roots are in Puglia. I was born and grew up there, and that's where my parents, relatives and lots of good friends are, so I've returned there every year, though I've long lived and worked in London. Puglia for me is a place of affections, warm emotions and good memories. In London, our family has an international cuisine, but it's heavily weighted towards Apulian dishes. Some of them feature in That Summer in Puglia: orecchiette with Apulian ragù or with broccoli spears; tajedda of potatoes and artichokes… The beauty of the landscape moves me every time I visit: the centuries-old olive groves; the Renaissance watchtowers dotting the coast; whitewashed towns like Ostuni and Polignano; the silence of Egnazia, where Bronze Age ruins sit next to Hellenistic and Roman ones; the medieval castles of Emperor Frederic II; the Basilica of Trani soaring like a ship on the Adriatic Sea; the Norman temple of St. John of the Sepulchre in Brindisi; the mosaic of Otranto's Cathedral; the Baroque joyfulness of Lecce… I could go on. Although the novel was not intended to attract tourists to Puglia, I hope it will make the experience of visiting the region much more interesting and emotionally engaging for any readers who do. One of the local sayings is 'Hospitality is sacred' – I think visitors will find Apulians very welcoming.
Photos by Valeria Vescina ©2017. Reproduced with kind permission of the author.
Thank you so so much Valeria for taking on such a magical adventure both here and a poignant memorable one in your novel
Twitter: @valeriavescina   Web: valeriavescina.com