Step inside the magical world of Essie Fox…
Enter the magical world of Leda Grey…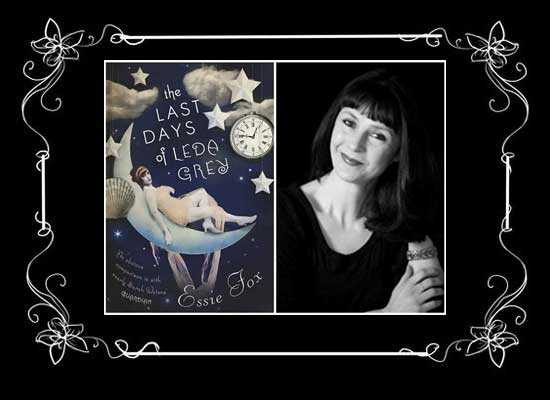 Out of all the authors, there is one that always transports her readers to a magical mystery world like no other. One who I think must live in a huge Victorian mansion with creaky floorboards and a gothic staircase covered in vine leaves. And have a grotto in her back garden where she writes novels such as The Somnabulist, The Goddess and the Thief, Elijah's Mermaid and now The Last Days of Leda Grey
I sat her down with a tray of fairy cakes, pink lemonade and had a bit of a chat……but not before she floated into the room, and sat on a seat shaped like a giant silvery blue moon .

Essie on Booktrails…..
It's odd, because I hate being cold, but the locations of novels that feature snow are the ones that often stay with me most strongly – and of course they are perfect as Christmas books. So, perhaps if I had good thermals and a very quick means of escape (not just from the cold but from ghosts as well), then I'd like to visit the world I found in Michelle Paver's Dark Matter.
This story begins in London at the start of the second world war, when Jack travels to the Arctic to work as the wireless operator during an expedition trip. There, the Arctic summer is brief and as the darkness of winter spreads Jack is forced to face supernatural fears – as well as those lurking in his own mind.
For me Christmas is all about having the luxury of time to immerse myself in a really big book.
This year I'll be re-reading The House of Leaves by Mark Z. Danielewski.
The novel is set in America – some scenes in tattoo parlours and bars, but the parts that have stayed in my memory are those in which a family moved to the Virginian countryside – to enjoy the normal and quieter side of life, after the father has spent some years working as a war photographer. However, their life goes on to become anything but normal, or quiet, although whether the ensuing horrors are real or in the characters' imaginations is one of the novel's mysteries.
With multiple narrators and an original presentation style this complex puzzle of a book does require your full attention, but once read you will never forget it. And, here, as a companion piece, is a track from an album called Haunted recorded by the writer's sister who works under the name of Poe. It gives a wonderful teasing taste of the  claustrophobic atmosphere that runs through the novel's pages – or leaves. A perfect, spine-chilling Christmas book.
How does a novel transport you?
The best novels give a sense of place through descriptions which are more than visual, by invoking all the senses – whether that be smell or sound, or taste – and also by alluding to the internal emotions of characters. The atmosphere of buildings may not only provide a physical 'look' but may also reflect internal thoughts. And of course the weather also helps to create a novel's atmosphere; lending a mood to what goes on beneath those clouds, or rain, or sun.
If you were in the place of the book you're reading now, where would you be?
I'm re-reading The Ballroom by Anna Hope which means I would be living in a lunatic asylum in the countryside not that far from Manchester. It would be very hot as well, during the sweltering summer of 1911 – and with the previous question still in mind, that oppressive heavy summer heat is also the perfect companion for the mood of incarceration felt by the asylum's inmates.
Which character would you take with you on a Xmas literary holiday and why?
I would take Miss Marple and go to stay in an old country hotel with an intriguing mixture of other guests from every walk of life and class. My travelling companion would then use her powers of observation to seek out any villains around and turn the dullest holiday into a compelling mystery – so long as I wasn't on the list of any murderers around.
Have you ever been to a place just because you've read it in a novel?
Yes. I was at one time a little obsessed with the novels of Thomas Hardy; totally immersed in that rural world and the characters that inhabited it. It was such a thrill to visit Hardy's birthplace at Higher Bockhampton. To walk through the village where he'd lived and where he'd been inspired to write felt oddly personal and profound.
For anyone else who's interested in the author's life I'd recommend the novel Winter, written by Christopher Nicholson which is not only a wonderful take on the author's personal relationships, but also gives a vivid sense of the house where he lived in later life.
Film v book?
One of my favourite books that has also been made into a film is The Prestige by Christopher Priest. I like them both equally.
The film is quite different to the book, though it retains the central theme of two rival stage magicians, Robert Angier and Alfred Borden,and the twisting plot which then leads on to tragic results for both of them. Unlike the book the film's setting is restricted to one historical time, mostly in the theatre world of Edwardian London – though I must not forget the stunning scenes in a snowy Colorado, when Angier visits America and seeks out Nikola Teslar (played by David Bowie) to help with electrical special effects for a new trick he has in mind.
As well as the story of the magicians, the book also has a modern theme running through the narrative. It begins in 1878, when the two young magicians first chance to clash during a spiritualist séance – from which point on they are obsessed with seeking each other's ruin.
In the more modern thread of the novel the two men's descendants' also meet in a wintery snowbound Yorkshire, and the final scene in a house there is something I've never got out of my mind. It still haunts me to this very day. Absolutely brilliant.
If a novel is set in a place you know what do you keep/change?
This is an interesting question as I've set my latest novel, The Last Days of Leda Grey, in and around a seaside town that I've given the name of Brightland.
I'm sure it's clear to readers who happen to know the place that the setting is based on Brighton. Many famous landmarks are described and historical allusions made. But although I know the town quite well I didn't want the fear of mistakes to restrain the story's natural flow. It was when I thought to change the name that I found the process easier – knowing then that my readers would have a sense of a familiar setting, but would not necessarily expect the geography to be exact – especially as some scenes are set in a place that's entirely fictional; that being a crumbling cliff top house in which much of the story develops. But, even that house's surroundings are based on a real setting, which is Shoreham where, many years ago, early silent films were made.
And with that Essie floats off to spend Christmas sitting on that wonderful blue moon eating chocolates no doubt
Thank you so much for chatting today! x
Booktrail Boarding Pass: Essie Fox