#AuthorsonLocation – Bellismo Roma! – Karen Swan
I'm currently scootling down the cobbled streets of Rome, on the back of a vespa, my long hair flicking out the sides of my rather flimsy crash helmet. Oh I can feel the city  in every bone of my body or it could be that this has to be the most cobbled place I have been to. My Italian guide, Nico, tells me to keep tight ahold but to be fair I think he's going to have to prise my fingers off his waist one by one as they're frozen in this position.  Look at Roma! he cries. I would if I could open my eyes. When I do, I can't see through the curtain of hair, but I can smell the city, the markets, the food and cafes. I can hear the shouts of people in the street, the shopkeepers, the cafe owners
I'm here to meet Karen Swan – an author who creates such evocative locations in her books, you actually think you're there. Oh, there's Piazza Angelica  – I'm thrown off the vespa at the feet of a  waiter bearing cake. I think this is to mask the pain. Well it works. Then Karen comes into view….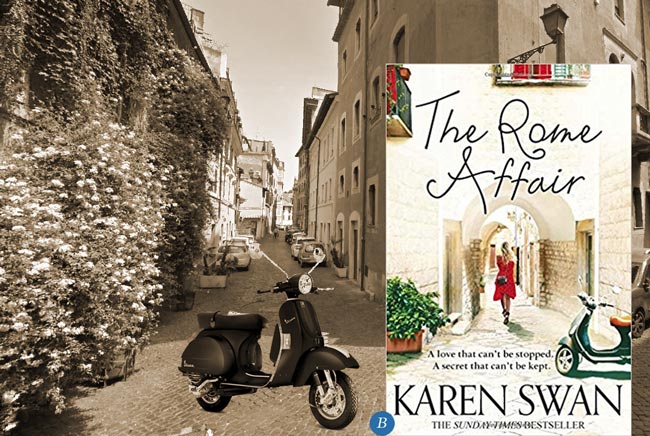 What an entrance! she claims! Telling her it was all planned, we sit down to cake and prosecco before she takes me on a mini tour to her favourite spots in the city of Rome! (Walking – no vespas involved)
It's tucked down a side street in the very heart of twisty, winding Trastevere, is this charming old-school bakery. Nothing has been touched – it seems – since the 1950s and the windows are lined with racks of the most incredible-looking biscuits and pastries. Ten yards down the street, on the opposite side, is the little building which I used as the basis for Cesca's apartment in The Rome Affair. If I could live there and eat at that little store every day for the rest of my life, I would.
Cinzia's, Via del Governo Vecchio, 45
A tiny, cramped vintage store just a few minutes' walk from Piazza Navona, this place is my crack den – I simply have to get a fix of rifling through the rails and rails of vintage goodies (not particularly high-end, just funky and fun). My husband knows to just take a seat and wait for it be over.
Casa delle Letterature, Piazza dell'Orologio, 3
A library, meeting place, study area, this beautiful building is the perfect place to dip into if you need to escape the city's heat and clear your mind. It has an orange grove in the courtyard and there's always an exhibition on.
The little cinema around the corner of the Trevi Fountain is also the entrance to ancient ruins still standing beneath the streets.
Campo dei Fiori
Fruit, vegetable and flower market – the last remaining open-air market in Rome, some of the stall-holders have pitches that belonged to their grandparents in the 1920s. I always get there super-early to avoid the crowds and nab the best of the wares.
The Pantheon
My one tourist stop that I really can't skip when I'm in the city. I love everything about it – it's squat vastness, the millions of tiny, ancient bricks, the huge pillars outside; And I could gaze at the sky through the oculus for hours – it's one of my dreams to see the snow fall through.
With many thanks to Karen Swan for the tastiest bite of Rome I've enjoyed in a long time!
Twitter :  @KarenSwan1  Facebook : KarenSwanAuthor/