Travel to the hotel featured in The Maid by Nita Prose
Where is the hotel featured in The Maid, Nita Prose?
We can't travel freely at the moment, so reading about hotels seems that much more enjoyable and necessary. Nita Prose writes about a fictional hotel is her new novel The Maid which looks at the parts and staff of the hotel experience that you might never get to see or notice. The hotel featured in The Maid isn't real, but rather a fictional creation. Still, Nina hopes that she has conveyed something about the flavour of hotels that suggests why we all want to travel to them (and why we miss them so much after last year!).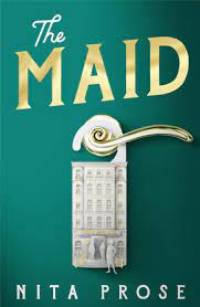 Nita, it's over to you….
I've always loved hotels. When I began writing The Maid, I knew early on that I wanted the Regency Grand, the hotel in the novel, to be more than a setting. I wanted it to be a character the reader would come to know as intimately as the protagonist, Molly, a socially awkward hotel maid who is accused of murder when she finds a guest very dead in his bed.
The Regency Grand is a fictional hotel, though, a composite imaginary place that's very much alive in my head and one that I hope I've conjured for you on the page. If I've done my job right, you'll feel like a valued guest at this five-star boutique hotel that prides itself on "sophisticated elegance and proper decorum for the modern age." An Art Deco beauty the Regency Grand is, as Molly says, "polished to perfection." Red carpeted steps lead you through gleaming revolving doors. As you enter the ample lobby, you'll marvel at the fine Italian marble floors. Your breath might catch when you take in the grand staircase for the very first time, its balustrades glowing and opulent, serpents twisting up to golden knobs held static in menacing brass jaws.
There's a perpetual energy coursing through this hotel, as porters resembling black-and-white penguins march crisscross through the lobby dragging suitcases behind them. Couples lounge in plush velvet loveseats, their secrets absorbed into the fabric, and tourists in matching t-shirts and comfortable sneakers trot off to yet another attraction. The hotel has a signature scent, too, omnipresent and timeless—a mélange of fine perfumes, the dark musk of leather armchairs, the tangy zing of lemon polish that's used twice daily on every piece of furniture, gilt frame and banister. It's the scent of life itself.
What do you think? Can you see it? Do you want to check in and stay a while? Do remember that the infamous tycoon, Mr. Black, died here not long ago, and while the hotel itself seems quite posh and refined, looks, dear guest, can be quite deceiving.
While the Regency Grand is a figment of my overactive imagination, I, like any writer, draw from what I know—but fact and fiction weave and wend, and it's only upon reflection that one can extract the strands of truth from the fabric of fiction.
Here is one such strand. In 2019, I went on a business trip to London. I stayed at an old hotel that in its day might have been grand but had lost a bit of its polish. After a meeting one morning, I returned to my hotel room and surprised the maid who had come to clean it. When she saw me, she gasped and took a step backward into a shadowy corner. She was holding my sweat pants that I'd left in a tangled mess on the bed. It occurred to me then what an intimate and invisible job it is to be a room maid. Simply by cleaning my room day after day, she knew so much about me. But what did I know about her?
BookTrail the locations in The Maid
A few days later, I was on the plane home when it came to me: Molly's voice—crisp, clean, precise. She was, much like the imaginary hotel I saw in my mind's eye, "polished to perfection." I grabbed the napkin from under my drink and I wrote the prologue in a single burst.
I didn't know it then, but I'd just begun my debut novel….
BookTrail Boarding Pass: The Maid
Twitter: @NitaProse  Web: www.nitaprose.com