Northumberland Author Stephanie Butland
I'm honoured to have been selected to be the first stop on the whistle-stop blog tour with Stephanie Butland, author of Surrounded by Water.
The book is set in fictional  Throckton, a fictional market town.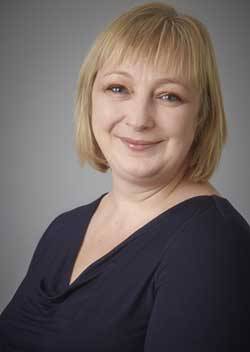 Written by Stephanie Butland from Northumberland! Hi Stephanie! Welcome to Book Trail TowersStephanie is one amazing writer. Not only has she written books about getting over and fighting cancer, now she's written her debut novel about a woman grieving over her dead husband – and not only that finding out that he may not have been the man she thought he was. It soon becomes clear that her husband died in mysterious circumstances apparently when attempting to rescue a girl from a lake.
Who was the girl and what was she doing there? What was her husband doing there? Is there any kind of connection?
As soon as Elizabeth starts asking questions and the answers to these questions and more come out, then one thing leads to another and her whole life starts to unravel.
The flashbacks are interspersed with letters which Elizabeth writes to her dead husband in order to make sense of things and to vent her feelings. The grieving is raw and real and if you have ever lost someone it will certainly resonate in more ways than one.
Stephanie is from the North East and for that reason, we have made a rather special cake today for her (and me of course) to enjoy as we put a few questions on the plate beside her.
You've got a busy tour ahead of you Stephanie so take a slice of this cake to keep you going….
The table is set, I'll just bring the cake through…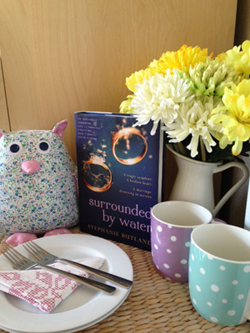 You've set your novel in fictitious Throckton. Is this based on Thropton in Northumberland or somewhere you have been? What about Butler's pond?
I'm not sure that I've been to Thropton! Throckton isn't based on anywhere in particular – or rather, it's based on lots of places: those little market towns that are all over the UK. You know when you go in to a gift shop and the person behind the counter not only knows everyone who comes in but also knows the person they are buying a gift for? That's Throckton…..
Your book is a very internal process of how people work through their thoughts and misperceptions trying to make sense of their surroundings. Did your use of the letters, and the various viewpoints used allow you to explore this in greater depth?
An early iteration of Surrounded By Water was written as a series of interlocking first-person narratives. My editor suggested that if I switched to third-person it would allow me to tell the story more fully, while keeping the insights that only come from the internal viewpoint. We decided to keep the letters in as they are such an immediate insight into what's happening in Elizabeth's heart.
You've written about the long and difficult struggle you've had with cancer. Did this influence you writing about Elizabeth and her battle with IVF?
That's a really interesting question, and not one that I'd considered. I suppose what my dance with cancer taught me is how it feels when something that is nowhere in your life plan shows up. There was no cancer in my family, and I was 37 when I was diagnosed, so it was a real shock. I think Elizabeth would have assumed that she would be able to have a baby without any problems – she is in her thirties, fit and healthy – so maybe that sense of 'this can't be happening' did pass from me to her.

You are really an inspirational lady who gets her readers to think about things in a  new way. Who is your inspiration?
Ah, the inspiration question! I always struggle with this – largely because there is so much inspiration to be had from so many people. So instead I'll tell you about an inspiring place: a Northumbrian beach, where the sky is vast and the sea always changes, where there are rarely more than three other people to be seen, where the wind coming across from the Steppes can cut you in half even in July. I love the space and quiet there, and I love the fact that walking along it I feel both safe and deeply insignificant. As my grandma used to say, it's glorious.
Which 4 literary characters would you invite to a dinner party and why?
Ooh. I love a hypothetical dinner party. Let's see. I'm going to balance the table with two men and two women. I'll have Becky Sharp from Vanity Fair – if she had been a male character she would be called things like 'enterprising' and 'resourceful' rather than being cast as heartless. I'll sit her opposite Hilary Mantel's Thomas Cromwell and they can be all scheming and flirty. Then I'll invite Dorothy from Gentlemen Prefer Blondes, because I love her dry humour and sense of adventure, and try to pair her off with John Updike's novelist character Henry Bech, who is wonderful but could do with taking himself a bit less seriously. I don't think I'd get a word in edgeways the whole evening.
Ooh I would love to be at that dinner party myself!
Would you like another piece of cake before you go? No? Oh go on – You're going to be very busy over the next two weeks travelling up and down the country.
With thanks to Stephanie for coming along to BookTrail Towers and of course Transworld publishers
Booktrail Boarding Pass Information:
Web: stephaniebutland.com