Brenda Novak talks nightmares
Brenda Novak is in the Departure Lounge today – ready for her next literary adventure but for now she's off to Alaska and we're going with her…
Is Hilltop Alaska based on anywhere in particular?
No, Hilltop isn't based on any town in particular. It's just similar to several small Alaskan towns I've seen on TV. 🙂
(Susan – Just as well really!? 😉
Hanover House is one scary place. What is it about serial killers and the ones  you quote in the book which fascinates both you and your readers do you think?
I think it's their lack of compassion. We see compassion as such an integral part of the human existence. If someone else feels pain, we feel pain. That isn't necessarily the case with psychopaths. They feel no remorse for their heinous crimes. Also, terrible behavior has terrible consequences, so I can't figure out why they are willing to risk ruining their own lives in order to do something I don't understand desiring in the first place. It's the mystery of that evil desire and my own curiosity about it that keeps me engaged.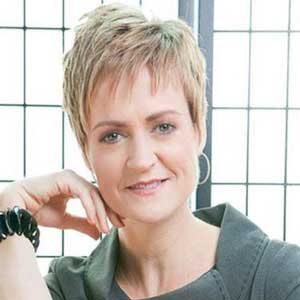 What is your relationship with Alaska and how did you research it in order to evoke it so well in the book?
I'm fascinated with Alaska because it is so remote–so foreign to my own experience. After living in California, a highly populated place for 32 years (and other populated places before that), the idea of a great wilderness really captures my imagination. I love that the setting can become a character–even a villain in some respects, because of the extreme weather. I did most of my early research online and via television shows, but I did have the opportunity to travel to Alaska during the summer, and I found it absolutely breathtaking.
( Ah music to my ears!)
A shocking incident put you on the road to becoming a writer. Do you think this level of adrenalin is what keeps you writing thrillers and gets that powerful tension across to your readers?
I caught my daycare provider drugging my children to get them to sleep all day while I worked as a loan officer, so I quit my job to stay home with them myself. I still needed to help make a living, however, so I was looking for work I could do from home. Writing was the answer. I'm not sure that incident fuels my drive now (although I'm still angry at the woman who risked the health of my children!), but it certainly set my feet on this path, and I'm grateful to have found what I consider my calling in life. I consider it my "silver lining."
You have been to morgues and visited all kinds of places for your novels. Does anything scare you?
I've been to morgues, prisons and cemeteries–none of them scared me. But I did pass out in the morgue. LOL I was watching an autopsy at the time. I was fascinated, busy asking question after questions–and the next thing I knew I was sliding down the wall.
(I wouldn't even have made it in to the morgue so kudos to you for that!)
You live in Sacramento? Where is a nice place to sit and read one of your novels?
We have lots of great places to sit and read here in Sacramento, and we have the fine weather in which to do it. We have a bike trail along the American River that's something like 40 miles long. Any point along there would be fabulous. We also have one of only two inverted deltas in the world. I love driving out along the little roads that weave through the waterways to visit the tiny towns out there. Staying over at a B&B and sitting out on the porch to read would be great, too!
So you are a literary traveller yourself aren't you?
I've written over 50 books, so I've explored quite a few locations. New Orleans is my favorite American City. I once set a book called BODY HEAT there. I've set an entire series in Gold Country (where gold was discovered along Highway 49 in Northern California, which sparked the gold rush in 1849–it's not far from where I live). I've written historicals that have been set in Bristol, London and Manchester. I did a suspense trilogy set in Arizona, where I was raised, and I did another suspense trilogy set in a fictional town called Stillwater in Mississippi. As you can see, I've had the wonderful opportunity of researching and exploring many places!
Somewhere you would love to set a novel?
I'd love to set a historical series in the American colonies. 🙂
Favourite cake
Homemade German Chocolate! Yum!
( Ah Brenda you have spoken the magic words)
What book would you like to visit  the locations of and why?
Outlander! I love no place better than Scotland. I had the good fortune of touring the castles of Scotland not long after I started writing, and it will probably always be my favorite vacation.
( Well Brenda you seem to have nerves of steel, so next time you come to Scotland, be sure to bring your tartan woolies and I'll introduce you to the biting Scottish wind, haggis and the strange beast that is the deep fried mars bar…)
Thanks Brenda for taking time out this Halloween!
Twitter:  @brenda_novak     Facebook:  /BrendaNovakAuthor    Web: brendanovak.com