Travel to Mallorca for A Summer Reunion with Fanny Blake
Travel to Mallorca for a summer reunion
A treat today as Fanny Blake has invited you all to join her on A Summer Reunion. It's her latest novel set in the mountains of Mallorca so how about  spending the weekend there!
Imagine the sunshine, the scent of oranges, the friendships…and also the secrets…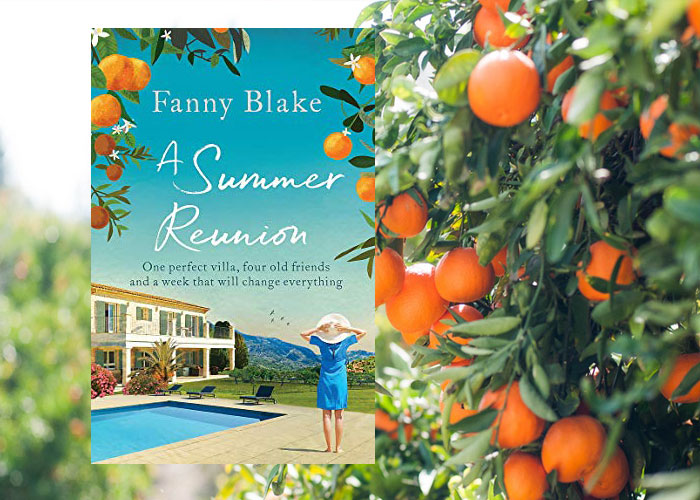 My new novel A Summer Reunion is set in the mountains of Mallorca, as four female friends who were once at school together reunite in a house on the outskirts of Fornalutx, arguably the prettiest village on the island. What starts as a treat of a weekend away turns into something much darker and unexpected. Although the novel centres on the changing relationships between the women, I wanted them to be uprooted from home and placed in a special insular setting. Mallorca offered just that.
When I visited Fornalutx for the first time, I knew this would be my starting point. Beautifully restored, its stepped streets meander up one side of the Sóller valley, flanked by typical honey-coloured stone houses with dark green shutters. At its heart is the village square, bordered by cafes and the church. On the road out of town are some excellent restaurants showcasing regional cuisine.
The town of Sóller is a forty minute walk away, along paths that wind through olive groves with views back across the valley and the citrus orchards to Fornalutx.
Sóller is a delight.  Centred on its own large square, surrounded by cafes and restaurants over which presides the baroque Church of Sant Bartomeu, a warren of narrow streets offer all sorts of surprises from the Picasso ceramics in the town station to the art nouveau wonder and gallery that is C'an Prunera and the delightful botanic gardens.
Through the centre of the square runs the wooden tram that regularly runs to Port de Sóller and the sea. A short drive along the astonishingly beautiful coastal road is Deià, once home to Robert Graves and well worth exploring. Not far away lies the village of Valldemossa in whose attractive streets you'll find the birthplace of Saint Catalina Thomàs, the Royal Charterhouse where the  pianist Chopin and the write Georges Sand stayed, and more.
I visited all these places over a couple of weeks, many of them suggesting scenes and events in A Summer Reunion. My characters walk the walks, sit in the squares, visit the sights, eat the food and explore a little bit of this wonderful island, just as I did. Though I had a much easier time of it than they do!
Thank you  Fanny for such a summery BookTrail!
Twitter:  @FannyBlake1