Travel to Glasgow's Innocent Dead with Lin Anderson
Glasgow's Innocent Dead  –  A Literary Guide
The lovely Lin Anderson has written a cracking crime series which blows the lid of Glasgow. She's been touted as doing for the city what Rebus does for Edinburgh and that is so true! THIS is a view of Scotland's second city that you NEED to see – via a book..there are some dubious settings within the novel that you wont' be visiting via the tourist board that's for sure!
This is Rhona MacLeod's stomping ground. Lin Anderson is your literary guide……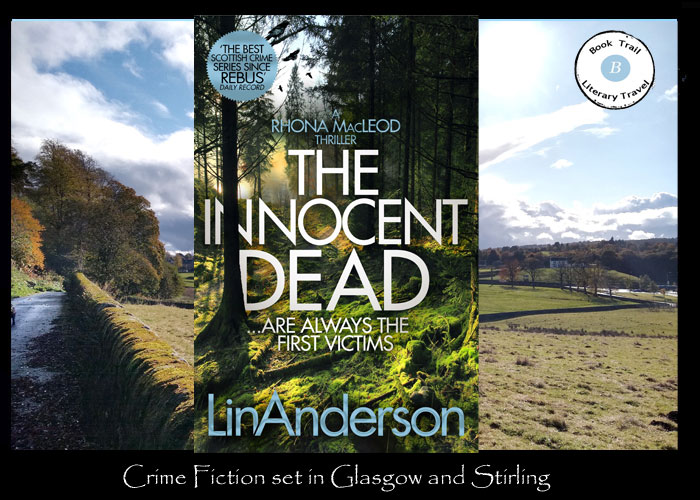 GLASGOW UNIVERSITY
Dr Rhona MacLeod has her fictional forensic lab in the heart of the city at Glasgow University. It's a wonderful gothic building which sits on top of a hill overlooking Kelvingrove Park and the famous red sandstone Kelvingrove Museum and Art Gallery. From her lab window (which is roughly where the Principal of the University has his office!), she has a panoramic view of the city. She can see  the golden dome of the Glasgow Central Mosque, and the Glasgow Titan Crane on the River Clyde.
PEATY BOGS
When a young couple decide to wild swim in a peaty loch south of Glasgow in early May, they expect to be cold but not horrified. The loch is in a special area of rare raised peatbog. This is exactly the environment that has produced preserved human remains over thousands of years.
However the small hand they see in the peat bank is not an ancient relic of the past, but belongs to the preserved body of a child. A girl of eleven, who disappeared 45 years before from her home nearby in East Kilbride, just south of Glasgow.
LOCHS V LOCHANS
Areas of raised peat bog are very rare, and wishing to feature them, I called on forensic soil scientist Professor Lorna Dawson for help. She was kind enough to send me a map of areas in Scotland designated as such. As a wild swimmer I've swum in small lochans all over Scotland. Some of which appear and disappear depending on the weather and season, just like the one in the story.
THE MAP
Forensic scientist Dr Rhona MacLeod is also a wild swimmer. She excavates the body using forensic techniques not available when the victim disappeared. This turns out to be key to identifying the killer.
The disappearance of Mary McInally, on her way to her confirmation at the nearby chapel, tore her small community apart. Her best friend Karen Marshall was shocked into silence, blotting out the memories of the day her friend disappeared until all those years later, her body is found.
STIRLING
Karen, now living in Stirling, looking towards the famous castle, begins to revisit the time that haunted her, via her childhood diary.
The detective in charge of the unsolved case 45 years ago, DI Jimmy McCreadie, left the force under a cloud. Now, he is a famous crime writer known as J.D. Smart. He too lives in Stirling, next to King's Knot and the Back Walk.
Black Walk is a wooded path on the steep hill rising up to the ancient cemetery that borders Stirling Castle….
Neither are aware of the other's existence in the town. That is until former DI McCreadie aka J.D. Smart is called in to help with the case he once was in charge of.
However, there is little to no evidence remaining from 45 years ago. Therefore, the investigative team must rely on the former detective's recall and the forensic evidence from the gravesite. In addition, there's whatever Mary's best friend Karen can tell them, if only they can locate her.
An increasingly traumatised Karen begins to piece together her past in parallel with the new forensic jigsaw Rhona is assembling. It soon becomes apparent to Mary's killer, that Karen should have died along with her pal.
And it's not too late to achieve that.
Off to Glasgow and Stirling for all literary travellers out there!
Twitter: @lin_anderson  Web: www.lin-anderson.com/