#Authorsonlocation – Literary London – Sam Jordison
Literary London is quite a place – You might think of Dicken's London or Shakespeare but what about the city as a whole and how has the city influenced writers past and present. Which streets can you walk up and feel the presence of writers and their characters. What do those blue plaques mean? What kind of people have lived, loved and written there?
Are you really tired of life if you're tired of London as someone once said? Sam Jordison (along with co author Eloise Millar) has written a book about the city, its literary links and literary nuances. Plus he's got a literary bombshell coming out in June in which he picks apart and analyses the current political climate of the capital and others across the world. So from literature to politics via a few crap towns….(you just wait)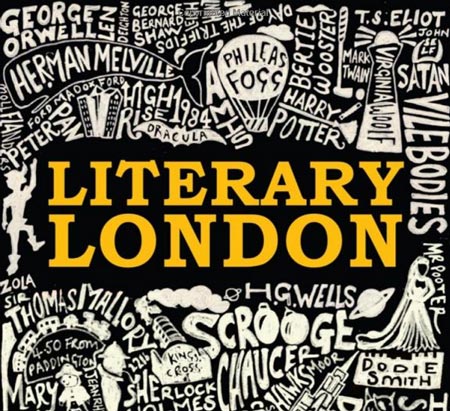 I used to live in London and started out working there. I frequently go back to teach in Kingston and Greenwich, drop in on the offices of the Guardian and publishers. As well as to meet friends and – yes – go to literary parties.
London is so brimming with wonderful stories and figures. And my co-author Eloise Millar and I hoped we had a new way to tell them, looking at them in relation to place, but also the long running trends and themes and types of character that have been in the city so long.
We did a lot of reading! We read biographies, old London guides,other guides to Literary London, lots of novels, found fantastic websites like David Perdue's Charles Dickens Page. And we walked around, talked, dredged the memory banks…
Some favourite spots?
Site of the Tabard inn on Borough High Street – place where Chaucer set the opening of the Canterbury Tales.
The Globe on the South Bank – essential for all Shakespeare pilgrims.
Old British Library Building – Great Russell Street – place Marx wrote Das Kapital – and hundreds of other writers worked.
Ye Olde Cheshire Cheese, Fleet Street – favourite pub of Dickens (appears in A Tale Of Two Cities)
Bloomsbury Square – where so many members of the Bloomsbury set worked, played, lived, loved and staggered home drunk.
Any favourites?
I loved writing the chapters on rebels in London. The radicals and subversives, the amazing women who have been fighting for good for so many centuries, and the hippies and beatniks who were so determined to change the world.
I love the story of Karl Marx getting roaring drunk with a group of German philosophers after taking a drink in every pub between Oxford Street and Hampstead Road… They ended up putting out gaslights with stones, and getting chased over garden fences by policemen.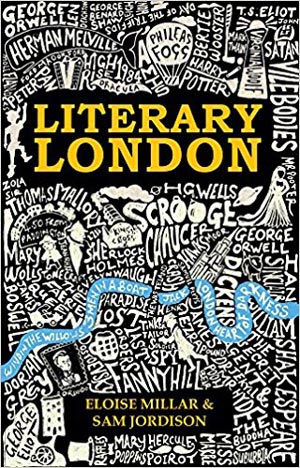 Why should someone take your book and walk around London?
Well hopefully, if nothing else, they'll have a very pleasant and informative walk! There's so much hidden beneath the stones in London. Every street is crammed with possibility and history – if only you you know the stories.
How did you pick the sites in the book?
Quite easily! Once we had our themes, and the stories, the sites followed pretty naturally.
Which is the booktrail you would like to do?
I'd love to follow some of Jack London's journeys across the USA, Canada and Alaska. Booktrails are the way to travel!
Crap towns:
You've written a few books about crap towns haven't you?
I certainly have! Three.
Do you have a favourite?
Morecambe is probably closest to my heart. It's near where I grew up – and it's the place that inspired me to write the series. It's also very beautiful. Happily, it's looking much better today than it did when I was first writing the Crap Towns books. Although, post-Brexit, I'm worried it's going to hit the hard times again…
Tell us more about the reception you've had and the sense of humour that is so inherent in these titles
Well, the Crap Towns books key into people's ability to laugh at themselves, to a certain extent. And also that Bruce Springsteen mix of love for your hometown, combined with desperation to leave. It's also the comedy of truth. Of pointing out what everyone can see, but no one really talks about. The shock of the real… They've generally had a pretty warm reaction. Of course, some people have taken it personally. But I like to hope that at worst the Crap Towns books motivate people to change things for the better…
Enemies of the people
I wrote it out of a sense of burning resentment and horror at what's happening in the world. Out of a feeling of raging injustice. And also a terrible fear that there are idiots at the wheel. That the people who have brought us Brexit and Trump and that strange kind of populism that hates everything don't actually know what they're doing. It isn't just that they don't have our best interests at heart. It's that they don't have a clue… The other thing to say is that because of all that, and because they're such buffoons, there's also a lot of comedy inherent in their actions. Writing the book has occasionally been a process of dark discovery. But a lot of jokes came out of it too…
Research must have been …well complicated!?
I did a lot of research on the web. Lots of reading too. I went back to the source on quite a few things. So I read Milton Friedman's Free To Choose, for instance, the book that is largely responsible for our current economic systems (and problems!). It was complete nonsense. Really transparently silly. It was quite terrifying that our world has been built on such shaky foundations… But it explained a great deal.
Thank you Sam! Might well bump into you during a booktrail at some point no doubt!
Sam Jordison writes for the Guardian and is the co-editor of the Crap Towns series of books, the I-Spy for adults series and Enemies Of The People. He co-founded Galley Beggar Press.
Eloise Millar's first novel, Wednesday's Child, was published by Virago in 2004 and was shortlisted for the YoungMinds Award. She is also a journalist and co-founded Galley Beggar Press, an independent publishing company.