WOTS new with Linwood Barclay?
As part of the celebrations for the WOTS Festival in Toronto next week, we've a very special guest today! – A huge welcome to Linwood Barclay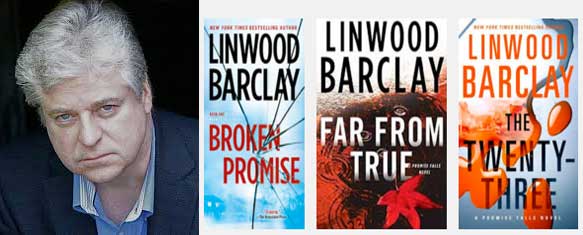 Want to travel to Linwood Barclay's Promise Falls? Book your journey here
You've just returned from Theakstons crime festival. How was it all? Did you sample any of the local food and drink?
I had a great time. It was my second time to Harrogate, and it was great reconnecting with friends and fans. And Mark Billingham did a terrific job with the interview. He was well prepared, and there were loads of laughs. I'm not much of a beer drinker, but that didn't stop me from having a good time.
Do you come over to the UK often? What do you think of our growing list of Crime Festivals? (Theakstons, Crimefest, Bloody Scotland)
I'm in the UK almost every year, and have done Bloody Scotland once, the Cheltenham festival two years ago, and Theakstons a second time now. I think some of the best, and best-attended events I've ever done have been at those festivals.
At the booktrail, we feature maps and travel guides for ever book on the site so you can visit London with Mark Billingham for example even when he's not there for real! Have you ever got any time to explore when you're on a book tour?
Whenever I come over, my schedule is so jam-picked I don't have much time for exploring. When I have a day off in London, I leave the Covent Garden Hotel and wander about. Whatever I can walk to, I see, and have a good time doing it.

What appeals to you about the UK literary landscape? and would you ever set a book here?
I wouldn't rule it out, but I will probably continue to set most of the action in North America. I think to write convincingly about a place, you need to have spent a lot of time there so that you get the details right.
What else appeals to you about the UK? Is there something that the UK should adopt from Canada?
Wider roads.
How do you think Canadian novels travel?  And British novels in Canada?
UK writers are very popular in Canada, more so there than in the United States, I think. Our bookstores mystery sections are loaded with Val McDermid and Peter James and Ian Rankin (to name just a few). And a number of writers from Canada do very well in England – Peter Robinson (his primary residence is in Toronto, although he hails from the UK), debut author Shari Lapena, Margaret Atwood, and myself.
You set your novels Stateside but you're Canadian. Where in Canada would you think of setting a future novel?
I like the so-called cottage country of Ontario, where, as a kid, I ran a cottage resort and trailer park. It has its own distinct feel, and while the setting is not named specifically, it is where much of my first novel for young readers – Chase, coming next July – is set.

You're taking part in the WOTS (Word on the Street) Toronto book festival. Can you tell us what your role is there?
I've been going to WOTS almost every year for twenty years, and not always as a featured author. It's a huge, one-day event (there are sister events held in other places across the country) with hundreds of vendors, readings, stuff for kids, etc. I'll be in one of the main tents talking about my Promise Falls trilogy.
The Canadian literary scene is something else. How would you say it has developed over the years and encouraged established writers such as yourself as well as the up and coming writers?
— There's a very strong literary scene in Canada, and for a long time I'd have to say it was focused almost exclusively on literary fiction. But I see that changing as more Canadian writers become recognized at home and on the world stage for crime fiction. There are many organizations for aspiring writers, but what can make it tough is the Canadian market is not a large one – we are a tenth the size of the U.S. market, for example, so getting published, and making a living through one's writing, can often be a challenge.
Top tips for visiting Toronto?
My favourite place to eat is an Italian restaurant called Terroni's. There are three of them in the city. Take a day or afternoon and grab a ferry to the Toronto Islands. Only a short distance from downtown, but it feels like you are hundreds of miles away. The Eaton Centre is a monstrous mall, but it's not bad if you want to shop. The east-west Queen Street is pretty interesting at both ends. Queen Street East, in the Beaches area, is worth wandering, and Queen West, where you'll find boutique hotel/bars like the Drake and the Gladstone Hotel (where my daughter was once an event planner) is also fun.
Six authors you would invite to a Canada/UK dinner party (3 from each country)
From Canada, I'd say Margaret Laurence, Robertson Davies, Stephen Leacock. From the UK, Agatha Christie, Ian Fleming, Roald Dahl. Even though they're all dead, I still think it would be a lively evening.
And with that, we wave goodbye to Linwood as he heads back to Promise Falls and of course Toronto in time for next week. Thanks Linwood!
Booktrail Boarding Pass Information:  Linwood Barclay
Twitter: @linwood_barclay    Facebook: /linwoodbarclay  Website:linwoodbarclay.com
For more information on WOTS Toronto: Word on the Street, Toronto, 25th September