Stay Buried – Kate Webb heads to Wiltshire
Stay Buried in Wiltshire
Kate Webb heads over to BookTrail Towers today with a fine trail of Wiltshire where her latest novel is set. You are in for a treat!!
Welcome Kate! Over to you….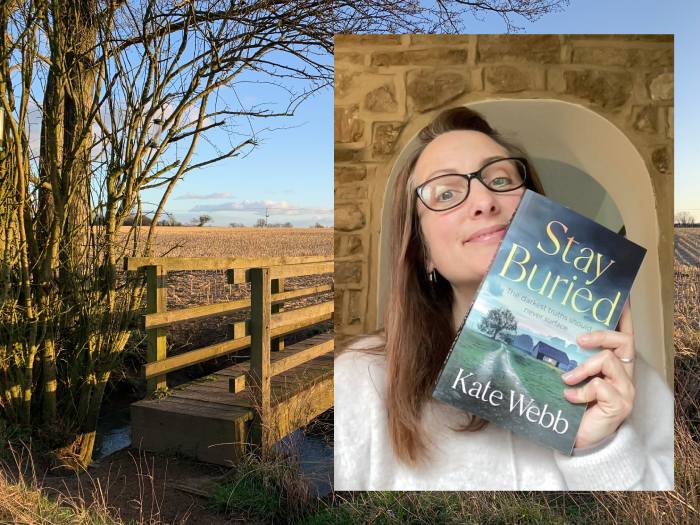 I grew up on the edge of Salisbury Plain, not far from Stonehenge; and I now live in the north west of the county. So, when I first hatched the idea of writing a crime novel set in the present day, I knew immediately that I wanted to set it close to home, in the wide open spaces of Wiltshire.
Landscape has always played a huge part in my writing — I love the countryside, and being outdoors in nature; it has always inspired me, and helped set the tone of my novels. Landscape — and the weather really affect my thoughts and my mood, so I suppose it's no surprise it also colours my storytelling. I wanted STAY BURIED to have the brooding, secretive feel that, to me, Wiltshire — and more specifically Salisbury Plain — has always had.
The plain is around three hundred square metres of rolling chalk downland; much of which is completely undeveloped, and remains just as it has for millennia. The land rises up from the fertile farmland below, in long, undulating ridges that run for miles. Eight of these steep hillsides have white horses carved into them — there were thirteen, once upon a time; some prehistoric, some more recent. Up on the high ground, vast areas of grassland are grazed by sheep and cattle, criss-crossed by paths and by-ways that people have used for hundreds of years. It's the perfect place for walking, cycling, and horse riding.
Salisbury Plain owes much of its pristine nature to the fact that the military has such a strong presence there. Particularly during WWII, large areas were taken over by the MOD for training purposes, and made out of bounds for ordinary civilians. There are still plenty of no-go areas; but even live-firing areas are generally opened up to the public for much of the time. If your planned route crosses a 'Danger Area" on the map, be sure to check the government website to make sure it's open, first.
Wiltshire is rightly famous for its prehistory. As I wrote in STAY BURIED, there's barely a farmer's field anywhere in the county that doesn't have a stone or bronze age burial mound somewhere in it! Most people have heard of Stonehenge, but there's another — to my mind even more powerful — Neolithic stone circle complex: the one at Avebury. You can walk in and around the stones themselves — indeed, the village of Avebury has grown up within the circle — before heading off down the processional avenue to Silbury Hill, a vast, conical, man-made hill, the purpose of which has never quite been decided upon. Which only adds to its mysterious allure…
There are so many prehistoric sites you can visit. A lesser-known but very atmospheric one is Sidbury Hill, a hillfort left entirely wild these days, (and grazed by Highland cattle the last time I walked there!). Any walk or bike ride you care to plot can take in burial mounds, long barrows, hillforts and ancient drover's ways, like the Ridgeway National Trail. Quite often you'll have the less well-known sites to yourself, and they're all the more evocative for it. They have that remoteness that I love; sparking thoughts and imaginings of the thousands of years, and thousands of lives, buried under your feet. All those stories! To me, it's magical.
Wiltshire also has charming traditional villages, struggling farmsteads, and fantastic pubs — examples of which all feature in STAY BURIED. DI Matt Lockyer is a Wiltshire man, through and through, a farmer's son, who has broken generations of tradition by leaving the farm and going into the police. By night, to clear his head, he walks the ancient pathways of the plain, taking solace in the silence and the empty spaces. In the cases he's called upon to solve, the people are as secretive and enigmatic as the landscape. Salisbury Plain is in Lockyer's blood, just as I believe it's in mine.
BookTrail Boarding Pass: Stay Buried
Twitter:  @KWebbAuthor  Web: katherinewebbauthor.com