A Letter from Norwich by Rachel Hore
A Letter and a travel guide by Rachel Hore…If you would like to go back in time to Norwich and London and to a very special place in Italy….this Last Letter Home is the novel for you. The most poignant story often starts with a letter…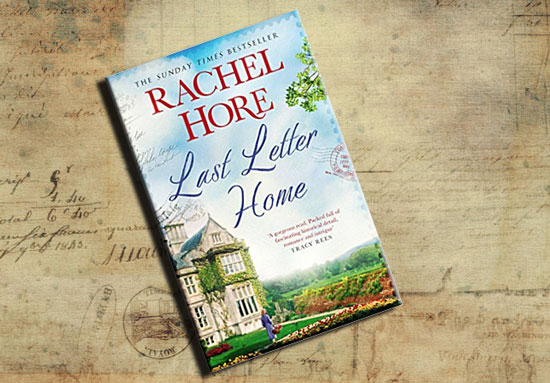 Location?
Locations in a novel are important because characters are deeply affected by the places they find themselves in.  The Norfolk walled garden in Last Letter Home becomes a symbol of peace and sanctuary for Paul and Sarah in the years of the Second World War.  When historian Briony Wood visits the remains of the garden in the present day, seventy years later, she experiences a strong connection to that past time.
During the war, Paul is sent to Egypt, then Italy, with the British Army.  These battle terrains are very different, but each hard in their own way, the climate, too. The soldiers suffer from extremes of heat and torrential rain to the point of madness. That peaceful walled garden is a memory Paul clings to during these years.  Place provides atmosphere and tugs at our emotions.
Research?
Some of the places I've visited:  walled gardens at country houses in Norfolk such as Felbrigg, Thornham Magna, and the one under reconstruction at Blickling Hall.  They enabled me to imagine the fictional one at Westbury Hall, a lovely old Elizabethan manor house I invented.  I consulted maps and guidebooks to learn about the way such gardens were constructed and what was grown there.  I've never visited Egypt, but the novels of Olivia Manning and nonfiction books about the war years there were invaluable in constructing those scenes.  Italy, I know as a tourist, but a great big fat volume by an American historian, Rick Atkinson, called 'The Day of Battle' gave me detail for scenes of the fighting.
Any message in the novel?
I didn't set out for my novel to convey a particular message, but maybe one comes across all by itself in the writing.  It's probably about valuing people as individuals and finding ways to overcome natural prejudice.  But Last Letter Home is also a novel about a deep, enduring love, and that forms the backbone to the story.
Evoking a setting with just words…
Evoking the five senses when writing a scene is a natural tool for a writer, enabling them to dramatize the experience of a setting.  The important thing is to do this naturally so that there is a feel of a character moving through their environment, but not so much that it becomes too stilted.  If they are busy being frightened or are intent on some action, they are not necessarily going to notice their surroundings.  If, on the other hand, they are exploring a place, then smell and sound and touch are going to be an important part of conveying this experience.  I was surprised to read about the invasion of Sicily that the invading British, trampling the fields in the darkness were met by the scent of thyme rising around them.  That must have reminded many of them of their gardens at home in Britain.
Any tips for 'visiting' your novel?
If visiting any of the places in the novel, you need to use your imagination now, because the scenes that they feature would have taken place many years ago.  The south coast of Sicily, then sparsely populated, has become the site of an oil terminal.  The pyramids of Cairo are still there, but on the edge of a modern city of metal and glass.  The Castle Museum in Norwich is wonderful, though, and definitely worth a visit.  The walled garden at Felbrigg Hall, a National Trust house in Norfolk, is to be recommended, as is the house itself, with its own tiny church and sheltering beech woods.
Thank you so much Rachel for a lovely visit to accompany your new novel!

Twitter: @Rachelhore Web:  rachelhore.co.uk