Murder by the (York) Minster with Helen Cox
Travel to Gothic York for Murder by the Minster
There's a treat in store for cosy crime mystery fans this Halloween. Helen Cox has painted York in some gothic detail in her latest book Murder at the Minster. There's no better place to visit when the nights are getting darker, the cold whips your face on your way home and the dark shadows of this gothic city look even more menacing than ever..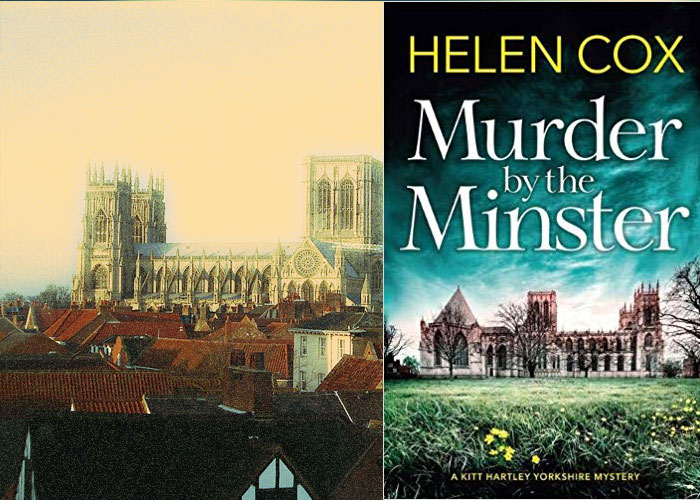 Helen Cox stopped by to showcase her love for York and why it's the setting of her latest book:
When I began work on Murder by the Minster, I was due to move out of York in a matter of weeks because my husband had found work in London. I've since come to believe that the book exists in part because I wanted to take a little piece of the city with me. That the writing of this book was a coping mechanism of sorts for leaving behind a place so close to my heart.
It wasn't merely personal attachment however, that made York the perfect place to let my next novel unfold. York's Tudor buildings, quaint cobbled streets and winding snickelways make for a vivid backdrop. Perhaps these locations are especially evocative because of the bloody history attached to them. This, alongside certain other geographic flourishes, makes this a place tailor-made for the storyteller.
York is a city of walls and bridges, and that contrast of connection and separation greatly appealed to my writer's instincts. The beauty of York's city walls – and the four gatehouses or bars as they are known – is relished by tourists even on an overcast day. The seeds of the story were planted when I asked myself, what kind of character would choose to live in a city surrounded by the longest (intact) Roman walls in England? The answer came in the form of librarian Kitt Hartley, who had built her own inner walls, destined to be knocked down by both events in the story and characters she met along the way. Beyond this, there is something dramatically tantalizing about a murderer terrorizing a fortified city – of an unexpected threat rising from within.
The city's bridges, and particularly Skeldergate Bridge, created a counterpoint to this element of the narrative and feature in the most intimate moments. There was a pleasing symmetry to including this landmark at a point where the characters were trying to reach out to each other.
There are two other geographical focal points that enjoy prominence within the grander arc of this book. Firstly, the river Ouse is pivotal to the drama of the climax. It is beautiful but treacherous and its various moods are a common talking point for local people.
When I lived in the city, I walked miles up and down the river every day, when it hadn't flooded the footpaths. It flows all the way out to its mouth at the Humber Bridge and in a historic city fixed in its appearance out of respect to what once was, there is something mesmerising about its movement.
On my walks I would pass without fail through Rowntree Park; much quieter than the tourist favourite: Museum Gardens. Ultimately, I chose to construct my fictional interior: The Vale of York University Library on the edge of this park. From there, the characters had a clear view across the river and could engage with the city's other, better publicised, focal point: York Minster.
From almost any place in the city's winding streets its spires are visible or its chimes can be heard. For many residents, whether they venture inside on a regular basis or not, this structure is a vision of constancy in uncertain times. Consequently, the Minster is mentioned during several key turning points in the story. Especially in moments when the characters are in need of hope and portents of good.
York is a favourite city of mine so this tour is extra special! Thanks Helen!
Twitter:@Helenography   Facebook: facebook.com/HelenCoxAuthor/  Web: helencoxbooks.com