The day I dice death on a Vespa to meet David F Ross
Well this morning has started off well. I was woken early by a man in what can only be described as a blue onesie. He was sitting on a vespa, with a record player and a boom box strapped to the back (do you remember those?) and singing an 80s Scottish pop song with Top of the Pops hand movements. I had not known you could incoporate a vespa into a dance routine until now.
He hands me a helmet with three day glo stripes on it and a picture of a dodgy daisy. This is the female helmet he says as I look at him with disbelief. I then have to wear a yellow onesie over my clothes so we are now heading up the motorway, clutching on to a day glo Vespa for dear life, looking like something the cat threw up on the way to Kilmarnock to meet David F Ross. Ah the glam world of book reviewing…
Finally I see David in the distance. I wave, forgetting that I have no sense of balance and proceed to fly off the Vespa, land in a ditch, and now only visible apart from the Daisy. The driver comes over to me and gives me the thumbs up – nice landing he smirks. I go to throw some mud at him but then David helps me up and takes me off to a cafe for a chat and a slice of arctic role….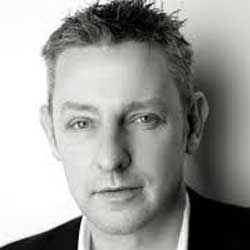 This book is a companion of sorts to Last Day of Disco. A parallel story. What was it about this time and place that made you want to revisit it?
I think the 80s was a decade of huge pivotal significance for politics, culture, music … but also for me personally. I've talked before of senses being fully attuned to various influences as you move from late teenage years into early adulthood. As a result of that, memories, feelings and sensibilities seem to me to be more easily accessible. I found that period of my life to be exciting and frightening in almost equal measure. That strange duality of having the world at your feet, but having no real idea what you would do with such an opportunity. I suppose that strange combination of hope and fear sums up the decade for me, and it's the framework for almost all of my characters regardless of their age.
You're the honorary guide to Ayrshire. Can you tell us more about the musical setting of this book?
This book stretches its wings a wee bit more than The Last Days of Disco, so I'll focus on some pretty great music venues, most of which the Miraculous Vespas play at some point in the book.
The Hunting Lodge in Glencairn Square
The Hunting Lodge in Kilmarnock was – and still is – a great pub for local bands to play. It was quite narrow but the sound quality was great and the atmosphere was fantastic as I remember it.
The Grand Hall
One of Max Mojo's dreams is for the Miraculous Vespas to play the Grand Hall in Kilmarnock. The Grand Hall is a fantastic venue for live music, forever immortalised in the 70's hit 'Ballroom Blitz' by Sweet. There was a riot in the hall when the glam rock band played there in 1974, resulting in a decade of no live music until the late Councillor and music fan, Angus Steele persuaded the Council to relent. One of the first gigs of its new era was by The Pogues; a big risk giving the venue's history, but one of the best gigs I've been at:

Night Moves
Max and Grant meet up with the DJ, Billy Sloan at Night Moves, a famous club at 92 Sauchiehall Street, in Glasgow. It was originally known as the White Elephant Club, before an arson attack closed it in 1977. It reopened firstly as Roseland Discotheque and then Night Moves.
The Rock Garden and Tiffany's
Equally famous was the Rock Garden in Queen Street, Glasgow. The Rock Garden is probably now most famous for the unannounced gig The Clash played there in 1985, on what was essentially a farewell 'busking tour'.
Most of the bands I saw in the early 80s played at Tiffany's, also in Sauchiehall Street, Glasgow. Formerly the Locarno, it was a great venue which, bizarrely, had a couple of palm trees just inside the entrance doors.
Fat Sam's
As the Miraculous Vespas name begins to grow, they tour other parts of Scotland, reaching the famous Fat Sam's at South Ward Road in Dundee. Fat Sam's remains one of the best and biggest nightclubs in Scotland and gigs there were also fantastic – just look at this place!

Barrowlands Ballroom
However, I couldn't really mention music venues of the 80s without finishing on the Barrowlands Ballroom at the Gallowgate in Glasgow's East End. I've been fortunate to have been to great gigs all over the world but I'd still suggest that for atmosphere, sound and incredible memories,
The record that you sent with the book is just amazing! Do you have a favourite song that reminds you on your life in the 80s?
Ah, that's a really tough one for a music obsessive like me. I have different records that I love like they were family members and its hard to choose between them, but I suppose if one song sums up the early 80s perfectly for me, it would be 'That's Entertainment' by The Jam. Every line connects with what it was like to be a bored, restless teenager in the despairing depths of Thatcher's Britain.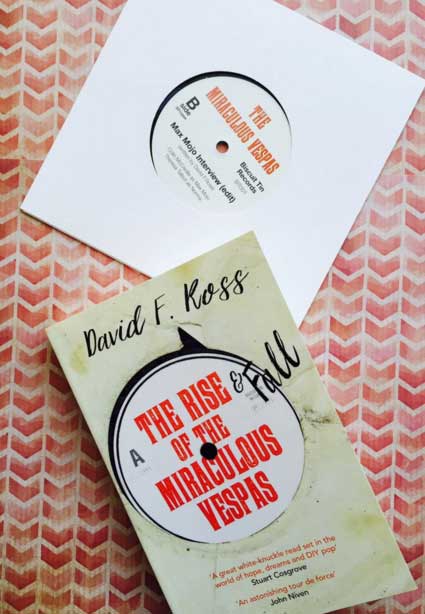 The postscript of where are they now is a nice idea. I often wonder where characters have ended up! What character from a book you've read would you like to know what happened to them?
I always wanted to know what happened to the cast of 'The Rotters Club'…and then Jonathon Coe answered that by writing 'The Closed Circle'. When you write great characters it's often tough to let them go, and I'm also looking forward very much to the return of Francis Begbie, in Irvine Welsh's upcoming 'The Blade Artist'. My favourite character here is Fat Franny Duncan, and I'm hoping there's a wee bit more life in him yet to come.
One reviewer has said that it's the closest thing you'll get to being on Top of the Pops! Ah those where the days… What would the return of The Vespas be like now?
They would fight, argue and fall-out, travelling to their sold-out reunion gig at the Barrowlands Ballroom in separate Campervans. They'd go on stage hours late, the Sylvester Brothers would fight with each other and Grant would storm off after only fifteen minutes, claiming he'd only said he'd do it for the ludicrous amount of money on offer…which Max would have already pocketed and disappeared back to the south of France with.
This has to be a movie surely. Who would play some of the characters?
Well, Colin McCredie would obviously play Max Mojo as he is now. And James Cosmo would be great in cameo as Malachy McLarty, and with Bobby Carlyle as Washer Wishart. And hopefully Peter Mullen as Fat Franny Duncan…that should guarantee a Bafta or two, eh?
Music is the thread which weaves throughout the story. Your book more than transports people back to that time and place of 80s bands. How did you research this and what was the most fun to do?
I'm fortunate to have close friendships with a few people who were a central part of the music scene back in Glasgow in the early 80s when it was genuinely the most exciting place in Britain for indie music. As well as writing the Miraculous Vespas song which is on the vinyl record, Bobby Bluebell was a great source of inspiration, and James Grant (from Love & Money) and Ian Burgoyne (of Bourgie Bourgie) also kept me on track with detail. Others like Billy Sloan who appears briefly as himself was very supportive and reminded me of things I'd totally forgotten about myself. Although the book is fiction, I wanted it to be rooted in authentic places and people to have readers perhaps questioning whether these events actually happened. It's a bit of dilemma though to stop the book falling into a sort of Spinal Tap style documentary spoof, but hopefully the sense of its foul-mouthed tongue being very firmly in its cheek allows me to get away with it.
And for those of you who've read the book , I asked him – Did you ever tell Boy George? 😉
Maybe. But Maybe not.
With many thanks to David for answering my questions over a musical background that quite frankly has us bopping around like eighties rock gods for the next week at least. With 'I love the Miraculous Vespas' badges on our jackets and bottle tops on our shoes.
Booktrail Boarding Pass Information:
Twitter:@dfr10
Web: davidfross.co.uk