Literary locations of Yrsa Sigurdardottir
Visit the settings of Yrsa Sigurdardottir's Iceland novels
Currently starting in her very own Friday Night showcase at Newcastle Noir crime fiction festival. And what better author than Yrsa to headline the Friday night line up. The Literary locations of Yrsa Sigurdardottir are as varied as they are cold. Chilling because of their Icelandic location but the way the novels use the every day locations to create the darkest Noir novels you will ever read…
The festival says:
"Nothing like starting as you mean to go on and who could argue we haven't delivered something extra special for the festival launch? Settle in for a red-hot session from one of Iceland's finest, a writer with a dark streak in her DNA and a style that has melted Nordic Noir fans worldwide."
So, what is the Iceland of Yrsa like and how does she evoke the setting, culture and crime in her books?
Yrsa is famous for her series of books that centre around the female lawyer Thora Gudmundsdottir.
Thora is a single mother of two children, who struggles to maintain the work/life balance. What she doesn't seem to struggle with however, is finding a mystery or a puzzle to solve. Even when it might get her into trouble, which is often the case, Thora has that stubborn determination to get things done. She should leave things to the Iceland's police force but can't seem to let go.
Iceland and its various suburbs are well evoked here but how dark they are!
The first in the series and we're off to the university where a German student, who is studying Icelandic history, is brutally murdered on campus. A shocking murder anywhere, but Iceland is a small country and the university students a small community. Then the horrors of the killing come to light and it's grotesque.
And so we enter the shadowy and dark world of witchcraft and the dark arts. The black shadows of this world set against the white of the Icelandic winter really make this novel stand out. The locations are residential and academic but the story is set in a world no one can recognise.
Following on from the horrors of that university killing, Yrsa takes readers off to a nice spa. Iceland is famous for them, isn't it? Cold dips in the ice water to get your heart racing? Well, your heart will be racing with this spa break as murder is on the menu…
This novel taps into two very interesting Iceland settings – Spas and those cosy and remote farmhouses, red and white, dotted around the rural countryside. Forget what you know about spas and farmhouses here though – there's stories of murder in one and hauntings in the other. Iceland Noir takes the cosy and the everyday and twists it into something else entirely.
Children's House series – Icelandic Noir gets darker still..problems of the child protection unit
Icelandic detective Huldar and child psychologist Freyja.
The Legacy, The Reckoning, The Absolution are the novels in the series so far. They are all centered around the character of  child psychologist Freyja and her detective partner Huldar. Settings are a mix of academic and social media. Issues teenagers are facing around the world, but with the small and chilly Iceland setting, things seem worse somehow..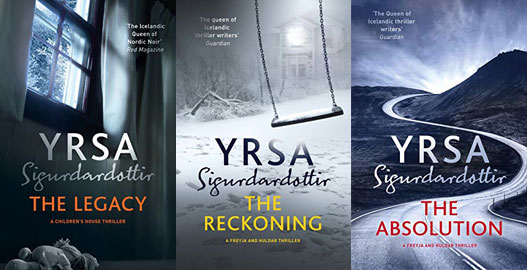 Freyja is director and psychologist at the Children's House. This is a real life child protection unit in Iceland which has the remit of meeting the needs of young, traumatised and abused children. The main building is located in a residential area and decorated to look as normal and as like a house as possible. The centre facilitates contact between the child and the police .
Detectives Hulder and Rikhardur work from the city's police HQ and their work with The Children's House is difficult for obvious reasons. It's an interesting premise for a crime fiction series and it examines a dark and unsettling part of society. This Children's House method is apparently being adopted by other countries in real life.
The city and its culture feature throughout the book as a very chilly backdrop. Not many specific locations but a sense of the size, feel and workings of  city and its institutions.
The horror of a decades-old family separation
A time capsule is unearthed from a school playground – containing a threat of deaths to come. As Freyja and Huldar look for the writer, the murders start…
This novel takes the social media setting and turns it on its head.

And if the cold Icelandic Chills of those novels aren't enough for you, Yrsa also wrote a novel centered around the infamous volcano. The strength of this story is the fact that it's based on that one day in 1973 when a volcano erupted covering many homes under solid lava and destroying a large part of the island as a result. Imagine then finding bodies in amongst all that, and finding out they didn't die because of that tragedy but another one entirely?
Now that takes a criminally devious mind. And Yrsa has that in spades. There's more novels where these came from as well. More locations and more chilly settings.