Seeking Magic in St Ives with Miranda Dickinson
Seeking Magic in St Ives
'St Ives gets under your skin and into your soul…'
Seren MacArthur, Somewhere Beyond the Sea
It's a very special day when Miranda Dickinson invites you to Cornwall to show you the magic of her literary location in Somewhere Beyond the Sea….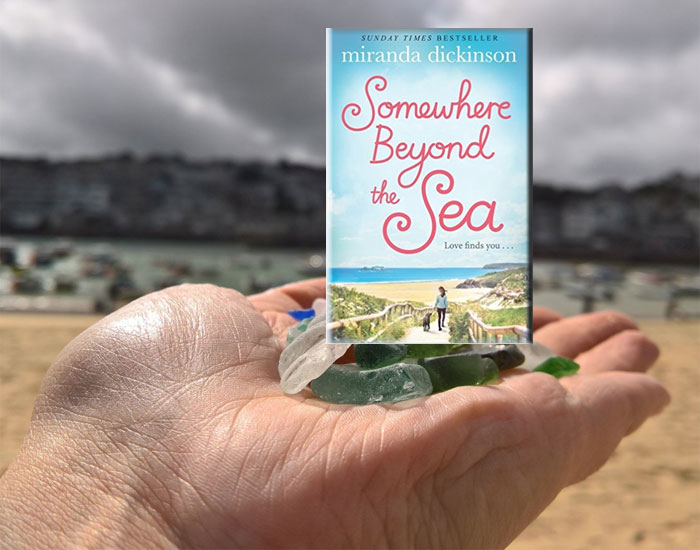 "I have loved St Ives since the first time I visited but in recent years it's become my happy place. As far as I'm concerned, it's the most beautiful location on earth and it's where my heart draws me back to, time after time. I wanted to set a story there that captured the magic of this amazing place – and I also wanted to use real locations so that readers can discover St Ives and the wide sweep of St Ives Bay for themselves.
The star shape that Seren MacArthur discovers unfinished while beachcombing on Gwithian Beach – and decides to complete – sets the scene for my ninth novel, Somewhere Beyond the Sea. I wanted magic to be at the centre of the story because to me that's what I've always found in St Ives and St Ives Bay. An old term for seaglass is 'mermaids' tears', which I love. It inspired the mentions of mermaids within the story and adds to the sense of magic as the stars are made and completed.
Gwithian Beach lies at the opposite end of St Ives Bay and is a gorgeous wide sandy beach with enormous rolling waves, bordered by huge sand dunes. It's a magical place and I always wanted to set a book there. Just around from Gwithian is Godrevy (where I set some important scenes in my seventh novel, A Parcel for Anna Browne), with its gorgeous white lighthouse on a small rocky island just out to sea. On a clear day, you can see the lighthouse from right around the bay in St Ives.
This is one of the locations where you can find seaglass – tiny pieces of sea-smoothed glass that get washed up with seaweed and driftwood at the tide line. You can't find it on every beach – the conditions, direction of the surf and location have to be right – and this made it seem more magical for me. As there are a number of caravan parks that border Gwithian Beach, this was the perfect place to base Jack and Nessie, too – a recently widowed father and daughter who, unbeknownst to Seren, are the other seaglass star-makers. They've lost their house and a friend who owns a caravan park overlooking Gwithian Towans offers them accommodation in an old chalet on his site.
In St Ives itself there are three other locations where you can hunt for magical sea treasure: on Harbour Beach in the three arches beneath Smeaton's Pier, which forms one half of the harbour; on wild and dramatic Porthmeor Beach just around the Island from Porthgwidden; and on Lambeth Walk beach the opposite side of the harbour. I warn you, it's addictive once you start looking!
Seren's best friend and blustery force of nature, Aggie, owns a coffee hut on little Porthgwidden Beach, in the shadow of the Island. I based her café on the Porthgwidden Beach Café, which sits right on the beach. In the summer, this beach is filled with families and my earliest memories of visiting St Ives are of making sandcastles and paddling in the turquoise-blue sea on Porthgwidden.
Much of the action in St Ives takes place in and around Fore Street, the main shopping street in the town. It's a cobbled street, running parallel with the harbour front filled with shops, restaurants and galleries. I love it here. I've visited in every season of the year and it always feels like a magnet for people. In the book, I included all my favourite shops – the tiny-yet-amazing St Ives Bookseller, which is where Bob, Flo and I head first to buy our holiday books; the lovely Poppy Treffry shop with its quirky stitched homewares; the Post Office where Flo always buys sketchpads, postcards and toys and her favourite café, and Sky's Diner, which has a window full of fresh pasties. At one end lies a small courtyard – Cyril Noall Square. As soon as I started dreaming up the story for Somewhere Beyond the Sea, I knew this had to be the location for Seren's shop, MacArthur's. The unit you can see from the entrance with the blue door is the location I chose. It's a tiny square and although it borders the famously bustling Fore Street, it often feels quiet and a little removed, which was a perfect setting for a business grieving its founder.
In Somewhere Beyond the Sea, Seren says, 'This place is my heartbeat, woven into my skin and bones.' St Ives makes you feel like that. It calls you back to its winding streets, beautiful beaches and dramatic views. I've found magic here. I hope you will, too…
Many thanks Miranda for a marvellous guide to your book and  literary location!
Twitter: @wurdsmyth Web:miranda-dickinson.com