India – VASEEM KHAN – Elephants, food and Mumbai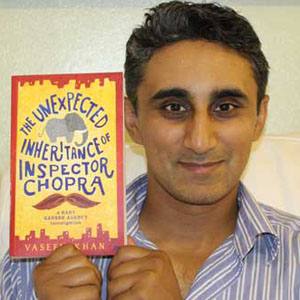 I'm off to meet a man about an elephant today. Yup, you read that right. I am currently sitting in an Indian restaurant, with the fragrances of the food and drink wafting all around me waiting for Vaseem Khan – the author of The Unexpected Inheritance of Inspector Chopra. Suddenly there is a loud trumpeting sound – Vaseem's taxi? As I approach the door, an elephant bedecked in jewels comes lumbering around the corner before stopping right infront of me. Truck uncoils and a man slides down and announces himself – Hello he says. Vaseem Khan at your service.
Well with that novel approach (never have I had an author arrive by elephant) I just have to start firing away with the questions straight away.
You create a vivid picture of the sights and sounds of Mumbai. Can you tell us a little more about Chopra's city?
Mumbai is an eternal city. It is constantly changing but its soul will always remain quintessentially Indian. The city was once a series of seven islands occupied for millennia by Koli fisherman until the Portuguese established a trading centre there in 1534 and called it Bom Bahia or 'Good Bay' from whence the name Bombay is derived. A century later the Portuguese gifted the territory to King Charles II of England as part of the dowry of Catherine of Braganza. Charles promptly leased the islands to the East India Company which transformed the disparate islands into a city. By the end of the 1700s Bombay, with its deepwater port and established trade routes, was the 'Gateway to India'. In 1995 Bombay was rechristened, after Mumbadevi, the stone goddess of the original Koli fishermen.
Today 20 million live in the city. Is it any wonder that Mumbai is a non-stop assault on the senses? People's lives are a blend of modern and traditional sensibilities – Mumbai, like most metros in India, is facing a cultural onslaught from westernisation – which brings both good and bad, as I describe in my novel. But most people are still very wedded to their ancient culture. What is a constant is how warm and friendly everyone is.
How did you think about having an elephant in your story?
You could say that the elephant was born on my first day in India. I remember vividly walking out from Bombay airport in 1997, aged 23, into a wall of sizzling hot air. The first thing I saw set the scene for me – a group of lepers and beggars milling about the taxi rank. At the first traffic junction we stopped at there was a thumping on the window. I turned to see a tall well-built gentleman in a sari. My first eunuch. I turned back to the road and there, lumbering through the traffic as cool as you please, was an enormous grey Indian elephant with a mahout on its back. This surreal sight stuck with me and eventually became a part of the novel I wrote when I returned to England ten years later.
When you think about it, elephants make great crime fighters – they are intelligent, have great memories and display a range of emotions, which is important to me as a writer as the dynamic between Ganesha and Inspector Chopra is a key aspect of the novel, adding much charm and humour.
To discover more read my blog piece: "What makes an elephant a great sidekick for a crime novel?':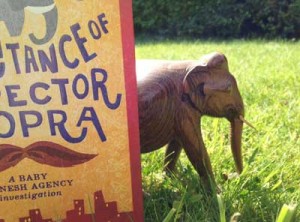 Can you tell us more about Ganesha?
Ganesha is a one-year-old baby Indian elephant. He is sent to Chopra by his long lost uncle Bansi. But Bansi doesn't reveal why he is sending him an elephant or anything about Ganesha's background. This is a mystery that will be revealed slowly over the course of the book and series. Bansi does say – in a letter – that Ganesha 'is no ordinary elephant'. These words gradually prove prophetic as Chopra discovers there is more to little Ganesha than meets the eye.
When Ganesha first turns up he is very despondent. But we soon see his real personality emerge. He is adorable, of course, but also tenacious, determined, mischievous and adventurous – he is a child, after all. As well as helping Chopra he will be getting into a few scrapes of his own!
What next do you have planned for Chopra and Ganesha?
Well, Chopra and Ganesha are just getting started! I have just completed their second adventure, 'The Perplexing Theft of the Jewel in the Crown' which is about the theft of the world's most famous diamond – the Kohinoor, which was originally mined in India and then given to Queen Victoria during the Raj. The Kohinoor is currently part of the British Crown Jewels. In the novel the Crown Jewels have been brought to India for a special exhibition. A daring robbery sees the Kohinoor stolen and Chopra and Ganesha called in to try and recover the great diamond.
After that Chopra and Ganesha will be on the trail of a kidnapped Bollywood star, and then in the fourth episode they will be travelling outside of Mumbai to Chopra's native village in Punjab, North India, to try to unravel the mystery of Ganesha's origins and the disappearance of Chopra's Uncle Bansi.
My aim is to showcase different parts of India as the series progresses. India is really a collection of countries – it is so different everywhere you go. I'd like to put Chopra and Ganesha into different cities and regions so that we can use those wonderful environments as backdrops to the stories.
What should we eat if we visit Mumbai?
Mumbai is a gastronome's paradise. As a world city there are now restaurants from every cuisine on the planet – many of these restaurants are in the suburbs of Juhu and Bandra or in the richer zones of south Mumbai.
Punjabi dhabas – to taste truly authentic Punjabi Indian food – tandoori chicken, nan bread, butter chicken, Mughlai dishes – eat at a traditional dhaba. These are usually rustic restaurants such as Uttam's Dhaba in Marol, but there are others with an upmarket ambience such as Urban Tadka in Seven Bungalows.
Leopold's Café is a Mumbai landmark and features in my second novel in this series 'The Perplexing Theft of the Jewel in the Crown.' It was previously made famous in the novel Shantaram. It has a range of delicious Indian and continental cuisine and is a good place to stop when exploring south Mumbai.
Mumbai is a coastal city so there are many great seafood restaurants. Try amazing Maharasthran-style seafood at Gajalee – especially the crab.http://www.gajalee.com/
Mumbai street food – if you can stomach it. Mumbai's street food is amazing ranging from steamed rice cakes called 'idli' to chicken lollipops. You can find some great pictures of Mumbai street food on my Pinterest board
With many thanks to Vaseem for a very interesting and food infused interview. Right then, we're off for an elephant ride now so be sure to catch up with Vaseem later on! and Ganesha of course
Susan the Booktrailer
Booktrail Boarding Pass Information:
Twitter – @VaseemKhanUK
Facebook – /VaseemKhanOfficial
Web – vaseemkhan.com