Blood and Fury in Derbyshire – Sarah Ward
Bampton might be fictional but it's a very criminally interesting part of the very real Peak District. At least it is when Sarah Ward gets her hands on it.
Sarah Ward puts the Blood in Bampton and the spooky caves, rustle in the leaves and the whispers on the wind…..Rural and relaxing it certainly isn't!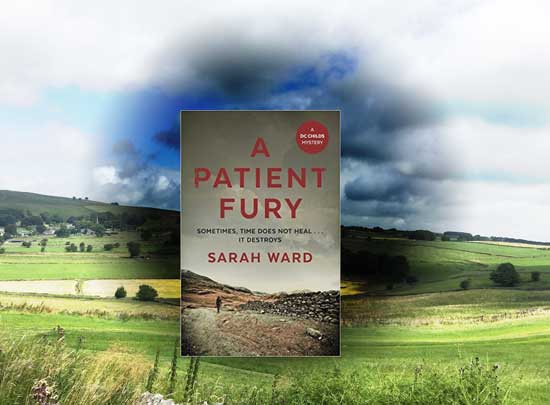 My books are set in the Derbyshire Peak District which has a haunting feel to it and provides plenty of inspiration for my writing. My latest book, A Patient Fury, is set in the baking summer heat and I needed to move away from the descriptions of dark, chilly evenings and rain lashed days of my earlier novels to draw readers into a Peak District heat-wave. In many respects, summer is my least favourite season in the Peaks. The roads are crowded with traffic and the towns bursting with visitors. I prefer to stay in the area around my house which is quieter and it's great to see the hills coloured green rather than grey.
Tourism, however, is economically important to the area and my protagonist, Julia, has two summer jobs. The first is in a fictional cave as a tour guide and the other is her own business which involves taking visitors around haunted sites in my fictional town of Bampton. I've visited plenty of caves over the years in Derbyshire but I'd never been on a ghost walk. As I wanted to invent my own ghost stories, I joined a tour outside of Derbyshire, in the city of Lincoln, to listen to tales of supernatural sightings in the city. It was great fun and provided plenty of inspiration
Although most of A Patient Fury is set in the Peak District, I wanted part of the narrative to take place outside of Derbyshire. This was to help with the dual timeline of my narrative and the disappearance of one of my characters thirty seven years earlier. Lincolnshire is a place I know well as my partner is from there and part of the story is based in the market town of Horncastle. It's a lovely place, full of antique shops, with a very old fashioned feel to centre. It's the perfect location for the wool shop that my character Elizabeth Winson owns before she goes missing in 1980 with a note pinned to the door promising that she'll be 'back in two minutes'.
My character Connie talks to a retired detective about the case and takes a trip to the nearby seaside town of Skegness. Those who have been to the town will know it has a very distinct feel to it and it's an interesting place to visit if you haven't been. It is VERY bracing.
It was great fun to spread the net and visit locations outside the Peak District for A Patient Fury. I'm just completing the fourth book the series and we're back to an all Derbyshire setting. More on this soon!
Thank you so much Sarah for this fascinating insight! Highly recommended this one!
Twitter: @sarahrward1   Web:crimepieces.com