Literary locations of Dinah Jefferies
When travelling to Asia, there's one author in particular who has evoked a series of places and locations in her work. Dinah Jefferies was born in Malaysia and lived there for a while until the age of 9 so she has a unique sense on this part of the world. So let's travel the Literary locations of Dinah Jefferies …
Malaysia in particular is part of who she is, her heritage and her homeland in many ways. Now, living and writing in the UK, she always evokes destinations in Asia in her writing, intertwining them with stories of mystery, home, war and more. It's quite the captivating mix….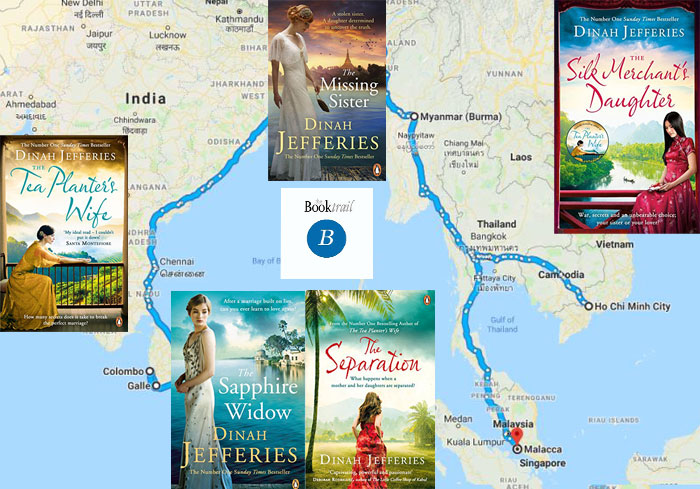 Locations – Rangoon, Mandalay, Burma, Cheltenham
Belle Hatton works a glamorous job as a nightclub singer in 1930s Burma, but she is haunted by a mystery from the past – a 25 year old newspaper clipping found in her parents' belongings after their death, saying that the Hattons were leaving Rangoon after the disappearance of their baby daughter, Elvira. She sets off on a journey to find her sister and she travels far and wide in order to find the truth. As always with Dinah's novels, this one is filled with spice and colour of the country of Burma. There's a strong sense of setting throughout and it's very cinematic.
Locations – Galle, Sri Lanka
Louisa Reeve, the daughter of a successful British gem trader, and her husband Elliot, seem like the couple who have it all. The plantation they live on however has more secrets hidden than they realise and it's Louisa who is sucked into the story of its past and present struggles. Galle, where most of the book is set, is described as a 300 year old walled city and the book evokes the setting in exquisite detail. There's the sights and sounds too – of cinnamon, of the crickets in the trees, and the noises of the busy port. Brilliantly evoked. You should also note that Ceylon was once called Serendip….  the island of Jewels….

Locations : Hanoi, Huế, Ho Chi Minh (Saigon), Vietnam
This book takes the reader back to 1950s  French Indochina –  a country torn in two and a family torn apart. Hanoi is a city of two sides torn apart by war- Vietnamese and French – and everyone fears for its future. Sisters Sophie and Nicole, half Vietnamese and half French live across the cultural divide. An amazing premise for a novel and a fascinating insight into the history of the time. The world of silk really comes to life and you can almost reach out and touch it, it feels that real.
Destinations : Colombo, Nuwara Eliya, Dickoya
Set on a tea plantation, this is a fascinating tale about a tea plantation and life on it. 19 year old Gwendolyn Hooper is newly married and soon follows her husband to his tea plantation in Ceylon (now Sri Lanka) but moving to a new country and a new marriage is not an easy feat. It's wonderful to see this country and its tea trade through the eyes of a new bride. A young woman full of wonder and hope. At first. It's another world out here and Dinah Jefferies places you at the heart of it all.

Locations: Malaya
Malaya in 1955 is a frightening and dangerous place to be. It the follows the story of a woman abandoned by her husband on his posting in Malaya. He disappears and so she has to travel through jungle and worse to try and find him and their family. This is perhaps the most remotely set of her novels – as a large part of the story takes place in the jungle. A dangerous place for a woman and especially during the time when the risk of attack from guerrillas is ever present. The sense of a frantic search , a remote and dangerous place for a (white) woman to be and it's a fraught and frantic novel. Where has the husband gone? Where is her family?
Enjoy your travels!
Twitter: @DinahJefferies  Web: www.dinahjefferies.com/