Travel around Europe with Isabelle Broom
Hello, Again Isabelle Broom
Isabelle Broom transports her readers like no other. Her books always contain stories with romance, heartbreak and heartache. Characters to care about and think about long after reading. Hello, Again.
It's a tour of three cities and more besides. A real booktrail of a novel and one I would LOVE to go on this book's tour for real now…. one day…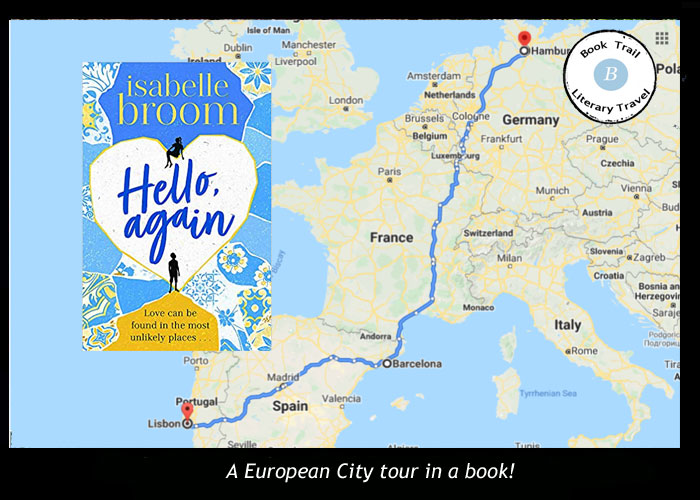 What is your setting and why did you choose it?
With Hello, Again, I decided to do something a little different and choose not one, but four settings – five if you count Aldeburgh in Suffolk, where my central protagonist Pepper lives. It was important to me that Pepper experience as many new sights, sounds and situations as possible, in order for her to grow as a person and have her horizons (literally) broadened. Once I had decided that she was going to be an artist who specialised in mosaics and tile painting, I knew I would have to include Lisbon and Barcelona, while Guernsey had one very special place in particular that I wanted to feature (more on that below). I selected Hamburg as my love interest Finn's German hometown purely because I had recently been there for a long weekend and totally fallen for the place.
Personal connection to the setting?
Aldeburgh is only an hour or so from where I live now, and the first part of the Suffolk coast I visited after moving out here from London a few years ago. There's a real magic to it and it oozes art. As soon as I got there, I knew I wanted to write about it. And when I went backpacking around Europe for the first time way back in 1999, Barcelona was one of the cities I visited that stayed with me – mostly because of all the art. I'm an absolute Gaudi nut; the creative in me admires his boundless innovation and ability to bewitch so entirely.
Top tips for visiting locations in this book?
Oh gosh, there are so many! That's what happens when you choose five settings instead of one. If I had to choose a must-visit from each place, I would opt for The House in the Clouds in Thorpeness, which is a pleasant half-hour stroll along the beach from Aldeburgh, an amazing wine bar and restaurant in Hamburg called Haebel (plus café Pauline for a multi-tiered breakfast), Casa Batllo in Barcelona for a truly immersive Gaudi experience, Pastéis de Belém in Lisbon for the best custard tarts of all time and The Little Chapel in Guernsey for one of the most captivating examples of mosaic work on the planet.
What kind of research did you do for the location and setting?
As with all my novels, I travelled to each of the locations featured and spent time there taking photos, making videos and scribbling heaps of notes. Lisbon was first, and I had such a wonderful – if a tad soggy, it rained a lot – few days wandering the streets and sampling local food. The sardines are a must, as is the Port (hic!).
Barcelona was next, and I was lucky enough to be joined by a friend – in fact, she also came with me to Hamburg. I did the sightseeing stuff alone, but it was so great having a companion for the evenings, so I could sample the Spanish nightlife and food – which, believe me, I did in style! I have yet to find a better way of researching than simply going to the setting and exploring. It's the best way to ensure the resulting book is authentic and richly layered with detail – a Google image search is just never going to cut it.
Which book's setting would you like to travel to and why?
Oh, that's easy – Rutshire, the fictional area around Gloucestershire where most of Jilly Cooper's outlandish characters reside in their big posh houses. Not very exotic, I know, but meeting Rupert Campbell-Black would be more than exciting enough to make up for it. I grew up reading those books and the characters feel like old friends.
Think of your main character. What do they like about where they live?
Pepper loves Aldeburgh because of all the memories it holds of her late sister, but she's also drawn to the sea. The coastal views there change every day, depending on the weather and seasons, and the artist in her appreciates that. It's the same reason why she falls so in love with Lisbon and Barcelona – because both cities inspire and enthral her creative spirit.
What kind of places do you like to write about?
For me, a place needs to have made an impression for me to want to write about it. I have travelled a lot, but not every city inspires me. I'm always looking for that little extra – that special undercurrent of magic that helps a location work its way under my skin. It's nice to share that feeling with readers and whet their appetites for places they might never have considered visiting before.
Recommended holiday destination?
The list is so long! If I had to choose only one location from Hello, Again, then it would probably be Lisbon. It's quaint yet captivating, friendly yet chilled. It's also beautiful without exception and the perfect city to simply wander, relax, shop… and eat enough custard tarts to sink a cruise liner. Honestly, I still think about them.
Which fictional character would you like to go on holiday with and why? Where would you go?
Well, Croatia is the next place I'm off to – post-lockdown, of course – and I'm currently obsessed with Paul Mescal's Connell from the BBC adaptation of Sally Rooney's Normal People, so him. In shorts. Short shorts. And that chain. Swoon, swoon, swoon…
Oh that note – let's leave Isabelle dreaming of a man in a necklace eating a Portuguese custard tart…..and thank her for this wonderful introduction to her novel.
BookTrail Boarding Pass: Hello, Again
Twitter: @Isabelle_Broom  Web: isabellebroom.com