Jersey – WILL SMITH – Mainlander
Will Smith has invited me today to his island of Jersey for a chat and a bit of a Jersey feast. I wonder what's in store but then I think that it's nice to go to an island be be surprise so I don't ask what he means. I just turn up and he greets me off the ferry.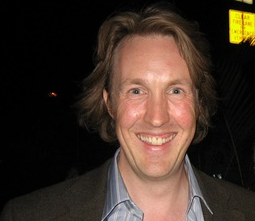 Lovely to meet you Will and thank you so much for showing me Jersey and the setting of the Mainlander! This is quite a treat. I have a few questions. Ooh cider? I'm not sure can I just have a coffee or something please? He offers hot chocolate which is even better as it's a bit chilly.
Can you tell us why you decided to set your novel on Jersey and what it is about it that you love so much?
I grew up on the Island, it's a huge part of my life and I'm immensely nostalgic about it, so there's a selfish reason in that I got to revisit an incredibly fertile and happy part of my life. But crucially, I know it very well, and so I'm (hopefully) able to bring it to life. What's great about it as a setting is that it there's enough that is familiar and identifiable, but it also has a lo of idiosyncrasies to mark it out as different. It's also, and this is a line from the book "at the edge of so much, but at the centre of everything". As the books continue, which is my plan, it's totally believable to make  the Island the centre of a very large web. I should also add that I made a real effort to be geographically accurate.  One of the gripes the locals had with  " Bergerac "  was geographical inconsistency – Jim driving out of the Tunnel and arriving at the airport on the other side of the Island etc. I wanted to avoid that, as anything that jarred in that way would pull the reader out of the book.  I had to change some details to correct my faulty memory. For instance Colin and Debbie were originally looking out at Seymour Tower from a different car park nearer Gorey Castle, but when I went back there, there was a huge mound in between the car park and the beach, which despite my protestations, it turns out was definitely there in 1987.
Which part of Jersey is your favourite?
Plemont, the most beautiful beach I know. Plunging cliffs, caves, wide sands and rolling waves. It's a very cleansing place, and will feature in future books.
Can you tell us more about Colin and his own personal island?
Colin has felt increasingly isolated on the Island, but that doesn't mean he's immune to its charms. I think he recognises its beauty, although this is complicated by the fact that when he's looking at its natural charms, it's recently been in the company of a woman other than his wife, who may well be influencing his mood.
The cover – a photo of  La Rocco Tower in St Ouens Bay. Why did you choose this?
The publishers actually chose it, but from a site I recommended kevinbrace-photography. I love his work, and have several prints framed at home and also where I work. I felt it was very important to have a recognisable local image, to attract the Island readership. I love the picture they selected, I think it reflects the mood and the theme of the book perfectly, and I'm delighted that Kevin kindly allowed us to use it.
What food is particular to Jersey if any?
Local delicacies include these Jersey Wonders we're eating, a kind of doughnut, and black butter which is an apple and cider conserve. There's also the Jersey bean crock, a pork and bean stew. The seafood is always good, and of course the potatoes.
Thanks Will, it's been a pleasure. Great to meet you!
Booktrail Boarding Pass Information:
Twitter: @willsmithuk