Cats in Japanese fiction
Cats in Japanese fiction
Reading for January in Japan has thrown up some very interesting reading. Last week I covered some Japan Noir – the very dark and grim corners of Japanese society via fiction from
Fuminori Nakamura. This time, I thought it best to go as far from that as possible and end up at the other end of the scale: the cuddly world of cats.
In Japan, cats are revered for giving good luck and other positive results. The popular Japanese cat figurine maneki-neko  is also known as the "beckoning cat") and its wave is said to bring good fortune.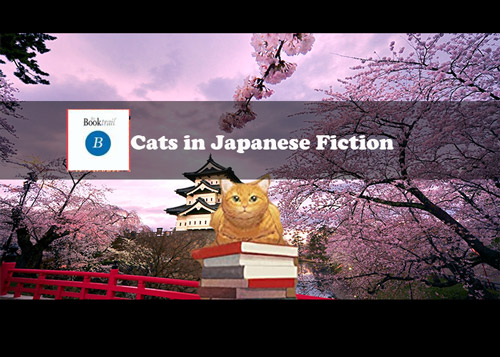 This is one of the loveliest cats ever. It can talk for one, and it takes a bookshop owner on a magical adventure. There's something very homely and independant about cats and lovely to see how this one is portrayed in Japanese fiction.
In Japanese folklore, cats have protective powers and symbolize good luck and fortune. This is true here as the cat visits a man who has los this grandfather and could lost the family bookshop. When the cat visits him, he's down on his luck but the cat encourages him to save books from people who have imprisoned, mistreated or betrayed them.
This lovely line from the novel could be the tagline of the story itself:
"I think the power of books is that – that they teach us to care about others. It's a power that gives people courage and also supports them in turn. [. . .] Empathy – that's the power of books."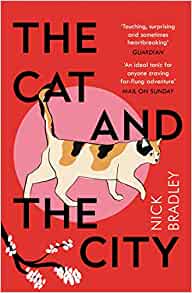 A cat wanders through the city of Tokyo weaving in and out of peoples stories.
This is a lovely way of introducing a cat into a novel. This time, it's a series of several interconnected stories where we see a cat weave in and out of each of the tales, as it links the stories together.
This cat here symbolizes the maze that is Tokyo and the way that each individual has to live in order to live and survive in such a world. Tokyo is a huge metropolis  – one of the world's largest – and it's one of the loneliest in this novel. So many people living side by side but not together. This cat manages to weave in and out of allies and in and out of peoples loves and stories, creating connections where before there were none.
The cat represents freedom and connectedness:
"Sometimes I feel like this whole city is this one vast organism. It's like a human being that we're all part of. But we're restricted by the roads, by the waterways, by the tunnels, the trains. It's like our paths are all laid out for us, and there's no way of deviating from them. That's what makes that cat different from us. It can jump on and off trains randomly. But we humans are bound up in the fate of the city. No one can escape its clutches.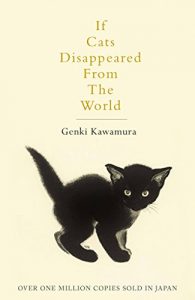 The cat in this novel is called Cabbage. He lives with his owner, a man who has just found out that he doesn't have long to live. In order to buy himself some time though, he makes a deal with the devil. But at what cost? How do you decide what makes life worth living?  In dealing with the Devil the man will take himself – and his beloved cat – to the brink.
The Devil asks him to give things up such as his phone…..and his cat, Cabbage. This is when he begins to weigh the value of his life over making things disappear. Is it worth it to lose his only friend and the one thing that still connects him to his mum to have an extra day of life? He thinks about what his life would be like without Cabbage, and what would happen to Cabbage if he died.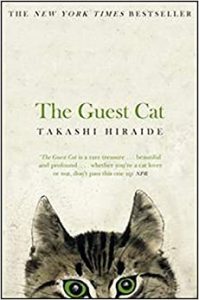 A short gentle visit to Tokyo and a lyrical magical world where a cat might be the symbol of a life and existence of all of us. If the story doesn't get you then the cover will! The green glisten of the eyes, that face, the fur that just needs to be stroked and cuddled……
The book is short and compact – that you can just pick up and appreciate in a short time – just like picking up a cat, stroking it and appreciating it before it jumps away, leaving you with the memory of it and the impressions of its paws on your heart.
These are just three books set in Japan where cats feature. See here for more