Travel with Viveca Sten to Åre, Sweden
Åre, Sweden with author Viveca Sten
Åre you in need of a new place to visit in Swedish fiction?. Prounounced Aura, it's one of Scandinavia's best mountain resorts. Situated some 220 miles south of the Arctic Circle, the setting is stunning for skiing, gorgeous views and all kinds of winter sports.
So, add a crime writer and you can add murder and mystery to that list. I have just spent a wonderful weekend in this snowy setting. Well, not really of course, but via the book. The first in a series too!! Not out in English yet…here's hoping it will be soon!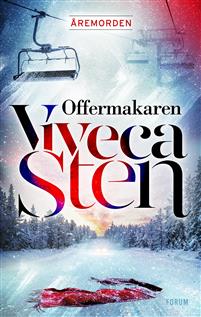 So where is Åre?
What happens in this village with an aura located in the Jämtland mountains?
Just as the winter season begins in Åre, a frozen body is found in one of the lifts.
Daniel Lindskog is an inspector at the local police comes on the case. He's  a new father and now has this case to deal with. Meanwhile, the other character we meet is Hanna Ahlander who has fled to Åre after she was was sacked from her police job in Stockholm AND dumped by her boyfriend at the same time.
Once in Are, the snow reveals more deaths and more murder…a missing person and a search for the truth.
Why this is great as a setting?
It's said to be the village that never sleeps. Certainly not in Viveca Sten's book it doesn't! It's also known as ' The Alpine Heart of Scandivania.' There's so much to do here it seems and not just skiing. Adrenaline sports, trails, Nordic bathing (brr too cold!) but it's the views that are just ' to die for' , quite literally in Viveca's books!
Weather
The typical Åre weather..well there doesn't seem to be anything typical about this place. In the book and from other sources, fickle is a word I think describes the weather of this part of Sweden quite well. It even has it own kind of weather phenomenon such ' the lid'. This is when the temperature at the top of the mountain is warmer than lower down. It's normally the reverse you see. The weather and unpredictability of it all really comes out well in the novel. Makes everything more unpredictable and at the mercy of the elements….weather as well as human.
You can also see the Northern Lights from here….
But as Viveca Sten reminds the reader, it's not just the weather that is  unpredictable and can kill…
Characters
Daniel and Hanna are two very different people but I like the fact that Hanna is an outsider and is coming into this novel  having fled her old life. Daniel is happy as a new father and he's local…but both are soon out of their depth as Åre surprises them all….fickle and unpredictable… the BEST way for a setting and the weather in crime fiction!
Kabinbana (cable car)
How do you get such stunning views of Jämtland? By heading up Mt. Åreskutan   –  Sweden's most accessible high mountain. Well, until Viveca starts leaving bodies around these parts haha. The cable car is quite a feature in real life and it is given a VERY unique use in the novel….
Sten's setttings
Viveca writes settings very well indeed. She is the one who brought Sandhamn to the attention of the literary map. Stunning and in the middle of Stockholm's archipelago, this island has such character and charm. Murder too when Viveca is around – she's made it all Midsummer Murders and it draws boatloads of tourists every year.
Åre
This is a very interesting setting. completely different to Sandhamn, but equally as compelling. Very remote and snowy, dangerous and dark. Unpredictable too….the best way for criminally good settings to be.
I think future novels are going to take even more advantage of this unique setting and its weather, its phenomenon and yes, that unpredictability……
Instagram: instagram.com/vivecasten/ Web: .vivecasten.com/