Cornwall – EMYLIA HALL – Eating Cornish Ice cream on the beach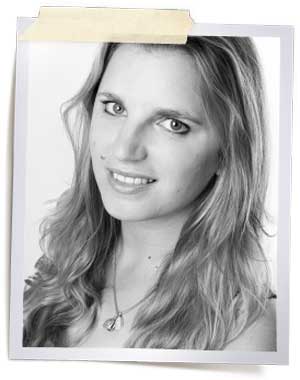 Today we're talking Cornwall with Emylia Hall, author of The Sea Between Us which tells the story of Robyn Swinton and local boy Jago Winters who saves her from drowning  –  a moment that will change both of them forever.
There's this line from the book for example –
"One day we'll buy a house on a cliff without a neighbour in sight wake up each day tasting sea salt, go to sleep to the sound of the waves"
Cornwall is as much a character in this story as Robyn and Jago. Their relationship grows but then they are forced to go their separate ways…but has fate finished with these two or will the ebb and flow of the tide decide their destiny?
I just had to speak to Emylia after reading this captivating story. So, here we are on a Cornish beach in November – sheltered from the wind however, eating sandwiches and cake with a flask of tea. Emylia has brought a lovely rug so we're all set!
What do you think we can learn or take from Robyn and Jago's story?
Follow your heart. That's probably the crux of it. Not just when it comes to who you love – and it is very much a love story – but what you love too – nurturing your creative spirit, doing what makes you happy, finding fulfillment.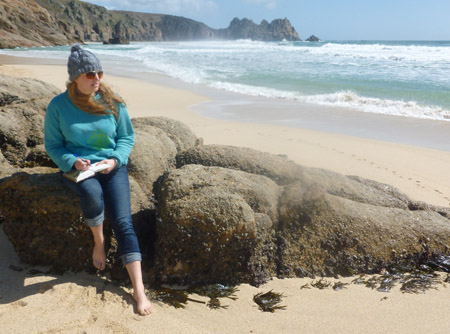 Why is location so important to you as a writer and does this inspire plot?
I always begin with place – the characters, and their story, then follows. My first novel, The Book of Summers, is set in rural Hungary, and A Heart Bent Out of Shape is set on the Swiss Riviera. I'm interested in how people change, or see the potential for change, when they find themselves in new environments. That's a common theme across all three of my books, in fact – how we respond to our surroundings, and which aspects of our personalities are drawn out by the landscape we move within, how we impress our desires upon it. With The Sea Between Us I liked the idea of taking a local boy, Jago, and an incomer Robyn, and having their two worlds collide – what they share, because they walk on the same soil (sand!), but also what divides them, and the part that their environment plays in that. I also have an innate wanderlust, and a heavy sense of nostalgia, so my novels often have an aspect of wish fulfillment as I satisfy these impulses through my writing.
Life for your characters is really like the tide which ebbs and flows and one random wave put you on a new direction. What has been a tide changing moment in your life?
Leaving London and my job in an advertising agency to spend two winters snowboarding and working in the French Alps was very much a tide changing moment. It was in 2005, and I was 27. It was while I was living in the mountains that I began to write, and the idea for my first novel began to grow. If I hadn't taken that step in a different direction – changed my environment, and the rhythm of my life – I don't think I'd be writing now. In fact, I know I wouldn't be.
What is it about Cornwall you love so much?
I particularly love Cornwall's far west for its blend of surf, art, and spectacular landscape. It makes for an atmosphere that's cool, creative, and just plain beautiful – altogether good for mind, body and spirit. I'm a Devon girl, and Cornwall has always held a certain allure for me – it's that bit more wild and westerly. Now that I live in Bristol and have a small son my husband and I are enjoying introducing him to our favourite Cornish beaches.
What is the best cake you've eaten in Cornwall?
After bodyboarding in the rain at Porthmeor in St Ives, very early one September morning, I staggered back across the sand – head full of salt water, grinning exhaustedly – and sank into a seat at the West Beach Bakery. There I tucked into an enormous slice of pumpkin and chocolate cake and it was truly one of the best cakes I've ever had. I was still in my wetsuit, looking out over the deserted beach, watching a few surfers and bodyboarders turning their tricks in the water – my husband somewhere among them – and savoured the moment and all it included. It was the unbeatable sensation of relaxing and recovering after having tested yourself physically, the appreciation of the big waves from a distance (no longer getting pounded by them!), and the quite delicious cake.
What are you working on now?
I'm working on the first draft of my fourth novel. It's set in Italy, on the Tuscan island of Elba. At the start of the summer I spent several days there – my first time away on my own since having a baby last year. It was such an inspiring stay – I wrote masses, and absorbed the island atmosphere. I came home in love with Elba, and it's that feeling of amore that's carrying me through the rest of the draft.
And with that feeling of 'amore' lingering in the air, Emylia tells me there's a lovely icecream shop not far from the beach selling the best icrecream Cornwall has to offer. So, off we go to find some amore we can eat. Thanks Emylia for chatting today and for taking these lovely pictures!
Susan Booktrailer
Booktrail Boarding Pass Information:
Twitter : @EmyliaHall
Web  – Emyliahall.com