Travel to Thistle Cottage, North Berwick with Kerry Barrett
Secrets of Thistle Cottage set in North Berwick and Edinburgh
Have you ever been to Berwick? Not Berwick – North Berwick. The former is in England, the latter in Scotland and also the setting of the novel The Secrets of Thistle Cottage. Now, time to meet the author who knows what those secrets are….
Let's head to North Berwick………………..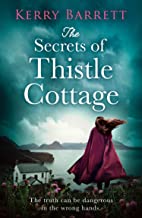 I was born in Edinburgh, though I now live in London. I get back to Edinburgh as often as I can and one of my favourite places near the city is North Berwick in East Lothian. It's the loveliest little seaside town. I used to go and visit with my godmother when I was a little girl and have taken my own children there.
But North Berwick – and in fact a lot of towns in East Lothian and Edinburgh itself – has a dark history.
In the 16th and 17th century parts of Scotland were the focus of some horrifying witch hunts. One of the most famous took place in North Berwick in 1590, which lasted more than two years and accused more than 70 people – mostly women.
Because the North Berwick witch trials are quite widely known about, I wanted to fictionalise my story. So I shifted the action in my novel to 1661, when witch hunts were still happening but people were beginning to fight back.
I've been to North Berwick many times, but obviously lockdown ruined any plans to visit as part of my research for the book. So old photos from past trips and Google Streetview became my friend.
Like with the history, I decided I wanted to be a bit vague about the actual geography of North Berwick. But the street where Thistle Cottage sits is based on the real-life Melbourne Road, which runs along the seafront. It's a lovely mix of small cottages and large genteel houses. And it's close enough to the harbour for Jem to be able to hear the bells on the boats during the storm.
A little way back from the seafront is Lodge Grounds. It's a park now and a lovely place to go for a walk. And the Lodge itself is a pretty white building. It's what I pictured as the Big House, as Honor and Alice call it, where the Kincaids live. Again I played a little fast and loose with the history as it didn't house a Laird, but instead a chap called Sir Hew Dalrymple. He built the Lodge (or possibly remodelled a building that was already there when he bought the Barony of North Berwick in 1690. So while the Kincaids' reign over North Berwick isn't historically accurate, it's roughly based on fact.
Obviously there is more than 350 years between Tess and Jem's story in the present day, and Alice and Honor's story in 1661. It's hard to find much detail about what North Berwick looked like back then. But some things never change – like the sea, and the Bass Rock (the rock out in the sea that is now a bird sanctuary and was once a prison), as well as the hill called Berwick Law and the harbour. All of those landmarks would have been there in the 17th century and really helped me anchor myself in Honor and Alice's time.
I think Honor and Alice's world would have been very small. They had everything they needed right there in North Berwick, with no need to travel. Alice has grown up running along the beach, or watching the fishing boats set out to bring home the catch. When she and her mother are talking about fleeing north – away from the threat of the witch hunts – it seems a frightening prospect. The Highlands are so far from North Berwick and it would be a perilous journey. But it still seems less dangerous to the women than staying.
In the story, Davey has travelled more widely, but he's come to harm and returned home, and so has Gregor – who has been in the army. North Berwick is a safe place for the men. A harbour. But it's not that way for Honor and Alice.
Tess is also looking for a safe place when she moves to North Berwick. But she quickly discovers that it's not that simple to run away from your past.
North Berwick is a delightful place for a visit, whether you're interested in the history of the town, or you're a keen golfer, or birdwatcher. I can't wait to get back there when lockdown is over.
Thank you so much Kerry for a wonderful visit to North Berwick!
Twitter: @kerrybean73   Web: Kerry Barrett