The Secrets of Thistle Cottage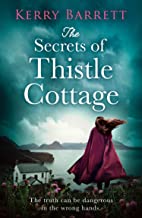 Why a Booktrail?
2000s:The truth can be dangerous in the wrong hands…
What you need to know before your trail
1661, North Berwick – One stormy night, healer Honor Seton and her daughter Alice are summoned to save the town lord's wife – but they're too late. A vengeful crusade against the Seton women leads to whispers of witchcraft all over town. Honor hopes her connections can protect them from unproven rumours and dangerous accusations – but is the truth finally catching up with them?
Present day, North Berwick – After an explosive scandal lands her husband in prison, Tess Blyth flees Edinburgh to start afresh in Thistle Cottage. As she hides from the media's unforgiving glare, Tess is intrigued by the shadowy stories of witchcraft surrounding the women who lived in the cottage centuries ago. But she quickly discovers modern-day witch hunts can be just as vicious: someone in town knows her secret – and they won't let Tess forget it…
Locations
Reset
Scotland -East Lothian - North Berwick
Travel Guide
A witchery tale of intrigue from North Berwick to Edinburgh
The locations in the novel are based in North Berwick and Edinburgh but the real settings and witchery surroundings are fictional…or are they?
One story line takes place back in time so provides a unique view of Scottish society then and what women could be accused of.  There are numerous places with witchery connections in Edinburgh.
North Berwick
The "Auld Kirk Green" at the harbour was used for gatherings by those accused in the North Berwick Witch Trials (1590–92). Legend has it that "Satan himself" attended a ritual there in 1590. However, it is more than  likely that Francis Stewart Hepburn, 5th Earl of Bothwell played the role. One of the most famous witch trials here involved Agnes Sampson. She was accused of making a potion to create rough storms in the North Sea as King James VI of Scotland was sailing home from Denmark with his new wife, Anne of Denmark.
Agnes'  trial took place in 1591, and it was attended by King James. Agnes was tortured to confess, and then burnt at the stake, like many other innocent people.
Booktrailer Review
Stories about women who were accused of being witches are as fascinating as they are horrific. Just because a rumour, a husband, brother, any man said you were a witch, then you were the guilty one. Even women who were widows or single were not safe from the risk of a man deciding to destroy them.

The two timelines of this book are nicely done and work well to carry the story to its conclusion. I found the story set in 1661 the most fascinating but also the hardest to think about afterwards. All I could do, was to think how sad and difficult these women's lives were. Cook with herbs? You must be a witch. Pregnant then lose the baby? You must be a witch? Dare to care for someone only for them to die? Well, that's you hung, drawn and quartered.

Thistle cottage straddles both timelines but in the present day, Tess finds out about its past inhabitants and wants to know more. That they are living in the Witches' cottage, is fascinating and it was a real pleasure finding out about the house across time.
BookTrail Boarding Pass: The Secrets of Thistle Cottage
Destination/location: North Berwick, Edinburgh  Author/guide: Kerry Barrett  Departure Time: 1661
Back to Results