Yorkshire's Coffin Path – with Katherine Clements
Yorkshire is a popular place in literature -Wuthering Heights? Jane Eyre? Wildfell Hall? And it' s not just the Bronte's and their gothic novels either…there's a certain gothic chill that haunts the moors,  causes the trees spindly fingers to caress your neck in many other novels and a certain Coffin Path….
If you're brave enough to see where it leads… Katherine Clements evokes these Yorkshire chills in her new novel….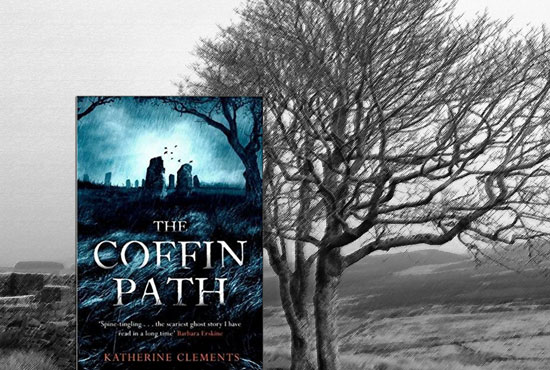 The Coffin Path – where you did find such a creepy story and title!
The story came together from several different angles: I fancied trying my hand at a ghost story; I wanted to write something related to the long term effects the English Civil War (my first two novels were set during that conflict); and I had recently moved back to Manchester after many years away and found myself reconnecting with the landscape and history of the Lancashire and West Yorkshire moors. All these things culminated in the setting and the history behind the book.
The title is a term I first encountered a few years ago in Sussex. Coffin paths were routes that connected remote communities to burial grounds. People had to transport the dead along these tracks to bury them in sanctified ground. The poorest would have had to carry the coffin by hand, sometimes over rugged terrain. Over time, these places became associated with the souls of the dead. You can find coffin paths (or some variation on the term) all over the country, dating back at least to the Middle Ages.
Why is location important to you?
The geographical setting of a story is absolutely integral to its atmosphere. It influences everything, perhaps especially in historical fiction. With this book it became even more so –the setting almost became a character itself as the land and the environment determined the story. I knew I wanted to set the book in a remote place but, at the same time, needed to create a precarious, claustrophobic atmosphere, where characters feel trapped despite the vast spaces around them. The moors were perfect for that. It's a landscape I'm familiar with and feel connected to.
How do you research a novel such as this?
I already had solid background knowledge of 17th century history from writing my first two novels, which are grounded in the historical record. I had a lot of the basics down – what people ate, what they wore, how they travelled, their religious beliefs etc. But even when a book is completely fictional, as The Coffin Path is, there are always details to get right. So this time it was more about specifics. I spent a lot of time learning about sheep farming – including some hands-on experience, helping with the lambing at a Yorkshire farm – and a lot of time walking the moors to pin down details of the changing seasons.
Evoking the five senses…..
This is always an important consideration for me because I tend to include a lot of sensory information in my writing. My guiding principle is to include only the things that my character would notice. For example, a 17th century character would not notice the everyday smells or sights that we would find extraordinary if we were to go back in time, but they would notice things that were unusual or conspicuous. I try to give enough detail for flavour and atmosphere without overwhelming – less is more.
How would your main character cope in a crisis?
Mercy Booth would be brilliant in a crisis! She's practical and pragmatic, very determined with lots of common sense. She might be upset or angry beneath the surface, but in a moment of crisis she'd keep her cool. I'd be quite happy to have her by my side.
Something you found surprising whilst researching the novel?
That the life of sheep farmers hasn't changed that much in hundreds of years, at least not for hill farmers or those with smaller flocks. Obviously, these days we have vets, medicines and a much better understanding of hygiene and disease, plus breeds of sheep that have been developed over centuries, but the annual cycle hasn't altered that much. Remnants of that traditional life still exist.
Which part of your story really intrigued you?
This is a tough question! My intention was to strike a balance between a straightforward ghost story and something more nuanced and psychological. It's about different types of 'haunting', both supernatural and earthly. For the first time, I wrote a book without being sure of the ending, and on which side of that line the conclusion would fall, so I suppose that intrigued me! I hope that readers will make their own interpretations.
What are you working on now?
I'm working on a project set in colonial New Orleans. It's a change of location and period for me, dealing with a lot of challenging history. I'm still researching and planning so it's too early to say anything more!
New Orleans…..gothic, voodoo, vampires? Who knows? Katherine you're welcome back on the BookTrail when that book comes out!