Travel to Wales with author Thorne Moore
Travel to Wales for gothic mysteries in Llys y Garn
Author Thorne Moore sets her two mystery novels Shadows and Long Shadows in Wales. The landscape is dark and bleak, gothic and spooky. Add to that a fictional manor house full of secrets and located deep in the Welsh countryside and you have Welsh literary magic.
Come meet Thorne now and step into the past….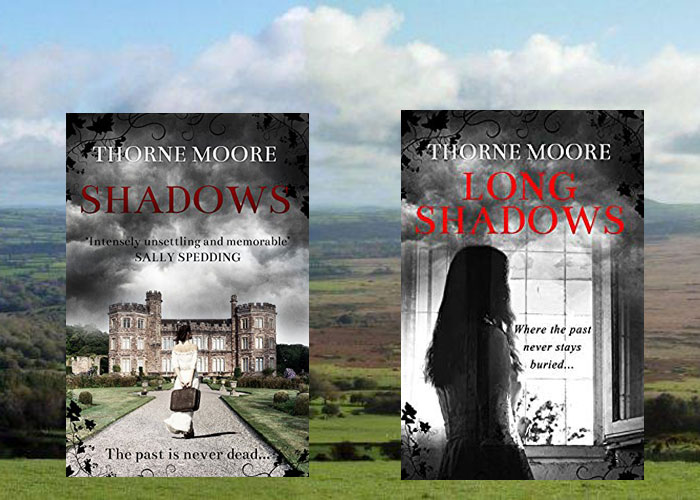 I live in North Pembrokeshire, which I like to think of as the kingdom of Cemaes. If you take the Cardigan road from Haverfordwest and drive to the top of Bwlch Gwynt, the windy pass, you look down on it all from the ridge of the Preselis: a secret country of oak woods, tiny fields and rivers snaking in deep valleys. And the sea, of course. Once that was a major highway, but since the coming of proper roads and railways, this area has become a forgotten backwater. The past can seem closer than the present with Neolithic bluestone quarries, Iron-age round houses, and castles round every corner.
It's a place to find isolated communities, farmsteads barely connected to the outside world and houses long abandoned as their residents moved out in search of work. I can count five derelict cottages within an easy walk of my house, some of them still nursing remnants of former life, like rusting kettles or creaking stairs, some no more than ivy-draped mounds of rubble. It was the one nearest to me, just across a single field and down in a wooded dell, that inspired my first novel, A Time For Silence (and its prequel, Covenant, due next year). It was home to a large family before World War II, but now it stands silent. Even the track to it is overgrown. You can't come upon it, unexpectedly, without wondering what family dramas it might have witnessed, all now forgotten.
And there are not just cottages. There are mansions lost in the woods. Coedmor, Cilwendeg, Ffynone, Cilgwyn, Glandovan, Rhos y Gilwen, Llwyngwair… Once they were home to ancient families with pedigrees as long as several arms, or built by upwardly mobile sea captains come home to be gentlemen. Sometimes they have decayed into mysterious ruin, but mostly, they have been rescued to serve some more egalitarian purpose, converted to apartments or hotels, nursing homes or art centres. You can easily miss them, tucked into woods, out of sight beyond quaint little lodge cottages. I use an amalgamation of all of them to create my fictional house of Llys y Garn, which reveals its dark secrets in Shadows and Long Shadows.
Houses small and large are often my inspiration. When you think about, any house of any age, pre-World War II and older, will have witnessed all manner of human drama from birth to death. Perhaps even murder, but who, in such an isolated place as this, would ever know?
BookTrail Boarding Pass: Thorne Moore
Twitter: @ThorneMoore  Web: hwww.thornemoore.co.uk