The Illusions set in Bristol with Liz Hyder
The Illusions of Bristol
The Illusions set in Bristol with Liz Hyder. Liz Hyder has a magical booktrail for you. A tour around Bristol…..in 1896…….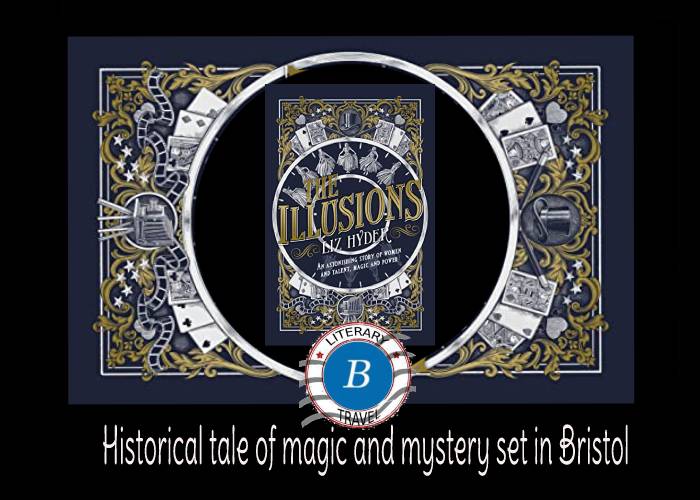 My second novel for adults, The Illusions, is set in Bristol in 1896, a time of extraordinary change when a golden age of magic collides with the very early days of the moving pictures.
The Illusions set in Bristol with Liz Hyder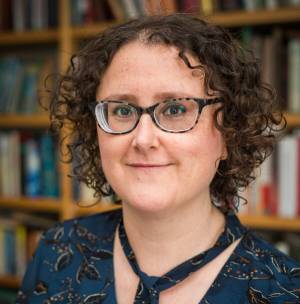 Liz Hyder
Inspired by real-life illusionists and early film pioneers, the story centres around Eadie Carleton, a female film-maker struggling to be taken seriously in a male-dominated industry, Cecily Marsden, a teenage assistant to an ageing con-artist, and George Perris, a brilliant young magician who sees huge potential in moving pictures. As a group of illusionists prepare for a grand spectacle, Cec, Eadie and George's worlds collide in a heady mix of passion, rivalry, secrecy and surprise…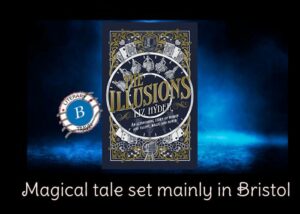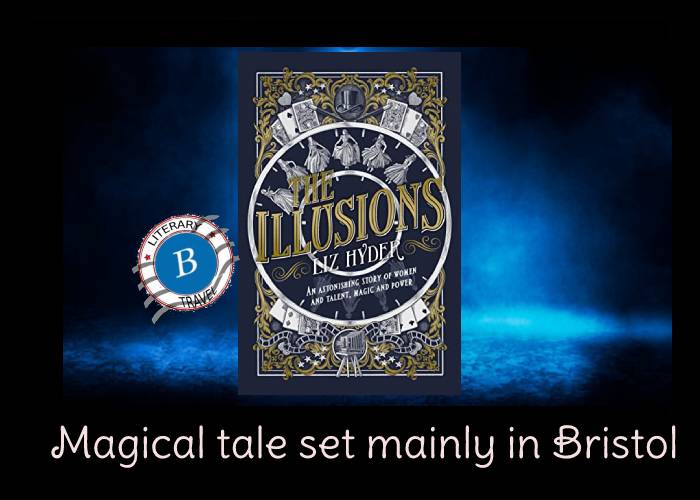 As you probably know, the early film industry in Britain was centred around four main locations, Brighton, Bradford, Leeds, and London. I've cheated and widened this to include Bristol. As a city that is renowned for Aardman Animations and the BBC's famed Natural History Unit, it always seemed odd to me that Bristol wasn't at the forefront of the early days of moving images. Particularly when it had such a strong presence with photography.
It's a city I'm also very fond of having been a student there many years ago too. So much so that I've used one of my old university digs as the home of Eadie Carleton, my photographer and film-maker extraordinaire.
5 Regent Street
Regent Street in Clifton is a beautiful street, filled with all sorts of interesting shops with rooms above. I lived at number 5 for two years as a student above what was then a carpet shop and I've stolen all of it, transforming it in my imagination to the living quarters and working rooms of E.D. Carleton Photographic. If you want to be really geeky after reading the book, my own room is that of Louis's, Eadie's brother, the garret room at the front of the house overlooking the street below. I hit my head on that bloody sloping ceiling more times than I can remember!
Royal York Crescent
One of the most beautiful streets in all of England, this delightful pastel-coloured Georgian crescent gently sweeps around the curve of the hill, looking over an incredible view down to the city below and the hills beyond. I don't think you can walk along it and not fall a little in love with it. I couldn't resist putting Valentin, my older, somewhat mysterious, magician, in rooms here. He returns to Bristol from many years away with money in his pocket and it's exactly where he would choose to stay.
Clifton Suspension Bridge and Leigh Woods
A triumph both of engineering and design, the suspension bridge is probably Bristol's most iconic site. Stretching across the deep Avon Gorge, the bridge links Clifton in Bristol with Leigh Woods on the far side. I never tire of looking at the bridge but, to be honest, I'm not a huge fan of walking over it as I'm not very good with heights (something that I share with Valentin!). Leigh Woods is now a nature reserve and a great place to wander away from the city, with an iron age hillfort to explore and paths galore.
Ashton Court
On the same side of the gorge as Leigh Woods, Ashton Court is a spectacular country park and mansion with extensive grounds. It was once the home of the famous Smythe family but as that same family had historical links to slavery, I changed it to the Packer family, after some friends of mine who are real bookworms and culture vultures. George is invited to perform here and tries to rope Eadie into showing some of her new moving pictures too  – it's a pivotal scene and I will say no more!
Park Row
Bristol University's Drama Department (where I studied) is still based just along here. As a student, I was always strangely fond of it despite it being full of traffic. There's an incredibly ugly multi-storey car park on it and I was astonished to discover that this was where the beautiful Prince's Theatre used to be. A truly grand theatre with an impressive, pillared front and three tiers of seating that could fit up to 2,000 people in the audience, this was the perfect venue for a big magical extravaganza – it was a pleasure to bring it back to life!
Arnos Vale
Last but mot least, this is a spectacular Victorian cemetery in the heart of Bristol. It's a large site with over 40 acres of land. My friend's old flat in Bristol used to back onto it. The crumbling red brick wall at the bottom of her garden always used to fascinate me. It was designed to echo classical Greece in its architecture and landscaping. It's full of intriguing stories.
There are two chapels in the cemetery. I feature the Anglican one, with its bell tower and tiled roof, in The Illusions. There's an errant tile that slides off the roof, changing the course of two of the characters' lives…
What a wonderful tour of The Illusions. Oh read this novel, it's wonderful! Thank you so much Liz!
Twitter/Insta: @LondonBessie