The Illusions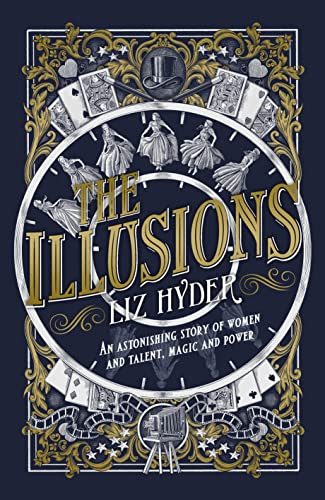 Why a Booktrail?
1896: The stage is set for the illusion of all illusions.
What you need to know before your trail
Bristol, 1896. Used to scraping a living as the young assistant to an ageing con artist, Cecily Marsden's life is turned upside down when her master suddenly dies. Believing herself to blame, could young Cec somehow have powers she little understands?
Meanwhile Eadie Carleton, a pioneering early film-maker, struggles for her talent to be taken seriously in a male-dominated world, and a brilliant young magician, George Perris, begins to see the potential in moving pictures. George believes that if he can harness this new technology, it will revolutionise the world of magic forever – but in order to achieve his dreams, he must first win over Miss Carleton . . .
As a group of illusionists prepare for a grand spectacle, Cec, Eadie and George's worlds collide. But as Cec falls in love with the bustling realm of theatre and magic, she faces the fight of her life to save the performance from sabotage and harness the element of real magic held deep within her.
Travel Guide
The world of illusions
The author says that the overlap between moving pictures and magicians is much bigger and more complex that in her novel.  The truth seemed to be that magicians played a crucial part in developing the language of film, a language we now immerse ourselves in every day. Their sheer inventiveness, bloody mindedness, rivalry, secredy, rethlessness, and extraordinary egos contrasted with extreme acts of generosity , creativitity and collaboration.
The early fim scene in the UK was centered around London, Brighton, Bradford and Leeds. The author admits that she wanted to include Bristol as the city has a strong history of photography. This city in particular is very well evoked.
The real setting is the magic of behind the scenes – magicians and the moving pictures.
BookTrail Boarding Pass: The Illusions
Destination/location: Bristol Author/guide:  Liz Hyder Departure Time: 1896
Back to Results