Women in Translation – #WIT French author Valerie Perrin
Women in Translation – #WIT Valerie Perrin
A great French writer if you haven't come across her before. She was born in the Vosges Mountain in 1967 and now lives in Normandy. Her books has won several awards.
First book translated into English was Fresh Water for Flowers.  Figaro Littéraire, a top newspaper in France, named Perrin one of the ten best-selling authors in the country in 2019 Perrin.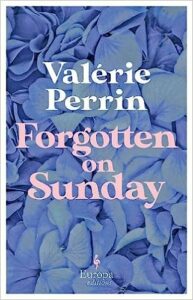 In her latest novel  Forgetten on a Sunday, Justine is 21 and has lived with her grandparents and cousin Jules since the death of her parents. She works as a carer at a retirement home and bonds with Hélène, an almost 100-year-old resident
The two women form a strong bond and their stories are both enlightening and poignant. They both support and help each other and their friendship seems to be helping them both.
One day, trouble arrives in the form of a mysterious phone call that shakes the retirement home to its core and uncovers a shocking revelation……
She met famous film director Claude Lelouch in 2006 and started to work as a set photographer, then as co-writer on his latest films. They later married.
Her novels are character driven and set in various places in France. Fresh Water for Flowers for example is set in a grave yard in Burgundy.
Violette Toussaint is the caretaker at a cemetery. Her daily life is lived to the rhythms of the hilarious and touching confidences of random visitors and her colleagues.
In 1986 Adrien, Etienne and Nina are 10 years old when they meet at school and become inseparable. Many years later in 2017, a body is found at the bottom of a lake. The three former friends might be involved in some way but how? Why? Why did their friendhip fall apart?
A local journalist is about to find out.
Translator: Hildegarde Serle