Travel to the setting of Seven with Farzana Doctor
The Story Behind Seven's Settings
Author Farzana Doctor has some interesting stories to tell about her research behind her novel Seven.  It's a story of inheritance and resistance that tests the balance between kinship and the fight against customs that harm us. Farzana has some very personal reasons for writing this story and her locations tell a story of their own!
Here's the cover: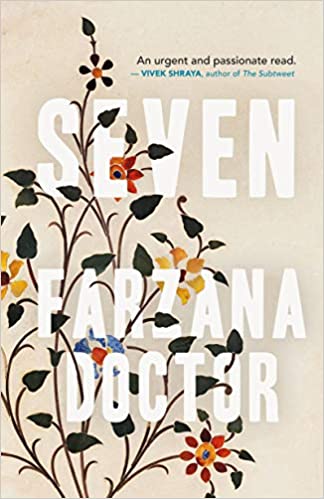 Now over to you Farzana!
Let's go on the SEVEN BOOKTRAIL – First stop: New York
Seven begins in New York as forty-year old Sharifa is preparing to go to India for eight months with her husband Murtuza, and their seven year-old daughter, Zee. New York plays a minor role, except to introduce Sharifa's first-generation immigrant status; she juggles the beliefs and values of two cultures. She grew up in Edison, New Jersey and I could have chosen any North American suburban location near a large city where Dawoodi Bohras, her religious community and the focus of much of the novel's debate, have sizeable congregrations. Here's one location that stands out:
East River Park –where Sharifa and her mother first talk about Abdoolally, the revered ancestor Sharifa will later research once in India.
Abdoolally is a fictional character inspired by my great-great grandfather, Hussonally Dholkawala, who I researched in 2015-2017. You can find out more info about the real man on this blog. It was a thrill for me to visit some of Hussonally's "real life" locations to build Abdoolally's story for this novel.
India:
Sharifa's family lives in various Mumbai neighbourhoods (Bandra, Khar West, Santa Cruz, Worli), as does my own family. I had the opportunity to travel to India twice while crafting the novel, and I kept copious notes on everything I noticed, for example: the way people talk, move, dress; what the sidewalks look like; how street dogs behave when you approach them; the sounds of vendors at night; the combined smells of petrichor, trees in bloom and urine; the precarious dance one does when crossing urban streets; and how entire families ride and maintain their balance on scooters.
Like Sharifa, while I've visited India many times, my gaze is that of someone who grew up in North America. While I strived for authenticity in setting descriptions, I also made sure to highlight her flawed (and sometimes clueless!) outsider's perspective.
South Bombay and in Dholka, a small city in Gujarat.
Alternating with Sharifa's narrative is her great-great grandfather's story, which takes place in the late 1800's, and mostly in South Bombay and in Dholka, a small city in Gujarat.
Most of the India settings have been fictionalized but many are inspired by real places:
Mohammed Ali Road, near Nagdevi Cross Lane –Sharifa, Zee and Maasi Tasnim visit the location of what was once one of Abdoolally's businesses. In reality, this neighbourhood is close to the Dholkawala Maternity Hospital, created by my great-great-grandfather's trust.
Khar Mosque—Abdoolally visits his mother's grave. It's true name is Vajihi Masjid, located on Swami Vivekanand Road in Khar West. My great-great grandfather built this mosque for his mother, and she is buried in the cemetery below it.
Cathedral and John Connon School—where Hussonally holds an impromptu protest to get his grandson admission to the school.
Sharifa, her mother, Zee, and Zainab visit Global Desi near the end of the book on Linking Road. One of my favourite stores!
Dholka
Sharifa and her cousins travel to Dholka to learn more about her family's ancestral village, and to retrace Abdoolally's steps. It was fascinating to see some of the locations named after Hussonally, and in these chapters I take Sharifa and her cousins on a tour of the original village where he was born. They visit a school in Dholka and also a famous Malav Talav Lake.
Goa
Finally, I wanted to include Goa in this book. I travelled there with some cousins in 2017. While we were there, an election was on, which meant early bar closing times. My cousins and I were on the way to the beach when we were surrounded by a crowd of chaotic and inebriated vacationers pouring out of the bars at 10pm. They staggered and weaved around us. My partner commented that it resembled a scene from hell.
This experience gave me the idea to create a similar scene for Sharifa and Murtuza. As a couple, they've weathered considerable tensions in their marriage, and having them alone on vacation, away from the rest of the community and their usual distractions, allowed me to show the longer-term impacts of this strife:
Baga Beach Road—Sharifa, Murtuza and Zee get kulfi on and encounter something similar to the surreal scene my cousins and I encountered.
Seven's settings play an important role in this novel. So much of what Sharifa struggles with as she excavates her family's history is connected to her relationship to community and place. These settings provided additional fodder for her story, but also filled in gaps in understanding my own family and history.
With many thanks Farzana for such a detailed and fascinating insight into your book's locations!
BookTrail Boarding Pass: Seven
Twitter: @farzanadoctor   Web: //farzanadoctor.com/