#Authorsonlocation – Boswana – Michael Stanley
Michael Stanley on Location – Botswana
Today Michael Stanley transports to Botswana to showcase the wonders of the country and landscape where he sets his novels: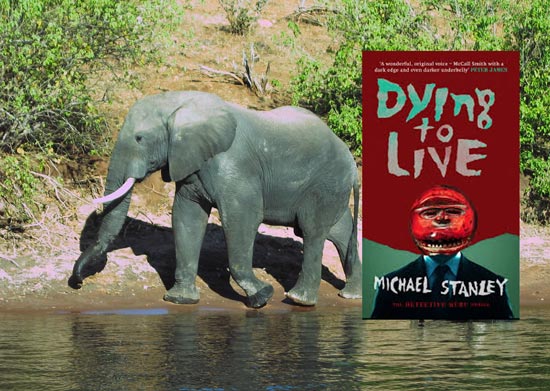 We're very lucky to have a whole country as our location, and it's a country we love. Botswana has wonderful wildlife areas, like the Chobe National Park where the idea for our first novel—A Carrion Death—was born, the incredible Okavango Delta, and the arid beauty of the Kalahari.
It also has an interesting history. At one point the small town of Shoshong, north of the modern capital city of Gaborone, was the largest inland centre in southern Africa, beating Pretoria and Kimberley. It's an interesting place to visit, and that history and tradition is part of the backstory of A Death in the Family.
The prehistory is even more fascinating since the Kalahari is home to some of the San or Bushman peoples, whose culture stretches back thousands of years. The magnificent rock art at Tsodilo Hills, a UNESCO World Heritage Site that the Bushman believe was the origin of the world, has nearly 5000 paintings, and was the model for The Place in our book Death of the Mantis.
The Batswana people are friendly, and proud of their traditions and independence. Botswana is one of the few countries in Africa that has never been a European colony. It was for some time a British Protectorate (Bechuanaland) and that was at the request of the Batswana leaders who wanted protection from the expanding Boer republics of southern Africa. The British never took a great deal of interest, administering the country from outside its borders in what was then Mafeking in South Africa.
Whenever we write a book, we take the time to visit every location used in the story, spend some time there, get a feeling for it, and perhaps stay over in one of the guest houses or guest farms. We also try to discover where Kubu will find decent food (important for him!) when he's there. We often visit the local police, and once we've explained who we are and that we are writing fiction, we always get a helpful reception. We always learn new things. Botswana is a big, sparsely populated area, and police methods are often quite different from what one would find in the UK or even in South Africa.
Part of Dying to Live is set in the area of the Kalahari to which the Bushmen have been relocated from their ancestral hunting grounds.  In particular, we visited a village called New Xade, which has to be one of the most depressing places we've seen.  Yes, the Bushmen have some facilities they didn't have before, such as a school and some basic infrastructure, but there's nothing else.  Nothing to do; no jobs; no tourists because it is away from any road a tourist would take. We had quite a different vision of the town based on pictures and articles written about it.  So, after we'd visited it, we had to revise quite a bit of what we'd written about that part of the country.
Often people ask us why we set our stories in Botswana rather than South Africa where we actually live. We have a variety of answers. Perhaps the best one might be, Why not?
Thanks to both of you! Your tour around Botswana was brilliant and don't stop immersing your readers in its wonderful landscape!
Booktrail  Boarding Pass: Dying to Live
Twitter: @detectivekubu   web: detectivekubu.com