Travel to London with Danny Bird and Derek Farrell
Danny Bird mysteries set in London  – Derek Farrell is your guide!
The Danny Bird mysteries are a good series to collect. Not only are the covers very eye catching, but when the character is described as a kind of Sherlock Homo, well, that made me chuckle. They're quirky, unique and funny reads and today Derek is showing us the locations and inspirations for his mysteries. There might be even be a visit or two to a certain pub…Let's Travel to London with Danny Bird and Derek Farrell…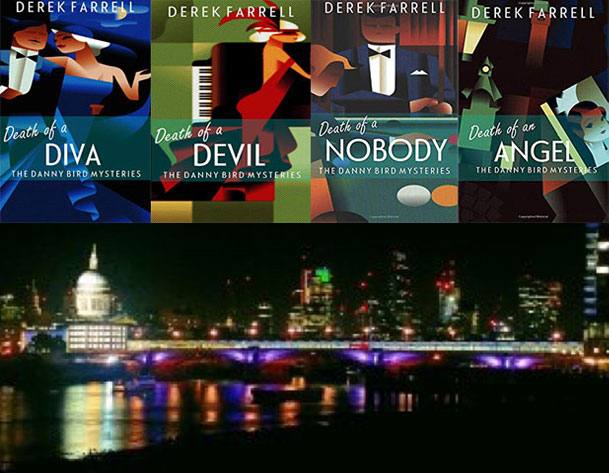 Hi Derek! Welcome to The BookTrail. Thanks for doing this Danny Bird Booktrail tour!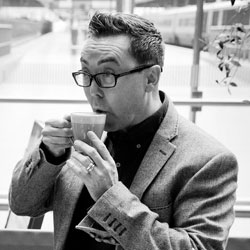 The Danny Bird Mysteries are set in Contemporary London, which I treat as both a real and a fantastic place.
When I started writing the books I looked around for a part of London that I knew well enough to be able to sketch it, but I deliberately wanted an area I would not be tempted to overdescribe. I wanted to be free to write the 'sense' of the places I was talking about rather than slavishly reproducing them. This was, after all, fiction rather than documentary.
Back in the 90s, London had a huge Gay Bar scene. There were the big glittery places in Soho, but there was also a thriving local Bar scene in places like Earls Court (Bromptons and The Coleherne), Bethnal Green (The wonderfully named Cock & Comfort), in Islington (The Edward) and in Borough, where an old backstreet Boozer named The Gladstone Arms stood.
I used to go to The Gladstone every Friday and apart from the pile of QX magazines in the corner, the Terence Higgins Trust collection tin on the bar, the glitterball by the loos and the six foot four drag queen on the postage-stamp sized stage, it felt like nothing had changed since the place opened in 1920.
And so when I wanted a bar for Danny to try to restart his life in "Death of a Diva," it seemed only logical that I would take The Gladstone, dial the grime and general roughness up by a factor of fifty, and set the bar – renamed, with a deliberate eye on Irony – The Marquess of Queensberry in the same area.
I then messed with the geography. The Marq is set on a long street that once housed a (now defunct) street market. There are shops (though few – so far – have been occupied) and at the end of the street a railway bridge connects London Bridge station with Brighton.
The real Gladstone Arms is not.
I deliberately retained the neighbourhood. I particularly loved Borough/Southwark/Elephant & Castle because they allow for huge wealth to sit next to council houses, and for city traders to cross London bridge and mix with Market traders at lunchtime, for the nearby Terminals of London Bridge and Waterloo to encourage a flow of people in and through and out of the areas and thus for the stories to believably retain elements of the traditional 'Cozy' structure without ever having to explain why so many disparate people are turning up in what is, essentially, a small village.
And having decided on the base location, the research was simple: I walked around.
Many times.
Sometimes deliberately building in pub crawls to get a sense for the bars in the area (not recommended, to be honest, as one's research notes tend to become less readable as the day progresses), sometimes, just going up to the area and walking street by street.
And then, when I had literally walked every single street in "My Manor," I could happily forget it all.
Because here's where the 'Fantastic' comes in: A city is a living breathing beast. A huge scaled dragon that can hold you protectively, or crush you with a swipe of it's tail. And like a dragon, it's constantly changing, so that if I were to write "I walked two hundred yards down Lant road then turned Left into Borough High Street, stopping at the Kebab shop by the bus stop for a Doner and Chips," someone would doubtless ensure to drop me a note to let me know that there is (a) no bus stop on that stretch of Borough High Street or (b) no Kebab shop (though there is a Korean Deli).

Thanks Derek! You can really discover a city through new eyes when speaking with an author!
Twitter:  @DerekIFarrell  Web: www.derekfarrell.co.uk/