Travel to A Year in the French Farmhouse with Gillian Harvey
Off for a year in a French Farmhouse
Author Gillian Harvey today takes you to a very nice part of France for a holiday in a farm house….. for a whole year no less!
Chances are you've never visited Limousin, a rural department just south of central France. Neither had I, before I decided to make France my home. At that time, my husband and I had decided to make the move, but hadn't narrowed our search. We took a holiday to Limousin in 2009 and – despite having decided to visit several areas before making our choice – fell instantly in love.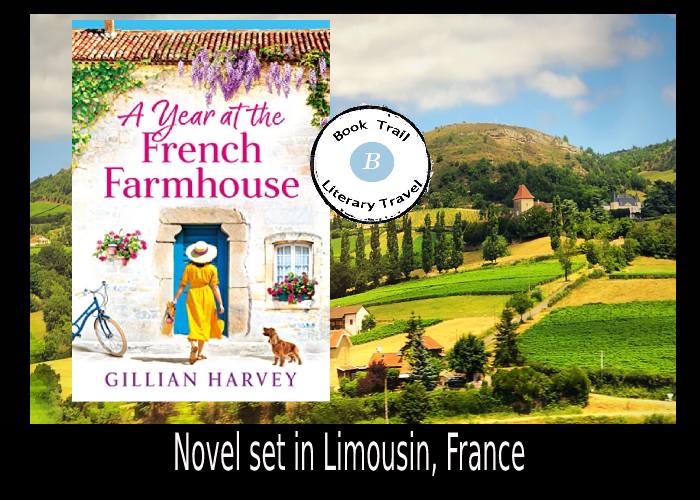 Known as the lake district of France, the beautiful Limousin is full of green, open spaces, lakeside beaches, beautiful stone buildings tucked into tiny hamlets and offers some of the purest air in France with which to fill your lungs.
Despite having lived here 12 years, 'A Year at the French Farmhouse' is the first novel I've written that's set in the country I now call home. But the experience of bringing my local area to life for readers has been amazing, and helped me to see and appreciate the beautiful area as if for the first time.
Eymoutiers:
This little market town nestled in the Limousin countryside is both beautiful and welcoming. One of Haute Vienne's medieval towns, it's bursting with period properties – including a 17th century chateau, old tanner's quarters and stone houses built alongside some of the original town wall. Despite its low population, the town is bursting with life – coffee shops, restaurants, an art gallery, sports hall and a wealth of activities for locals and visitors.
Faux la Montagne
Faux la Montagne, just 20 minutes' drive from Eymoutiers, is a small village full of traditional stone houses and boasting a 13th century church. The area is a haven for writers and artists and the village holds an annual festival of words over three days during the summer period.
Lac de Vassivière
One of the largest manmade lakes in France, Lac de Vassivière is around 10 square kilometres in size. Around the edge of the lake are several sandy beaches, where visitors can relax or take part in water sports from kayak to windsurfing.
Plage-de-Broussas
This small beach on the side of Lac de Vassivière is a gorgeous, unspoiled haven for locals and visitors. There's a tiny, wooden café on the beach itself, with decking for customers to sit and eat overlooking the lake. Broussas-de-Maulde is a tiny commune with just a few stone properties, some of which are empty. Local data estimates this little location is home to fewer than 10 inhabitants.
Twitter:@GillPlusFive