Snare – Fly to Iceland with Lilja Sigurdardottir
Writing  an Icelandic thriller is no easy task. Lilja Sigurðardóttir has written one with bite and kick though as there is lots to talk about with this one! Ice sharp writing too. How DOES she do it? Lilja tells us all an takes us to Iceland…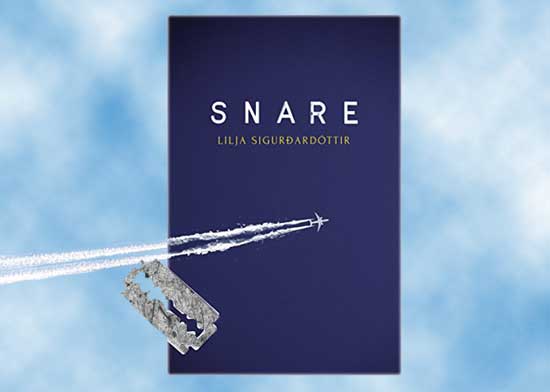 When I am writing, I have to invest emotionally in the story and I do it by giving the characters something from myself. Sometimes it is something little, like a habit or a taste for a certain food and sometimes it is something bigger, such as a fear of something or an ambition. And just as most of the characters in my books have something of me in them, most of the locations also have something that connects to me, be it a memory or an experience of some sort.
For example, Akranes village, a half-hour drive from Reykjavík is the place where one of the characters in Snare, little Tómas, the son of the protagonist, lives with his father. I was born in Akranes and lived there until I was five years old. This little fishing village with its´ statue of the sailor in the town square is, in my mind, the ideal location for a happy childhood. Endless beaches to play on, quiet small-town life and of course the football team in their´ black-and-bright-yellow kit is also something that connects to good memories from my childhood. I was a happy child in Akranes but little Tómas isn´t, as he misses him mum so terribly.
The Hvalfjörður tunnel, through which we see the characters in Snare drive repeatedly, is the under-sea tunnel that connects Akranes village to the capital. The tunnel was opened in 1988 and saves people from driving for an hour through the fjord on a twisting, turning road. I have a childhood memory of being in a car with my parents and sliding off that road and turning over on a snowy day. I just love the Hvalfjörður tunnel, as the road through that fjord has always felt very dangerous since.
Another location I connect to emotionally is the Keflavík airport. It is the only international airport in Iceland so its importance for Iceland cannot be exaggerated. Apart from being almost the only gateway in and out of the country it has a special meaning in the Icelanders' minds. Just a few years back it was a tradition to go straight from security to the bar and have a beer. Never mind what hour of the day. Since beer prohibition was ended in Iceland in 1989, people don´t drink as much in the duty-free area. Instead, a new 'tradition' has emerged: taking a selfie at the airport and posting it on social media so that friends can comment, be happy for the traveller and wish them a good journey. When walking the long corridor from the airport building to the gates I always feel a great sense of freedom; this corridor is the gateway from this little island to the world.
The Sægreifinn fish restaurant I mention in Snare is a good place to get grilled fresh fish, but I use it mainly to underline the importance of fish in the Icelandic diet. Judging from Icelandic books and cinema one could think Icelanders mostly eat seared sheep-heads, but that is just the occasional treat; in truth, we eat mostly fish. Every school is required to have fish on their menu at least twice a week, and the same goes for care homes and hospitals. I was raised on fish five time a week and I still like it. I cook fish every week and then sometimes eat it in restaurants, too.
By using locations I connect to personally, I travel with ease through my story and it makes it easy for me to imagine the characters there and describe the place. But sometimes I have found that in my mind or memory, the places change from the reality. I remember them in a certain way and then when I visit again I am surprised that the place isn´t quite like I remembered it. So then I am in conflict about whether to describe it as it is or as it had settled in my mind. Needless to say, when facing that conflict my imagination always wins. I am a novelist, after all.
Many thanks Lilja! Right now, let's get back to that Fish restaurant shall we? Got to sample these things after all!
BookTrail Boarding Pass: Snare