Jo Watson takes readers to Zanzibar for a Literary Vacation
What Happens on Vacation in Zanzibar
Turquoise waters lapping on pristine white beaches. The hypnotic sway of palm trees in a warm ocean breeze, sunsets turning the water to liquid gold… I could expound on this beautiful place forever. This little piece of African paradise.
I think I fell in love with Zanzibar the second I stepped off the small propeller plane we took to get there (which was rather terrifying, I might add). There is something so magical about this small island nestled off the coast of Tanzania. It really feels like an undiscovered gem that more people should be visiting.
It's hard to explain what makes the place so breathtaking and special. There's just a feeling that wafts through the warm, humid air there. Maybe it's the vast sense of history the island has, the exotic mix of cultures coming together to form something quite unique. A perfect fusion of Swahili, Arab and Indian influences that permeate every aspect of life there. Maybe it's all the spices; clove, cinnamon and cardamon in the air like incense.
Maybe it's the friendly locals, dressed in colorful, boldly patterned attire like walking rainbows that brighten your day. Maybe it's the feeling that strolling around 18th centaury Stone Town—winding through its narrow alleys, passing intricately carved doors and walking under ancient stone archways— feels like stepping back in time. But whatever it is, I've always known that when I started writing books, I would like to set a story there. And so I did!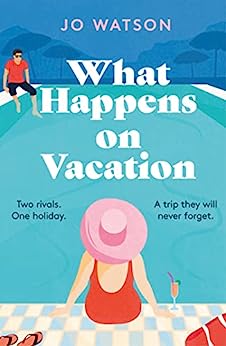 What Happens on Vacation seemed like the perfect book to set in Zanzibar. I wanted my two-office nemesis, Jagger and Margaret, to be swept away to such a magical place that the feeling that 'anything and everything was possible there' flowed through their story and the pages of the book. And I didn't just want my two characters to laze around on the beach all day either, even though lounging there whilst sipping cocktails is the most heavenly thing to do. Both my characters are journalists, so they were the perfect kind of people to get out and about and explore the many incredible places that Zanzibar has to offer.
Absorbing its culture, tastes, sights and smells, and on a more serious note, taking a trip back in time to reflect on the role that the island played in the slave trade. And because my book is a pure romantic comedy, some of their island adventures lead to mishap, mirth and amusement, whilst others lead to something a lot sexier. And as Jagger and Margaret get to know each other, they discover they may have more in common than they initially thought. Enemies to lovers on an exotic African island! That was the main idea of the book and it was a joy to write, since enemies to lovers is my favorite trope.
I didn't have to do much research either, even though it's been almost twenty years since I visited the island, it left such an impression on me that all I had to do was close my eyes and I was right there all over again. I sent the characters to some of the places that I myself visited; Mercury's Bar, a tribute to the iconic Freddie Mercury who was born on the island. The characters also explored the ancient ruins of an old Portuguese house and swam in a water-filled cave. They ventured into a local fishing village and went scuba diving in one of the many tropical coral reefs that surround the island.
In fact, writing this book was very much a trip down memory lane and has made me desperate to visit Zanzibar all over again. And I'm really hoping that some of my readers will also be tempted to give this island a try. After all, it's the perfect place to fall in love… with yourself, the place, the people, and who knows who else.
Thanks Jo for quite the tour!
Twitter: @JoWatsonWrites Facebook: Jo Watson Writes | Facebook