Balkava on the beach with Mandy Baggot
I know it's a Wednesday in February but I'm sitting on a Corfu beach with the lovely Mandy Baggot. She's invited me and has a Metaxa and Coke please and a large portion of baklava. Well I wasn't even sure what that was but it sounded good so on that plane I was before you could say Truly Madly Greekly.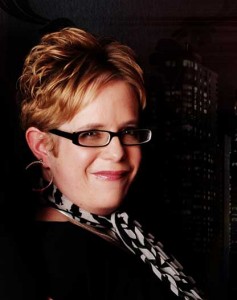 So picture this – a lovely sandy beach, blue skies, Mandy Baggot with baklava in one hand and wine in the other.. I'm in literary heaven. You're all invited of course so come on over. Just wear some sunscreen though as  we're off to Nashville as well….
You have set your books in many locations from Nashville to Corfu. What has been your favourite if that is not too hard a question?
I think my favourite has to be Corfu. I have visited this Greek island ten times – eight times in the last four years and it has a special piece of my heart. I adore the Greek people, the food, the climate and the beautiful scenery. It's hard not to get inspired when you're surrounded by all of that.
What was so special about Nashville?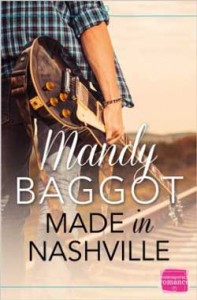 I am a HUGE country music fan. I grew up with country music thanks to my Granddad. He was in to Kenny Rogers, Tammy Wynette and Glen Campbell and that was an excellent grounding in the genre. I'm more into popular country myself—Sam Hunt, Brantley Gilbert, Striking Matches, The Shires and I'm also a big lover of the TV show, Nashville. That combination brought on the inspiration for my novel Made in Nashville.
This year I have a big birthday… I'm 40! And, as a special treat, I'm heading to Nashville for the very first time for a week immersing myself in country music treats! I absolutely cannot wait to visit this city!
Why set a story in Corfu? I understand Agios Spyridon and the hotel there was somewhere you had stayed yourself and so recreated it for the fictional setting?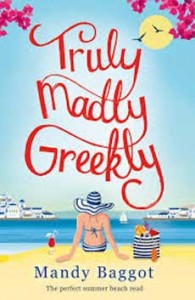 Those eight recent visits to Corfu have all been to the fantastic Mareblue Beach Hotel in Agios Spyridon. I fell in love with the hotel when we first stayed there for two weeks in the spring of 2012. It's set in such a gorgeous location in the north east of Corfu (a particular favourite part of the island for me) with stunning views of the sea and the mountains of Albania. It's also completely relaxed, friendly, welcoming. The lovely Rokas family who own the hotel, and all the staff, are like my Greek family! I sat round the lagoon pool and started writing the beginnings of Truly Madly Greekly in 2012 and when it came out I did a presentation to the holidaymakers and an impromptu book signing. That was a real highlight of 2015.
If you had a dinner party with four of your characters from any of your novels who would you pick and why?
That's quite a tough question! Well, I would definitely have to have Georgina Fraser from my novel, Strings Attached. She's a caterer so let's hope she'd be making the food as I'm not the best cook.
Then I'd have to have Jared Marshall from Made in Nashville. I'm not meant to have a favourite hero but I did fall in love with him. He obviously plays guitar so he can provide the music for after dinner entertainment.
Next I'd invite Angel Walker, my brainy nine year old from One Wish in Manhattan. She would definitely keep the conversation flowing and give fascinating insights as to where the food had come from and facts about the country of origin from her special dictionary.
Lastly I'd invite Yan Aleksandrov from Truly Madly Greekly. As well as being eye candy to look at, he could do some animation games to round off the evening.
What kind of research do you do to get the settings just spot on?
As much as I would LOVE to visit all the places I write about, it just isn't possible. However, You Tube is an amazing tool for authors. When I was writing One Wish in Manhattan I looked up videos holidaymakers had taken of New York, the more amateur the better. I was just looking for those street sounds, signs, parks, restaurants, to get an authentic feel of being there. I've had such lovely praise about my depiction of New York so I must have done something right!
Your characters come from all walks of life. Is there one that has stayed with you or been the most fun to write?
I do love all my characters for so many different reasons. I think my very first heroine, Freya Johnson from Excess All Areas was really fun to write. She is a plus size heroine who grabs life by the scruff of the neck and shoots from the hip. She's conscious of her body shape but she doesn't let the world's preconceived ideas about beauty get in her way and she gets her man – a hot, Hollywood actor no less.
You bring so much joy and pleasure into reader's lives. What do you enjoy reading yourself?
Aww, thank you! I have to admit, I do love a good chick lit/rom com myself but I also love a good crime thriller. My favourite authors in the rom com genre are Annie Lyons, Milly Johnson and I've just discovered this brilliant author who writes about Greek women called Alex A King.
What are you writing now and where are you taking us next? (Where's next on the Mandy Baggot booktrail?)
I've literally just finished my next summer read and we're going back to Greece. It's quite a bit different to Truly Madly Greekly but it does have that all important gorgeous hero and a heroine to cheer for!
Thank you Mandy for a journey from Nashville to Corfu and back again! It's been a real literary treat!
Booktrail Boarding Pass Information:
Twitter: @mandybaggot
Facebook: /mandybaggotauthor
Web: mandybaggot.com