Venice and A Year at Hotel Gondola – Nicky Pelligrino
Oh to be floating on a gondola in Venice right now? If that also, em floats your boat, then you'd better get yourself a copy of the Nicky Pellegrino novel set in the floating city. And the title A Year at Hotel Gondola conjures up so many nice dreams, visions of relaxation and the sound of water as you let your hand drop down beside the gondola and feel the sprinkles of the water droplets wash over your hands. Hang on to those icecreams!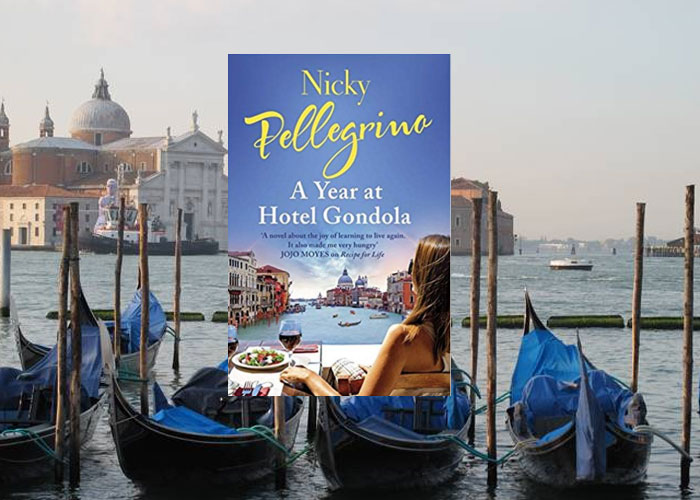 Nicky, over to you….
Venice is a city where nothing ever feels ordinary and that's why the character of my latest novel, A Year At Hotel Gondola, is there.
Kat Black has turned 50 and made a promise to herself. Her life is going to get more interesting as she gets older, not less. She is chasing new adventures and decides to spend a year living amidst the city's maze of canals, graceful squares and crumbling palazzi, learning to eat and love like a true Venetian, and writing a book about her experiences.
Although I'm half Italian, my family comes from the south and I know no one in Venice. My research meant staying there alone; which was an interesting experience, solitary and intense. There was a lot of wandering and losing myself, people watching and revisiting favourite locations. I was trying to get to know Venice but also find my way inside Kat Black's head.
I wanted to write about the things preoccupying me at the time – such as how I felt about being middle-aged and who I want to be when I'm older.  Spending time in Venice helped me realise that cities have to change and adapt just like people. And so the way Venetians are struggling to cope with the influx of tourists and keep their traditions alive became an important part of the story.
If you're visiting Venice these are my tips. Explore the central area around Piazza San Marco only in the early morning or later at night and steer clear of the crowds by wandering towards its furthest reaches the rest of the time. I recommend a walking tour – I took one around the bars known as bacari, tasting local wines and cicchetti (the Venetian version of tapas) and was introduced to places I later went back to.
Oh and don't worry about getting lost, because in Venice that is usually when you make the most beautiful discoveries!
Thank you Nicky for a wonderful floating BookTrail !
Twitter:   @nickypellegrino   Web: nickypellegrino.com