Dreaming of Tuscany, with author Trevor Williams
Dreaming of Tuscany? Trevor Williams is your ultimate literary guide….
He writes novels with such a great and immersive sense of place, that if you are any kind of armchair traveller or have any sense of wanderlust, you might well be on that next flight out… Dreaming of Tuscany with author Trevor Williams is your passport to a very enjoyable travel and reading experience!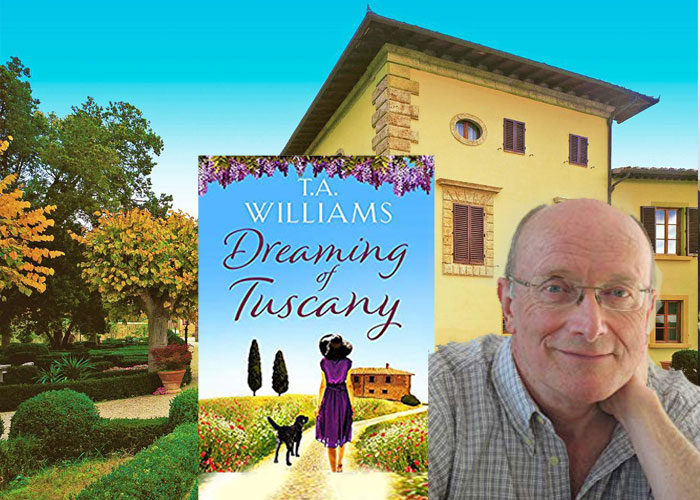 One of the features of all my books is that I do like to set them in lovely locations. I always try to visit the places I write about, so this makes for some pleasant holidays – sorry, research trips – for me and my wife. Dreaming of Tuscany provided us with just such a gorgeous opportunity.
 Italy, and Tuscany in particular, are in my heart if not my blood. I lived in Italy for 8 years back in the mists of time and when we got married, we moved from Turin in the north (my wife's from there) to Florence for four wonderful years. During these years we both developed a lasting love of Tuscany and its friendly, often larger than life inhabitants. I love the food, the wine, the amazing rich green olive oil and the wonderful unsalted bread. I love the antiquity of the place, the beauty of the architecture, and the sense of history all around. However, what I hadn't realised while living near the bustling tourist hub that is Florence was how wild and unspoilt many areas of Tuscany still are. This was revealed during our research trip last June.
We flew from Bristol to Genoa and rented a car. Why Genoa, I hear you say? The answer is cost. Flights to Genoa cost us just £40 return(!) while flights to Pisa were more like £100 each way (Tuscany isn't cheap). Genoa to Pisa is barely two hours on the autostrada, so it was a no-brainer. The added bonus was that the car hire company in Genoa had run out of the little cars I had booked, so we were handed a very swish luxury saloon. 
  We stayed about forty kms south of Siena in a tiny place called Montepescini at the Agriturismo Casa Bianca. If you haven't experienced Italy's extensive Agriturismo network yet, I urge you to give them a try. These rural hotels offer peace and quiet and often home produce. This place was no exception and the outdoor restaurant with unbroken views out over the vines was magnificent.
  We did a lot of exploring while we were there and I have done my best to include much of what I saw in Dreaming of Tuscany. The whole setting of the book – a hidden valley full of vines and olive trees – is based on this place. Talking to the locals (and there weren't many of them around – it was so quiet), I learnt that there are wolves in the surrounding hills, but happily didn't meet any. We came across two baby wild boar – delightful stripy creatures – but, again, happily didn't meet mum or dad. They can be dangerous. We even saw a dead porcupine at the side of the road. Everywhere we looked, there were no other houses, just vines and woodland.
  From there we made day trips to fabulous historical places like the Abbey of Sant-Antimo  with its delightful cypress trees, San Galgano (no. 3) to see the 12th century sword in the stone and the massive abbey now roofless and in rack and ruin not unlike Glastonbury Abbey. We went to picturesque Pienza, set high on a hill with spectacular views over the stunning Val d'Orcia and numerous others like Bolgheri and Monteriggioni. I already knew Siena well, but to anybody who hasn't been there, my advice would be to go. Altogether a spectacular holiday – sorry, research trip – and heartily recommended to anybody.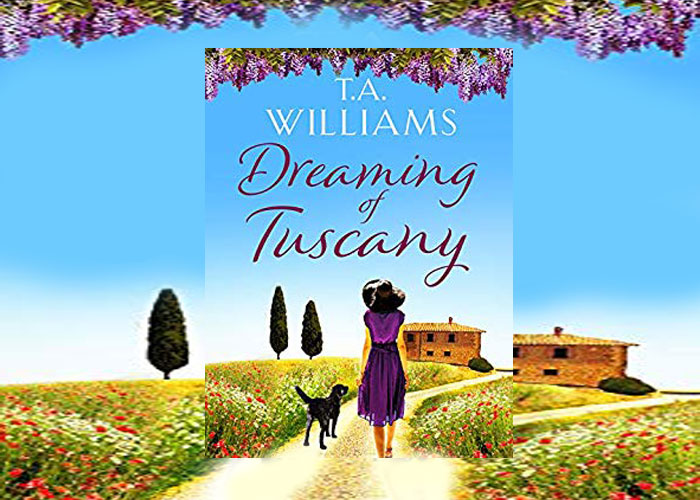 As for the villa in Dreaming of Tuscany… I chose to plonk a gorgeous Renaissance villa slap bang in the middle of this oasis of peace and quiet. The villa I have chosen is based on one I know well. This was where we lived for three years, in the hills just outside Florence. I hasten to say that we didn't live in the villa, but rented a draughty, cold in winter, geckos in summer, but spectacularly beautiful apartment in an early medieval convent just behind it, but every day I would drive past it on my way to work and it is forever impressed upon my memory. The villa was traditional Tuscan – ochre walls, huge metal gratings on the lower windows and dusty green shutters further up, sun-bleached pink tiles on the roof and a long terrace in front. Like the villa in the book, it commanded views all round and was a delight.
  Apart from the food, the wine and the location, I have also tried to convey the almost overpowering dry heat of summer, the parched earth, the dried-up streams and, above all, the total serenity of that part of the world so close to noisy tourist traps like Florence or Siena. Although I thought I knew Tuscany, this came as a surprise and a very pleasant one. So, if you ever want a relaxing rural retreat, think Tuscany.
Many thanks to Susan at the Booktrail for letting me talk to you about a place I love. I hope this comes across in the Dreaming of Tuscany.
Thank you Trevor! Much appreciated. What a wonderful visit to Tuscany!
Twitter:  /TAWilliamsBooks    Web:/tawilliamsbooks.com/