Cathi Unsworth's postcard from Hull
A few days to go until Hull Noir and Cathi Unsworth has sent a postcard from the city, showcasing what to expect. Why is Hull important to her? Why did she set her novel The Singer there? What has Hull got that nowhere else has?
Based on two true stories, Without The Moon describes two weeks of murder and mayhem in the darkest days of Blitz-torn London, as seen through the eyes of the victims of The Blackout Ripper, the investigating officers and a supporting cast of gangsters, psychics, working girls and wide boys.
Why visit Hull?
I love the city and have lots of family here! My husband is from Hull and I used it as a setting in my second novel The Singer then discovered a very similar band had come from that time and that place – the guitarist was another crime writer, Dominic Milne, who was taught at school by my Second Cousin Pete Kemp. Those kind of leylines.
Best thing about Hull
The people are so lovely and I totally understand why Philip Larkin valued the bleak beauty of the river landscape. I also love Christmas shopping in the city centre, something I am starting to look forward to already – how outrageous will this year's Christmas jumpers be?
Looking forward to the festival?
Very much so, it is a meeting of minds, a lot of great writers and great friends are taking part. The two Nicks – who should form their own Detective Agency, On the QT – have done a brilliant job with line-up, organisation and events. We should all buy them a beer!
Top tip when visiting Hull
You can't beat the Ferens Gallery for its wonderful art collection – and then a stroll through the Land of Green Ginger to Ye Olde White Harte for a drink in the inglenook fireplace and whispers of ghosts on the stairs…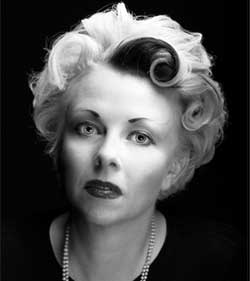 Mention of ghosts, I"m off Cathi Unsworth. Bringing my lamp and ghost busting moves to Hull! Can I just say, you are one of, if not the most stylish writers we've had on here. Rocking that look!