Sail to the Caribbean with William Shaw
The Caribbean of Willian Shaw
Time to jump on a yacht and sail to the Caribbean. Wow, how good would that be?
Author William Shaw takes you there….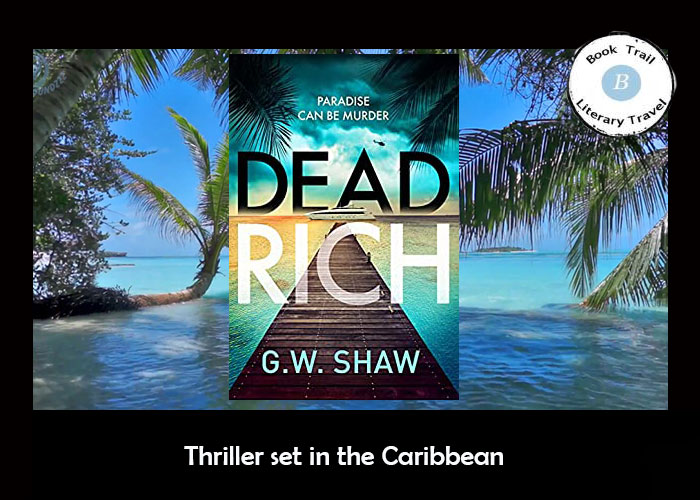 Lockdown was a time when we all wanted to travel. I was lucky enough to be able to do this – albeit totally in my head.
In my book, Dead Rich, a billionaire's superyacht is disabled in the Caribbean, hacked by assassins. My heroes escape on a clapped out sailing yacht and are driven by storms and canny seamanship towards the Windward Islands.
When we were all locked within our walls it was a pleasure to imagine each step of the journey. At the climax of the action, my protagonists were forced to board a clapped out sailing yacht in open sea. My imaginary yacht had an imaginary position. Based on what I could work out of Caribbean I guesstimated winds and drift in a storm and found that the place they were likely to have ended up was a few hundred kilometres west of an island called Dominica.
I knew nothing about it. Great, I thought, I'll travel to Dominica. In my imagination, at least.
What I discovered is that Dominica (not to be confused with the Dominican Republic, which occupies half of the island of Hispaniola) is a really extraordinary place. In many ways what has kept it extraordinary is that it doesn't have the sweeping yellow sands of other Caribbean islands. Its rocky shores protected it, as did the mountains which protected much of its land from the slavery-era coffee plantations.
While other islands have accepted the income that luxury tourism brings, post-independence Dominica never had that option. It remained relatively poor compared to its neighbours, but also relatively unspoiled.
Recent years have been about realising that this is the island's uniqueness. It has the highest percentage of original vegetation of any Caribbean island. Similarly to Dungeness, the location I love to write about in my Cupidi books, it is something of a naturalist's paradise, and is becoming a real centre for ecotourism. The islands have been battered by hurricanes in recent years and more recently Covid, which kept the tourists away, but fingers crossed that it's getting back on its feet.
I want to go there now, not just in my imagination. Maybe I'll go by yacht. That would be the dream.
BookTrail Boarding Pass: Dead Rich
Twitter: @william1shaw   Web: williamshaw.com/