Writing on location with Rosanna Ley
To Venice (and Spain) with Love on a literary tour
Rosanna Ley is always an author you can rely on for a novel which really gets under the skin of a country and a city. This time, Rosanna talks about the setting she loves when she writes and the location she loves to call literary for her own inspiration.
You can find the finca el cerrillo, a restored 200 year-old farmhouse, high in the foothills of the Sierra Almijara region of southern Spain. Now a small, comfortable and quirky hotel, it was a working olive mill until the 1960s, and its owners, Gordon and Sue Kind have successfully retained its original character and charm. Set within an olive grove, the finca terraces are planted with palm trees, carob, hibiscus and jasmine, so that intoxicating scents follow you as you wander the meandering paths and admire the stunning views of the surrounding mountain landscape.
During the 7-day writing holiday, there's always a chance to visit the nearby traditional Spanish communities. Canillas de Albaida is a picture-perfect white Spanish village (Albaida means 'the white one' in Arabic) dating back to the 13th century, whilst Competa, with its labyrinth of narrow cobbled streets, local market and characterful old town is also a delightful place to explore. While enjoying a tapas lunch in the Plaza Almijara, our writing group has often been fortunate enough to witness a wedding at the magnificent sixteenth century church in the square. These villages provide a taste of authentic Andalusia and plenty of writing inspiration…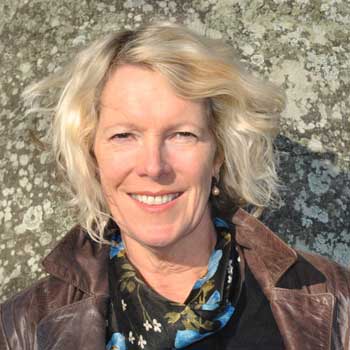 In the Spring-time writing week there's a chance to do some walking along ancient mule tracks once used to take the silk made in the area to Granada through olive and almond groves, and over hillsides cloaked in wild lavender, rosemary and thyme. During the summer week you may prefer enjoying the mountain views from the cool sanctuary of the finca's pool!
And then there's the writing… I have been bringing groups of writers to finca el cerrillo for the past eleven years. For me, it's perfect, with an air of tranquillity second to none.
The morning writing session takes place in the white air-conditioned studio. This focuses on a writing theme and takes the form of creative writing exercises designed to both develop work in progress and to trigger new ideas.
After this, there is plenty of time for individual writing (or chilling/ thinking/ dreaming – all important writerly activities). I read people's work and offer 1 to 1 discussion sessions as required. The outside courtyards provide both sunny and shady seating areas; there's an indoor salon, an honesty bar and even a two-storey tree-house created by Gordon in the branches of an ancient olive tree, complete with chairs, tables, candles and fairy lights.
In the late afternoon we meet up again for a group workshop where everyone gets the opportunity to share a topic for discussion or read a piece of work for constructive feedback. (This may sound scary, but it's honestly not!)
In the evenings, we either eat in – the finca food is fresh, locally sourced and delicious – or visit nearby restaurants (all transfers and meals out are included in the package price). And there is a day off during the week for sight-seeing, relaxing or getting into that novel…
For more information on forthcoming writing holidays see rosannaley.com and hotelfinca.com
Twitter:     @RosannaLey            Web: rosannaley.com/