Rave it up in Newcastle with Author Nicky Doherty
She writes gritty crime dramas and police procedurals with characters from housing estates. You get a keen sense of life in these estates, which aren't just in the North East of course. Her novels contain hardy people, criminals, gangster types, but also people with a keen sense of community.
She takes you back to the 1980s when it was a very different time. Think vinyl records, record shops, no mobile phones….
HI Nicky! (Happy Birthday for yesterday by the way!)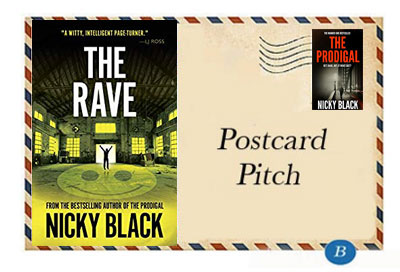 Your book on a postcard ..
Greetings from 1989! The Rave is a crime novel like no other. Gritty and fast-paced, you'll laugh, cry and hang off the edge of your seat. Love Nicky.
Why did you set your book where you did?
It is set in Newcastle because both Julie and I are from the North East. There is a specific culture and language that is unique to this part of the world that lends itself to humour and drama in equal measures. It's a northern thing. I can't imagine writing anything not set in this area.
Where did you go to research?
Oh, mostly Google and YouTube. I watched every documentary ever made about raves, rave culture, ecstasy and house music, and I read many articles, both from the time and more recent ones about people who remembered being part of the scene. Best research project ever for an 80s throwback like me. I also spoke to a few people who were involved in organising much smaller rave events in the 90s.
Can the reader visit most of the places in the book?
Not all of them unfortunately. The Green Market is gone, as are the small record shops where people would sell merchandise and home-made mixtapes. But Sandy Bay is still a caravan park and the Ouseburn Valley has been regenerated. The warehouse referred to at the start of the book is where The Cluny is now.
Why do you like to evoke the North East?
Because it's in my blood – and Julie's (Julie wrote the original ninety-minute screenplay of the book, which I embellished to create The Rave). Geordies are hilarious, forthright, sometimes scary, and there's a long history of fighting for their communities. Geordies make great characters, and I can hear them in my head. Northern Ireland is in my blood, too (my dad's family originate from Derry), so you'll always find Irish names or characters in my books.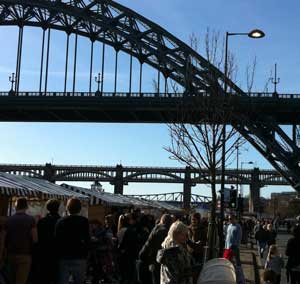 Why is setting important to you?
I love this part of the world because it has such massive variety of place which was important for The Rave. From vast countryside and farmland, to dense, rundown housing estates, to seaside resorts, empty warehouses and pubs and clubs – even Durham prison. It all needed to be within reaching distance of a bunch of young lads who borrow cars to get around. And, like I said, it's in my blood.
Where do you like to visit in the books or do you paint any places particularly dark for example?
I visit the Ouseburn Valley quite regularly – mostly for drinking purposes! Having worked in regeneration in the past, I think it's one of the great successes of how investment can create special places that maintain their original character. I do love to shop in Newcastle City Centre – much more preferable to the Metrocentre in my opinion.
There are many dark places in both the Prodigal and The Rave. Valley Park estate itself is pretty grim. Someone once described it a "Dickensian." I quite liked that. I particularly like the contrast in The Rave. Some scenes are intense, violent and a bit claustrophobic, then you have Groat Hall Farm set in the peaceful countryside, and Jed's parent's house – "a rose amongst thorns." It's important to give the reader – and the characters – a break from the grim environment.
Where next for you and your characters?
Well, that's left up to the imagination of the reader, because there won't be any sequels! I won't say how I see the characters' futures panning out, as it may be a bit of a plot spoiler…
Thanks Nicky for a lovely blast from the past as well as a great guide to your books!
Twitter:@AuthorBlackNE  Web: nickyblack.co.uk/