Sri Lanka and sapphires – with Dinah Jefferies
Out in April, you're in for gem of a read with The Sapphire Widow. It's a glittering and vibrant tale set in Ceylon on a cinnamon plantation and within a sapphire industry…
Dinah Jefferies takes us on a tour of sumptuous sights and a brightly coloured world….with dark edges…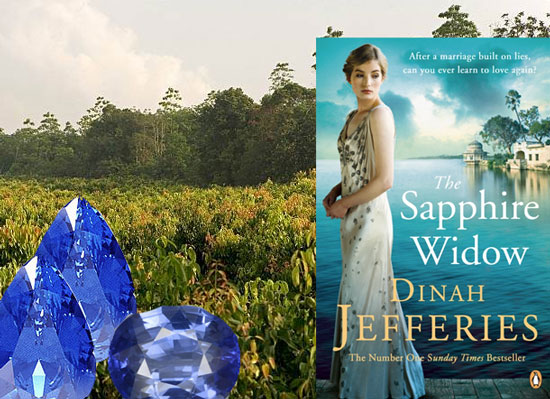 You've written a story of many layers. Why did you choose this story idea? it's very sad in places!
It's an impossible question, Susan! But to try to answer, this is what happened. A vague imagining about a betrayal popped into my head one day as I was walking the dog in the local park one rainy day. Ideas often come and go but this time, when I couldn't get it out of my mind, I knew I would have to develop the vague inkling I'd had into something more. I was searching for a story that would pack a strong emotional punch and felt this idea might do exactly that, and when I realised that for a betrayal to really hurt it must be at the hands of someone you love and trust, and be revealed bit by bit, I knew I had my story.
Why is location important to you?
It's important because it's almost always where I start. Even before I had a story idea, I'd been planning another novel set in Sri Lanka, again in colonial times when it was known as Ceylon, and I'd seen Galle praised as one of the 'must visit' places on the island.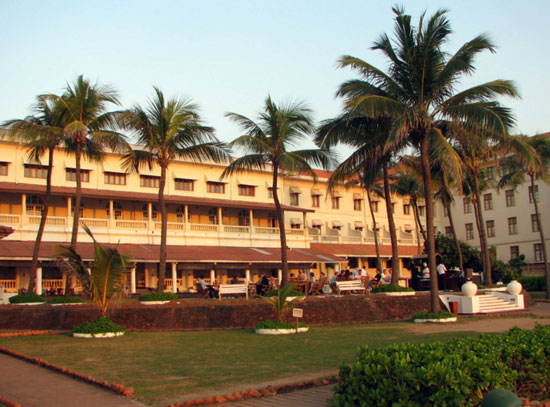 The Galle Face Hotel in Colombo, which played a role in The Tea Planter's Wife and where I stayed for part of my research on that book, was so named because it faced down the coast that ships would travel from Galle to Colombo. From the terrace of the hotel you could watch the ships loaded with spices and jewels coming up from Galle. When I was invited to appear at the Galle Literature Festival (which sadly I was unable to go to because I fell ill) I felt inspired to use Galle and its settings for this new book. The images of Galle I found on Google further intrigued and enchanted me. This ancient walled citadel of narrow streets and alleys hanging into the sea with a hinterland of jungle and romantic cinnamon plantations, coupled with an idyllic coast had to be a brilliant setting.
 Is the Cinnamon plantation real? I had no idea cinnamon grew here!
My Cinnamon plantation is imaginary, but it is based on a real plantation called Mirissa Hills. Ceylon is famous as a spice island and the cinnamon is world renowned. Producing the spice involved hard labour and, at the time of the setting of the book, a severe drought had affected much of the island's production leaving only the area around Galle still producing good crops. My appearance at the literary festival was to have been a chance to do my customary research to get a feel for the place, and I was devastated not to be able to visit after all.
How do you research a novel such as this?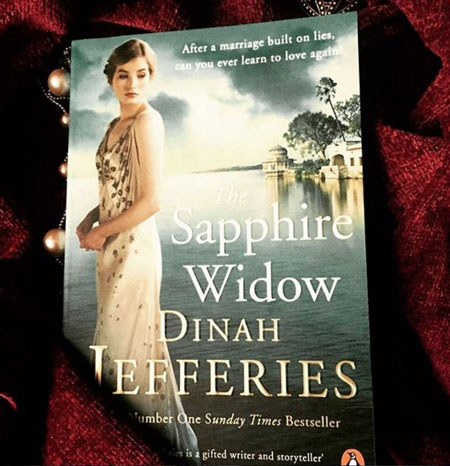 By reading a huge number of books, usually historical, travel, and memoirs, and by watching old videos on Youtube. Then I visit the country in question to look for detail and atmosphere. As I said earlier, I wasn't able to go, although I had been to Sri Lanka before and that helped, but mainly I had to rely on the internet, input from people who either been there or lived there and my books to build an accurate picture.
The marriage is not a happy one but your leading lady copes well. How did you feel writing her?
I don't think I can answer this other than to say I was fascinated by her as I wrote and got to know her better. I didn't 'see' Louisa Reeve straight away, and so I felt I was uncovering her, layer by layer, as I asked myself questions. She is a woman faced with something truly awful and has to find her way through it all. I enjoyed creating her 'perfect' life only to have it gradually collapse around her, but I began by imagining Louisa with the easier, fun stuff. What might Louisa look like? What would she wear? Was her home grand and beautiful? Those kind of details. Once I had all that in place, I went much deeper as her story unfolded.
Why is the story important  – its message?
One of the messages is that it's possible to learn to live and love again despite grief and devastating betrayal. Life is to be lived and that it isn't always easy when your world has been rocked to the core. This happened to me when my teenage son died in a motorbike accident and I had to learn to live again.
How do you manage to evoke the five senses into a scene?
By focussing on vivid sensory detail. In this book the salty ocean and the scent of cinnamon, plus the climate, the birds, the flowers and the cooking, the images of tropical sands with coconut palms and mangroves and sound of the fantastic blue ocean that surrounds Galle, all of which I tried to weave into my writing.
Something you found surprising whilst researching the novel?
I found the multi-racial history of Galle surprising. The town of Galle itself epitomised the colonial period, being Portuguese, then Dutch, and then British with a distinctly multicultural community of Sinhalese, Muslims, Burghers (the descendants of intermarriage between Dutch, Portuguese and native Sinhalese), Hindus and even Jews alongside the British community.

Something interesting about the gem industry – I had no idea Sri Lanka was the country of Sapphires!
Ceylon sapphire is famous for its brilliance and fire, and some of the finest cornflower blue sapphire comes from Sri Lanka. When Diana Spencer and Charles, Prince of Wales, became engaged in February 1981, her engagement ring consisted of solitaire diamonds surrounding a beautiful blue Ceylon sapphire set in 18-karat white gold. Sales of sapphire engagement rings went ballistic after that. Now the ring is worn by Prince William's wife, Catherine, the Duchess of Cambridge, as her engagement ring.
Thank you so much for this wonderful tour Dinah!