Travel with ardent adventurer Anna Hughes
There are travellers and then there are adventurers. Anna Hughes is a great mix of both as she likes to travel by various methods of transport whilst having some of the most interesting adventures along the way! Today she's stopped long enough to chat travel inspiration and more.
So, Anna – Travel is in your blood …Tell us more…..
You love to cycle – 4000 miles around the coast of Britain was impressive. Any highlights of the tour?
So many highlights! Britain is truly a beautiful place with many hidden gems. Standouts for me were the sand dunes of the Northumberland coast, Western Scotland – the mountains and the coastline are just incredible – and Devon and Cornwall – beautiful weather, very very tough cycling (with unbelievably steep hills) but breathtaking views and a rich blue sea.
That then inspired you to sail around the coastline two years later? How did that come about and how did you feel on this tour?
I took part in an expedition called Round Britain Experience run by a sailing school in Brixham, south Devon. It was an opportunity to learn how to sail and also to explore more of our incredible coastline. In honesty, it was much harder than I'd expected, mostly because I was sea sick every day!
You live on a boat! You are the ardent traveller indeed. How does living on a boat feel? What does it take to live on a boat? Any tips for people who want to try it, or who live in very small houses ;?
Living on a boat means being close to nature in the best and worst sense of the term. I adore my boat because it is cosy, quirky and peaceful. Cruising the canals has shown me some beautiful parts of London and south-west England that we tend to zoom by ordinarily. However, it can be very hard work, as home comforts are not as easily as accessible as when you have bricks and mortar. E.g. my heating: I have a beautiful wood burner which keeps the boat nice and warm, but it takes a while to get going in the morning and I have to source and chop the wood myself. Also, water: I have a tank which I fill up every few weeks, so I have to be very careful about my water consumption. These are considerations you might not have when living in a house. On the plus side, my cost of living is very low. I find I have fewer possessions as I simply don't have room to store things, which I think is good for the soul!
Best fiction book that has taken you somewhere.
I read a lot of books, both travel and fiction. My favourite travel book is Pedalling to Hawaii by Stevie Smith, because it is a beautifully written account of an incredibly mad adventure (though it doesn't make me want to pedal across an ocean!) The most recent book I read was The Secret Life of Bees which I really enjoyed.
Favourite books growing up/as a child?
I loved anything by Enid Blyton – they made my imagination run wild. I especially liked the Famous Five and wanted to participate in adventures as they did.
What's next for you?
I am currently working on my third and fourth books, so next for me is the rather boring job of getting those written – though I do love writing, and hopefully they will inspire other people to get out and about. I will be sailing from Ireland to Inverness in a couple of months time and have an ambition to cycle up Mont Ventoux in the summer.
Planes, trains and automobiles..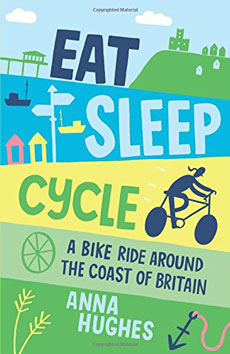 There is so much in the world to be explored, and I'm just getting started. Now I know Britain really, really well, I'd like to explore more of Europe, either by bike or by boat. Then work my way further afield. Using a combination of bicycle and boat I will one day journey around the world. No plans as yet though! I don't fly: surface-level travel is much more my thing.
Thanks Anna for chatting today. Very interesting and fun to travel with you!
Twitter:      @EatSleepCycle   Facebook: /eatsleepcycle.anna   Web:  annacycles.co.uk